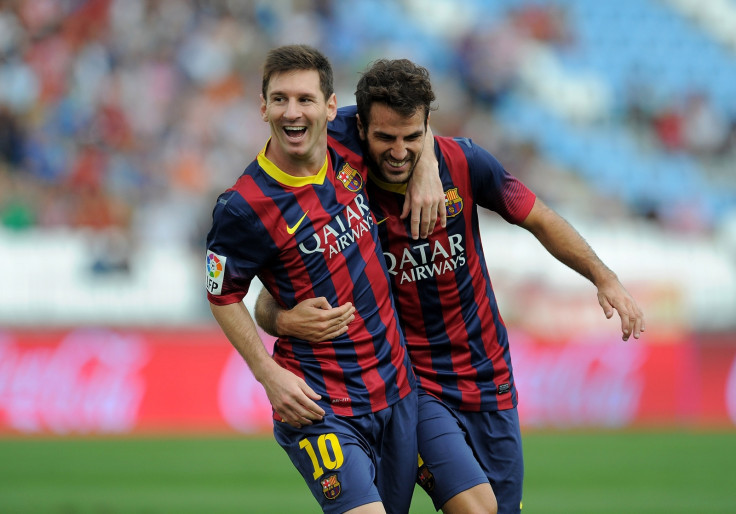 Chelsea midfielder Cesc Fabregas does not believe Lionel Messi is unhappy at Barcelona and rubbished claims he is trying to convince his former teammate to join him at Stamford Bridge.
A turbulent week at the Nou Camp has already seen sporting director Andoni Zubizarreta sacked, with his assistant and club legend Carlos Puyol leaving after handing in his resignation.
Their departures have been overshadowed by talk of a falling out between Messi and manager Luis Enrique, who was booed by supporters whenever chants of his name broke out around the Nou Camp during the 5-0 win over Elche in the Copa del Rey on Thursday 8 January.
Messi's tetchy relationship with the coach has fuelled talk of a move away from Cataluña, despite the Argentina international being valued at more than £170m. But Fabregas believes the ongoing spectacle has been blown out of proportion.
In an interview with Spanish radio station Onda Ser, the Chelsea midfielder said: "His situation has been made out to be worse than it really is. Messi is happy at Barcelona and the club is happy with him.
"I get a bad feeling about it when people are saying that I am trying to convince Messi to join Chelsea. What makes people think I can discuss contracts? I am just a footballer."
While he does not anticipate anything happening, Fabregas admitted he would relish the opportunity to link up with the four-time Fifa Ballon d'Or winner once again.
He said: "Leo will do whatever makes him happy. As his friend and former teammate, it would be great if I get the chance to play with him again.
"I don't really know Luis Enrique. I know Messi, though, and I really doubt that the things people say happened really did happen. Leo is a quiet guy and I have never seen anything like that during the three years we were teammates."
Reports in the Spanish press have reported throughout the week that a rift between Messi and Enrique has grown after the forward was benched for the 1-0 defeat to Real Sociedad on Sunday 4 January.