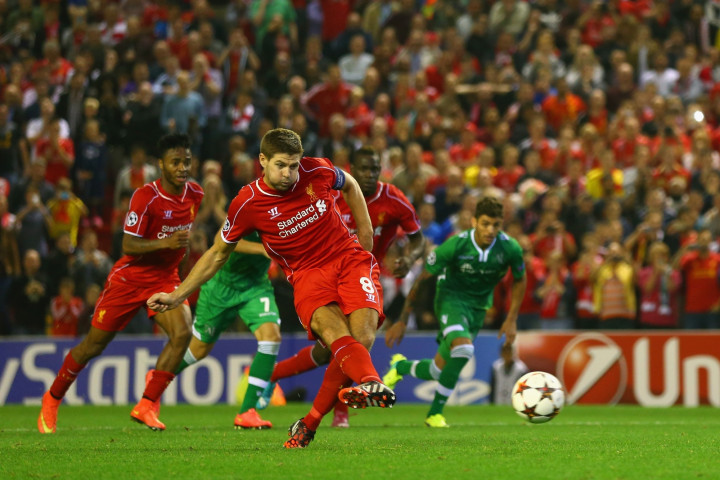 9:40: And that's it! Liverpool's return to Europe has been a rather tepid affair but a penalty in injury time has given them a crucial three points. Mario Balotelli broke the deadlock in the final 10 minutes only for Ludogorets to net an equaliser as Dani Abalo rounded Mignolet. Liverpool were given one last reprieve however as Steven Gerrard once again turned saviour, slamming home a penalty in the final action of the game.
Elsewhere, Arsenal have been completely dominated by Borussia Dortmund. The Gunners' dilapidated squad was stretched throughout the 90 minutes but goals either side of half time were enough to seal the points for Jurgen Klopp's side. It could have been a lot worse for Arsene Wenger's team, who were on the back foot from the opening minutes at the Westfalenstadion. Drastic improvement is needed.
FINAL SCORES
Borussia Dortmund 2-0 Arsenal
Liverpool 2-1 Ludogorets
Real Madrid 5-1 FC Basel
Olymipakos 3-2 Atletico Masrid
Monaco 1-0 Bayer Leverkusen
Juventus 2-0 Bayer Leverkusen
Benfica 0-2 Zenit St Petersburg
Galatasaray 1-1 Anderlecht
FULL TIME
Liverpool 2-1 Ludogorets
Borussia Dortmund 2-0 Arsenal
9:37: Milan Borjan, whose been solid all evening, rushes out and takes down Manquillo and the referee points to the spot! Steven Gerrard steps up and... well, you know the rest. Liverpool look to have sealed it in extra time!
Goal! Liverpool 2-1 Ludogorets (Steven Gerrard 90+)
PENALTY - LIVERPOOL
9:35: Ludogorets equalise! Younes Hamza slides through ball in looking for Abalo who gets their first and easily rounds Mignolet before rolling the ball into an empty net!
Goal! Liverpool 1-1 Ludogorets (Dani Abalo, 90)
Goal! Olympiakos 3-2 Atletico Madrid (Antoine Griezmann, 88)
9:29: Jack Wilshere is shown a yellow card and he'll have to keep his composure for these final few minutes; the midfielder has grown more agitated throughout the half. Ciro Immobile comes off to a standing ovation around the Westfalenstadion and is replaced by Adrian Ramos.
9:25: Mario Balotelli scores his first Liverpool goal to give his side an overdue lead! It's a brilliant effort from the Italian, who plucks Manquillo's cross out of the air, juggles it away from his marker before slamming it into the back of the net. Elsewhere Karim Benzema has added a fifth for Real Madrid.
Goal! Liverpool 1-0 Ludogorets (Mario Balotelli, 81)
Goal! Real Madrid 5-1 Basel (Karim Benzema, 80)
9:22: With his pace, Emerick Aubameyang is obliged to chase everything down. He attempts to chase down a hopeful ball over the top that Szczesny has to head clear, but proceeds to crash into the Dortmund forward as a result. Not much the Gunners' goalkeeper could have done about that, to be fair.
Goal! Olympiakos 3-1 Atletico Madrid (Mitroglou, 77)
9:20: Welbeck pulls a ball out of the air and does well to slip past Sokratis to work a yard of space on the egde of the area, but can only hammer his shot hopelessly over the bar. That's three chances he should have done better with this evening.
9:18: Liverpool saved by the woodwork! Excellent work from Marcelinho again as he slides the ball through the legs of Sakho to find Bezjak in the box. He's one on one with Mignolet but drives his effort against the post to hand Liverpool a reprieve.
9:16: Now Arteta allows the opposition in! Suicidal defending from the Spaniard who sloppily loses possession inside his own half. The ball breaks to Mkhitaryan who has two options to his left as he breaks into the box but instead skies a woeful effort. His finishing has been abysmal this evening.
9:15: Arsenal's absent minded defending is spreading. A simple back pass is sent to Szczesny but he dawdles, allowing Emerick Aubameyang to close the ball down, but it rolls just the wrong side of the post.
9:12: A great save from Borjan denies Liverpool! Manquillo breaks from his man and swings a pin point cross in to Fabio Borini who is just off the bench, but the goalkeeper is equal to his header.
9:10: Liverpool's failure to open up the opposition has largely been due todisappointing performances from Coutinho and Lallana. Rodgers has seen enough and withdraws the pair for Borini and Lucas.
9:07: Juventus have the lead through a wonderful opener from Tevez. Cutting in from the right the Argentine dinks a ball through to Asamoah who returns it to his teammate with a wonderful flick. Tevez continues his run and hammers the ball into the net to score his first European goal since the 2008/09 season.
Goal! Juventus 1-0 Malmo FF (Carlos Tevez)
9:05: Liverpool continue to be frustrated by Ludogorets. Liverpool again look for Moreno out on the left after winning a free kick infield but the Spaniard's cross again evades Balotelli.
9:03: Couple of changes for Arsenal as Mesut Ozil and Aaron Ramsey come off for Alex Oxlade-Chamberlain and Santi Cazorla.
9:01: Another chance for Dortmund as Immobile saunters into space down the left before clipping a ball towards the far post. Aubameyang easily outjumps his man but nods wide.
8:59: Half a chance for Arsenal as Gibbs finds space down the left and drills a ball in towards the near post, but Welbeck misses the ball Dortmund launches a counter. Aubameyang is found down the inside right channel and he simply glides past Koscielny with incredible pace. From just outside the area, he thumps a wonderful effort on goal that has Szczesny beaten, but it clips the top of the bar and goes over!
8:57: It;s been another frenetic start to the half at the Westfalenstadion, but what about at Anfield? Henderson and Coutinho have both had shots and target but nothing for goalkeeper Borjan to get worried about. Moments later Henderson, on the edge of the area, spots the onrushing run from Manquillo in from the right but the Ludogorets goalkeeper comes out to comfortably pluck the ball out of the air.
8:55: Ozil is shown a yellow card for a bit of a late challenge on Schmelzer.
8:54: Dortmund close again! A ball is pulled back to Immobile on the edge of the area and he rifles an effort on goal that Szczesny just about palms over the abar. Arsenal are all over the place.
8:53: Dortmund are going for the kill, Mkhitaryan dances down the left into the penalty area and pings a ball acoss goal but Mertesacker manages to clear.
8:50: Dortmund have another! It's far too easy as Aubameyang, runs at a nervous Arsenal defence before sliding a pass out to his right for Grosskreutz. He returns a perfect pass inside to Aubameyang whose pace allows him to round Szczesny and, despite losing hit footing, roll the ball into the back of the net.
Goal! Borussia Dortmund 2-0 Arsenal (Pierre-Emerick Aubameyang, 47)
8:47: And we are back underway. No changes in the Liverpool game but Mathias Ginter has entered the fray against Arsenal, replacing Sebastian Khel in midfield.
8:35: And that's half time across Europe. Arsenal have been firmly on the back foot for the first halfand were eventually punished thanks to a fine individual effort from Ciro Immobile. At Anfield, the grand return to Europe has been a rather tepid affair so far. Adam Lallana, Philippe Coutinho and Mario Balotelli are yet to come alive against Ludogorets who perhaps should have had a penalty after Dejan Lovren cynically shoved Marcelinho the floor.
Holders Real Madrid are strolling to a comfy win over FC Basel while Mario Mandzukic has given Atletico Madrid a fighting chance after they fell 2-0 behind to Olympiakos. Zenit lead against 10-man Benfica but elsewhere it's been a fairly quiet evening.
HALF TIME SCORES
Borussia Dortmund 1-0 Arsenal
Liverpool 0-0 Ludogorets
Real Madrid 4-1 FC Basel
Olymipakos 2-1 Atletico Masrid
Monaco 0-0 Bayer Leverkusen
Juventus 0-0 Bayer Leverkusen
Benfica 0-2 Zenit St Petersburg
Galatasaray 0-0 Anderlecht
8:31: Dortmund have a well-deserved lead on the stroke of half time! It's brilliant from Ciro Immobile who drives through the Arsenal midfield, pulling the ball away from Laurent Koscielny before drilling the ball into the far left corner.
Goal! Borussia Dortmund 1-0 Arsenal (Ciro Immobile, 44)
8:29: It's all happening in Madrid. Cristiano Ronaldo tees up Benzema but the Frenchman's effort on goal is blocked by the referee. No matter, James Rodriguez is on the scene to add his side's fourth. Moments later however Basel pull one back as Gonzalez caps a neat counter attack.
Goal! Real Madrid 4-1 Basel Gonzales, 39)
8:26: Welbeck spurs a chance for Arsenal! The former Manchester United forward races onto a hopeful through ball but Durm's sliding challenge dispossess him. The loose ball falls to Ramsey however who slips a neat pass through to Welbeck who has pulled away from his marker inside the box, but he never looks comfortable taking the strike on and the ball rolls harmlessly wide.
8:24: Real Madrid are crusing at the Bernabeu: Bale and Ronaldo have put them 3-0 up withi half an hour. Atletico are not having it all their own way, Fulham flop Mitroglou momentarily put Olympiakos 2-0 up against Diego Simeone's side but Mario Mandzukic has pulled one back for his side.
Goal! Olympiakos 2-0 Atletico (Mitroglou)
Goal! Real Madrid 3-0 Basel (Ronaldo, 31)
8:21: Mkhitaryan easily slips past his man and hammers a powerful effort on goal that just whistles past Szczesny's post. Moments later Alexis loses possession, prompting another attack that sees Aubameyang fed at the near post, but his effort is again clawed away but the Arsenal 'keeper. Jurgen Klopp wll be fuming if his side fail to make these chances count.
Goal! Real Madrid 2-0 Base; (Gareth Bale, 30)
8:19: Moments after Dortmund's chances the home side are nearly made to pay. Gibbs does excellently down the left before lifting a ball across to the back post. Schmelzer and Weidenfeller fail to deal with, giving Welbeck have a second to adjust himself and get on the end of it but the Dortmund goalkeeper does just enough to win the ball back.
8:17: Marcelinho slips into the box for the away side at Anfield and is cynically barged to the ground by Dejan Lovren. Not sure the former Saints man had any intention of playing the ball there, Ludogorets will be rightfully miffed with that decision.
PENALTY APPEAL - Ludogorets
8:15: And another golden chance for Dortmund! Grosskreutz races onto a looping through ball into acres of space down the left flank. He drives an excellent ball across goal looking for Aubameyang but Koscielny gets enough on it to block his effort. The ball only rolls back to Mhkitaryan however six yards out from goal, but under pressure from Jack Wilshere he drives a wild effort over the bar. Arsenal hanging on here.
8:13: What a chance for Dortmund! The home side incisively work the ball across from right to left, eventually slipping a neat ball into the feet of Aubameyang four yards out from goal! The Dortmund stabs an effort on goal but Szczesny is down quickly to smother.
8:11: Witsel has scored against his former club to give Zenit a 2-0 lead over Benfica. The home side have also been reduced to 10 men after goalkeeper Artur was shown a straight red. All in all, things could be going better for them.
Goal! Benfica 0-2 Zenit (Aex Witsel, 22)
8:09: Misidjan attempts a fairly audacious effort from outside the box but it takes a deflection off a Liverpool defender and goes out for a corner. Mignolet collects and springs a counter attack, but it breaks down when Sterling strays into an offside position.
8:07: Liverpool, as you would have expected, are enjoying the much greater share of possession after 20 minutes at Anfield but have failed to trouble the Ludogorets goalkeeper. And despite early pressure from Dortmund, Wojciech Szczesny has been untested in Germany so far, although the home side's frenetic start has caused one or two moments of uncertainty ahead of him.
8:05: Elsewhere tonight holders Real Madrid have taken the lead against FC Basel, while last season's runners up have fallen behind in Greece following a sensational strike from Masuaku from just outside the area.
8:03: Koscielny connects with a pretty spectacular hand ball that resembles something from a volleyball game, but the referee awards the free kick to the Gunners after a push on the Frenchman.
Goal! Olympiakos 1-0 Atletico Madrid (Masuaku, 15)
Goal! Real Madrid 1-0 Basel (Suchy OG)
8:01: Another neat move from Dortmund in front of the Arsenal defenders. The Italian drops deep to find the ball before playing the one two with Aubameyang. The return pass is left at his feet but he drags his shot wide of Szczesny's post.
7:58: Liverpool work the ball neatly across the field, freeing Moreno to gallop into space down the left. He reaches the byline, looks up, but his cross for Mario Balotelli in the box is horribly overhit.
7:56: After that frenetic start from Dortmund things have slowed slightly, but not by much. Mertesacker tries to play the ball out of danger but it instead invites Grosskreutz to intercept and burst to the byline. The big Arsenal centre half recovers well however and slides in to intercept. Dortmund have the corner but waste it.
7:54: Sterling pulls out into space on the right flank, urging Aleksandrov to commit himself to a challenge. The Ludogorets man gadly accepts and slices down the Liverpool starlet and the first yellow card of the evening is shown.
Goal! Benfica 0-1 Zenit (Hulk, 6)
7:52: Aubameyang again exhibits his magnificent pace down the right, turning inside to find the run of Mkhitaryan. He takes a touch inside the box that takes the ball away from Arteta and hits the deck under the Spaniard's challenge. Was there any contact? The referee says no! And what a good call it was too. Mkhitaryan is booked for simulation.
PENALTY APPEAL - Dortmund
7:50: Ludogorets win a free kick down the right following a foul from Sakho. Misidjan swings the ball in but Liverpool clear with ease at the first time of asking.
7:49: Dortmund hound Arsenal at every opportunity. The Gunners have been unable to get the ball down for a pass yet, let alone get out of their own half.
7:47: Bright start from Dortmund/ Aubameyang springs into action down the right and his cross into the box is forced out for a corner. Mkhitaryan delivers the resulting corner that Arsenal just about manage to clear.
7:46: Arsenal get the ball rolling at the Westfalenstadion while Liverpool get us going at Anfield.
7:43: And we are edging towards kick off across Europe, that familar anthem blaring at across our eight venues this evening.
7:25: There are eight fixtures taking place tonight, all due to kick off in just about half an hour. We'll have updates from them all.
Borussia Dortmund v Arsenal
Liverpool v Ludogorets
Real Madrid v FC Basel
Olymipakos v Atletico Masrid
Monaco v Bayer Leverkusen
Juventus v Bayer Leverkusen
Benfica v Zenit St Petersburg
Galatasaray v Anderlecht
7:22: Arsenal will have the recently christened fastest man at the club playing at right back in Hector Bellerin this evening. It will be interesting if he comes up against Dortmund's Pierre-Emerick Aubameyang, who once suggested he wouldn't mind a foot race with the fastest man on the planet in Usain Bolt.
7:18: Dortmund themselves have an injury list that will make Arsenal fans rest a little easier this evening. Jurgen Klopp's side are without captain Mats Hummels, Jakub Blaszczykowski, Ilkay Gundogan and Marco Reus this evening.
7:14: So just the three changes for Arsenal after the 2-2 draw with Manchester City. Bellerin comes in for the injured Debuchy while Kieran Gibbs returning to left back with Nacho Monreal absent with a back injury. Mikel Arteta returns in place of Mathieu Flamini.
LINE UPS
Borussia Dortmund: Weidenfeller; Durm, Sokratis, Subotic, Schmelzer; Bender, Kehl, Grosskreutz, Aubameyang, Mkhitaryan; Immobile.
Arsenal: Szczesny, Bellerin, Koscielny, Mertesacker, Gibbs, Arteta, Wilshere, Ramsey, Alexis, Ozil, Welbeck
7:00: Holders Real Madrid also get their campaign underway this evening, taking on Swiss champions FC Basel at the Bernabeu.
6:56: The last time a Liverpool side stepped out for a Champions League game was December 2009. That side lost 2-1 to Fiorentina, and looking at the starting XI, it isn't hard to understand why.
Liverpool XI five years ago: Cavalieri, Darby, Skrtel, Agger, Insua, Mascherano, Aquilani, Benayoun, Gerrard, Dossena, Kuyt
TEAM NEWS: Liverpool's return to this competition sees Brendan Rodgers select Mario Balotelli to lead his attack, supported by Raheem Sterling and Adam Lallana.
Liverpool: Mignolet, Manquillo, Moreno, Lovren, Sakho, Gerrard, Henderson, Coutinho, Sterling, Lallana, Balotelli
6:49: Arsenal's well documented injury concerns leave them with just three fit full backs this evening. 19-year-old full back Hector Bellerin has been handing a starting role to deputise in the place of the injured Mathieu Debuchy. Calum Chambers is left out of the Gunners' starting line-up after Arsene Wenger admitted he was '50/50' to start after coming down with tonsillitis.
6:47: Those Famous Nights at Anfield™ return this evening for the first time in five years. It will of course be Brendan Rodgers' first game in this competition with six of his starting XI also making their Champions League debuts this evening. Team news coming up shortly.
6:45: We are back. The road to Berlin begins this evening for this season's Champions League hopefuls. 16 sides are in action across the continent as Europe's premier competition returns to brighten up our mid-week. Arsenal begin their campaign against the increasingly-familiar foe of Borussia Dortmund while Liverpool mark their return to the competition after a five year hiatus by hosting Bulgarian minnows Ludogorets Razgrad.
We will have team news ahead of all eight of Tuesday's fixtures coming up shortly and updates and will keep you updates as every goal goals in.