Group E: FT- FC Basel 0-1 Schalke 04; FT- Steaua Bucharest 0-4 Chelsea
Group F: FT- Arsenal 2-0 Napoli; FT- Borussia Dortmund 3-0 Marseille
Group G: FT- Zenit St Petersburg 0-0 Austria Vienna; FT- FC Porto 1-2 Atletico Madrid
Group H: FT- Ajax 1-1 AC Milan; FT- Celtic 0-1 Barcelona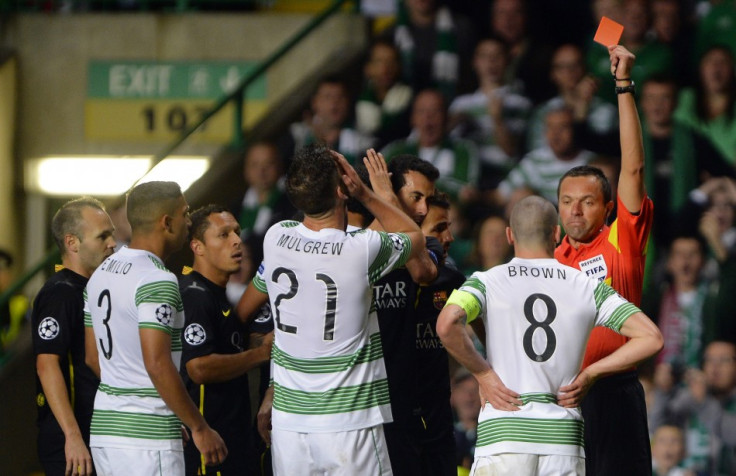 22:00: Well what a night in the Champions League. The continents' finest competition again doesn't fail to disappoint and guess what? We only have to wait 24 hours for the next instalment. Join IBTimes UK again tomorrow for more live coverage of the Champions League when Manchester City and Manchester United take centre stage. Until then, goodbye.
21:57: Neil Lennon on Scott Brown's sending off on ITV1: "If there was any contact it was minimal. It changed the game. He [Neymar, who Brown kicked before being sent off] has a reputation in the game and sometimes he exaggerate things a bit."
21:55: Arsene Wenger on Mesut Ozil's performance on Sky Sports: "Absolutely amazing. He was what you dream to see when you come and watch football. It's good [he scored] it sometimes takes time to score and it's always on your mind but he got rid of that."
21:46: Interview with Charlie Mulgrew on ITV1: "I don't think he [the referee] was convinced it was a sending off. It has changed the match and killed us. Eleven men against Barcelona is hard enough and being down to ten is a nightmare and the ref had to be sure."
21:43: So the full time whistles have across Europe, so where do the main headlines come from?
The headlines tonight, well Arsenal have taken a grip of Group F after securing their 10th successive win in beating Napoli. Chelsea have swatted away Steaua 4-0 to calm any fears they had of missing out in the group phase.
Cescs Fabregas headed home with 15 minutes left as Barcelona avenged their defeat to Celtic 11 months ago but the main controversy will centre around the decision that saw Scott Brown sent off in the second half.
Ajax thought they had seen off AC Milan in Amsterdam before Mario Balotelli returned to scoring ways from the penalty spot in the four minute of added on time, while Atletico Madrid have ended Porto's winning run at home after turning around a 1-0 defect.
Two Robert Lewandoski goals helped Borussia Dortmund defeat Marseille, who look like the whipping boys of Group F and Schalke have beaten Basel in a delayed game in Switzerland.
Full time: Steaua Bucharest 0-4 Chelsea
Full time: Celtic 0-1 Barcelona
Full time: Arsenal 2-0 Napoli
Goal: Ajax 1-1 AC Milan (Mario Balotelli)
21:34: Icing on the cake for Chelsea. Schurrle again involved and when Willian roles it back to the edge of the box, Frank Lampard thumps home a fourth.
Goal: Steaua Bucharest 0-4 Chelsea (Frank Lampard)

Goal: Ajax 1-0 AC Milan (Stefano Denswil)
Goal: FC Porto 1-2 Atletico Madrid (Arda Turan)
21:28: Chelsea have just come off the boil and somehow Steaua don't get a goal back when Ivanovic diverts the ball across his own six-yard area, forcing Cech into a miraculous save. Barceloa should be further ahead too, but Forster saves very well from neymar and then Sanchez.
Goal: Borussia Dortmund 3-0 Marseille (Robert Lewandowski)
21:18: Celtic come all so close and Barcelona get a smash and grab goal with 15 minutes left. Neymar finds substitute Alexis Sanchez who crosses towards the back post and Cesc Fabregas is on hand to nod it back from whence it came and beyond Forster
Goal: Celtic 0-1 Barcelona (Cesc Fabregas)
21:15: Goodness me Celtic almost take the lead over Barcelona. James Forest, who has just come on, has hit one from 20 yards and Valdes makes a superb save. From the resulting corner, Charlie Mulgrew stoops and with Valdes in no-man's-land, he can only head wide.
21:13: Andre Schurrle, who has been Chelsea's best player tonight for me, curls wide as the visitors go in search of a fourth goal. It's been one way traffic throughout in Romania.
21:08: Celtic being penned in by Barcelona. Down to 10-men, keeping Barcelona at bay is now made all the more difficult. Neymar and co are exclusively in possession though and the hosts' physical make-up will be truely tested here.
21:05: Amid that action, it's worth reporting that Petr Cech has recieived some treatment after colliding with the post after claiming the ball. The Czech stopper continues but he looked a bit shaken.
Goal: FC Basel 0-1 Schalke 04 (Julian Draxler)

Goal: FC Porto 1-1 Atletico Madrid (Diego Godin)
21:02: Not much goalmouth action in this second half but a mountain of controversy. Scott Brown, the Celtic captain, is sent off after kicking out at Neymar. Brown brings down Neymar and when running back he kicks out at the Brazilian, making albeit very little contact, who is sent spiralling. Referee Stephane Lannoy has no choice in some ways, and produces the red card.
Red card: Scott Brown (Celtic)
20:58: Fantastic goal for Chelsea which seals the points. Schurrle comes in off the left hand side, beats two players and finds Lampard. The England midfielder feeds the ball on to Ramires, who hammers home a third. Back on track are the Blues.
Goal: Steaua Bucharest 0-3 Chelsea (Ramires)
Goal: Borussia Dortmunhd 2-0 Marseille (Marco Reus)

20:54: Napoli might be watching Arsenal miss chance after chance ut they've not taking advantage. Inler with their latest effort, but it's almost found the expensive seats. Underway, after a six-minute delay in Switzerland by the way.
20:48: Just 50 seconds of the second half gone and Arsenal spurn another chance. Giroud is again the orchestrator and when he beats Albiol, Rosicky misses a volley from all of six yards. Great chance.
20:44: Underway in six of the seven 7:45pm kick offs in the Champions League. Another thrilling 45 minutes ahead I would guess.
20:36: Half time in all of the seven 7:45pm kick offs. No doubt where the headlines are tonight. Arsenal lead Napoli 2-0 at half-time with goals from Ozil and Giroud. Chelsea lead by the same scoreline after Ramires opened the scoring and Daniel Georgevski's own goal. Celtic meanwhile are holding Barcelona, who are naturally dominating possession in Glasgow.
Elsewhere, FC Porto and Borussia Dortmund are in debt to their potent strikers Jackson Martinez and Robert Lewandowski, who have given them half-time leads in their respective ties against Atletico Madrid and Marseille. We've goalless elsewhere.
20:31: Chelsea double their lead on the stroke of half-time. Samuel Eto'o is released by Oscar and after he cuts inside and shoots goalwards, Tatarusanu parrys the ball but only to the feet of Georgievski, who hammers into his own net. A bit lucky, but what Chelsea deserve are dominating the first 45 minutes.
Goal: Steaya Bucharest 0-2 Chelsea (Daniel Georgievski own goal)
20:28: Arsenal are all over Napoli and they should be three up. Again it's Ramsey at the fore but his shot is blocked by Albiol. Now Rosicky finds Giroud and when the striker lays it off, Flamini gets his feet all wrong. Napoli need half time.
20:25: Steaua's fans are cheering every chance and attack like it's their last but they have come close as Cech is forced to palm away Piovaccari's cross.
20:22: News from Switzerland where FC Basel are taking on Schalke. The game has been stopped after protesters absailed from the roof. See below.
20:19: Arsenal guilty of overplaying a little but they are still threatening to get a third goal which would put them out of sight. Ramsey makes a delightful turn and bursts into the area and after being held up, Flamini shoots woefully wide. Now the Frenchman gets in Rosicky's way when the Czech midfielder looks like taking aim. 20:16: An insight intothe atmosphere at Celtic Park tonight.
20:15: Mathieu Flamini is fortunate to still be on the field. He goes in two footed in a challenge on the near touchline. He survives and Arsenal continue to dominate at the Emirates.
20:12: As you'd expect, Barcelona have had all of the ball at Celtic Park. Neymar with the latest chance for the Catalans but Ambrose nudges him wide and the hosts survive.
20:08: Chance for Napoli. A corner is floated towards the back post and Britos jumps unchallenged and heads wide.
Goal: Borussia Dortmund 1-0 Marseille (Robert Lewandowski)
20:06: Chelsea hit the front after 20 minutes and Ramires has the goal. Mata crosses for Eto'o and when he can only toe-poke goal wards the incoming Ramires flicks home. Lovely finish.
Goal: Steaua Bucharest 0-1 Chelsea (Ramires)
Goal: FC Porto 1-0 Atletico Madrid (Jackson Martinez)
20:02: Are this Arsenal the real deal? They're making a very convincing argument. Giroud wins the ball back for Arsenal and feeds Ozil on the right hand side, he dives into the area and when he crosses, Olivier Giroud is on hand to slam home from seven yards. Brilliant start for The Gunners.
Goal: Arsenal 2-0 Napoli (Olivier Giroud)
19:57: Samuel Eto'o replaces Fernando Torres for Chelsea. I wouldn't wish injury on any player but perhaps some karma for Torres there, who escaped retrospective action after scratching Jan Vertonghen at the weekend.
19:55: Great Start from Arsenal. Giroud releases Ramsey down the right and the Welshman picks out Mesut Ozil, who calmly slots the ball into the far corner beyond Reina. Wonderful finish and a great start inside 10 minutes.
Goal: Arsenal 1-0 Napoli (Mesut Ozil)
19:52: Early problems for Fernando Torres and Chelsea. The Spaniard has been limping from the outset and is recieiving treatment. Think the Blues will be forced into an early change.
19:48: Early chance for Chelsea in Romania. Effort from Oscar cleared off the line. At Celtic Park, Samaras is denied by Valdes from a tight angle.
19:46: Underway across Europe. All the goals as they go in here.
19:40: Aproaching kick-off across Europe so it's prediction time.
Group E: FC Basel 1-2 Schalke 04; Steaua Bucharest 0-3 Chelsea
Group F: Arsenal 0-0 Napoli; Borussia Dortmund 2-0 Marseille
Group G: FC Porto 2-2 Atletico Madrid
Group H: Ajax 1-1 AC Milan; Celtic 0-1 Barcelona
I wouldn't spend too long pondering over those.
19:35: Good interview with Rafa Benitez on Sky Sports in the lead up to his side's game against Arsenal. The Spaniard has a great record in English football, with European trophies won with both Liverpool and Chelsea. He says he joined Napoli to be part of the club's 'project'. A huge test of their credentials tonight.
19:30: So elsewhere across the continent, what are the games to look out for? Well in Portugal, FC Porto, perennial overachievers in the Champions League, host Atletico Madrid, many people's dark horses in the competition. And in Amsterdam, Ajax, host seven-time winners AC Milan who have suffered a difficult start to their Serie A campaign. Two to look out for as the evening progresses.
19:20: So Arsenal are without Jack Wilshere and Serge Gnabry, both of whom are on the bench, from the start against Napoli. The Italians themselves are without Gonzalo Higuain after the Argentine picked up a thigh strain.
Chelsea begin with both Juan Mata and Oscar behind Fernando Torres in Romania. As for Steaua, Christian Tanase comes in after passing a late fitness test.
For Celtic, as expected Derk Boerrigter is out with an ankle injury and James Forest has not pulled through after illness. Beram Kayal is only on the bench. Barcelona are of course missing Lionel Messi but don't forget that Javier Mascherano, Carlos Puyol and Jordi Alba are all missing too.
19:10:Teams:
Arsenal: Szczesny, Sagna, Mertesacker, Koscielny, Gibbs, Rosicky, Arteta, Ozil, Ramsey, Flamini, Giroud.
Substitutes: Fabianski, Vermaelen, Monreal, Jenkinson, Wilshere, Bendtner, Gnabry
Napoli: Reina, Britos, Albiol, Callejon, Mesto, Hamsik, Zuniga, Behrami, Inler, Pandev, Insigne.
Substitutes: Cabral, Fernandez, Armero, Cannavaro, Dzemaili, Mertens, Zapata
Steaua Bucharest: Tatarusanu, Szukala, Gardos, Filip, Tanase, Latovlevici, Georgievski, Stanciu, Piovaccari, Bourceanu, Popa.
Substitutes: Nita, Prepelita, Cristea, Tatu, Neagu, Varela, Kapetanos
Chelsea: Cech, Ivanovic, Cole, Luiz, Ramires, Lampard, Torres, Mata, Oscar, Schurrle, Terry.
Substitutes: Schwarzer, Mikel, Ba, Willian, Cahill, Azpilicueta, Eto'o
Celtic: Forster; Lustig, Ambrose, Van Dijk, Izaguirre; Matthews, Brown, Mulgrew, Samaras; Commons; Stokes.
Substitutes: Zaluska, Biton, Balde, Rogic, Pukki, Kayal, Forrest.
Barcelona: Valdes, Alves, Bartra, Pique, Adriano, Sergio, Xavi, Iniesta, Neymar, Fabregas, Pedro.
Substitutes: Pinto, Montoya, Dos Santos, Song, Sergi Roberto, Alexis Sanchez, Tello.
19:05: If you thought you had to wait for the drama on matchday two then you are mistaken. Austria Vienna have already secured their first ever Champions League point by drawing with 10-man Zenit, who had Axel Witzsel sent off in the first half.
Teams from each of our featured games are on the way but I can tell you that Jack Wilshere is missing for Arsenal.
19:00: Can lightning strike twice? Just 11 months on from that famous night at Celtic Park, Barcelona return to Glasgow seeking to act revenge for their famous defeat labelled as the Bhoys' second greatest result in their history. Remember Rod Stewart's tears? They could be repeated tonight against a Barcelona side without Lionel Messi.
Elsewhere on matchday two of the Champions League, Chelsea look to get their Champions League campaign back on track against Steaua Bucharest, who they beat on their way to winning the Europa League last season. Jose Mourinho's side lost to FC Basel in week one but are without Eden Hazard tonight.
And finally, for Arsenal tonight is a litmus test of their impressive form when they welcome Napoli, managed by former Liverpool and Chelsea boss Rafael Benitez. The Gunners have won nine in a row since their opening day defeat to Aston Villa. Napoli, who signed Gonzalo Higuain among others during a summer spending spree, have won six of seven this season and beat runners-up Borussia Dortmund on matchday one.
Stay with IBTimes UK for all the updates on what is sure to be a thrilling night of Champions League football. I fancy we're in for a shock or two.