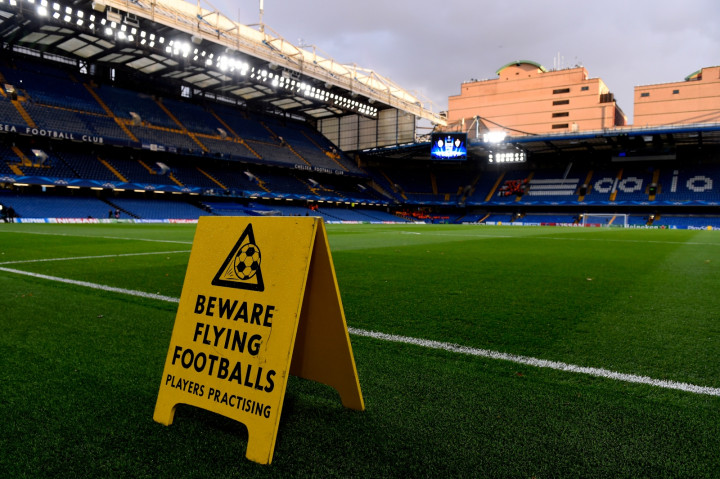 9:45: It's been some night in the Champions League. 40 goals have flown in, the biggest evening haul in the group stages of the competition. Six of those came from Chelsea, seven more from Bayern who's 7-1 thrashing of Roma has underlined their intention to get their trophy back. Paris Saint Germain looked unable to join the party against a resiliant Apoel but a late strike from Edinson Cavani saw them take all three points. Here are all your full time results.
CSKA Moscow 2-2 Manchester City
Roma 1-7 Bayern Munich
Apoel 0-1 Paris Saint Germain
Chelsea 6-0 NK Maribor
Barcelona 3-1 Ajax
BATE 0-7 Shakthar Donetsk
Schalke 4-3 Sporting
Porto 2-1 Athletic Bilbao
FULL TIME
9:35: Go on, one more then. Nathan Ake lifts a brilliant long ball over the top into the path of Hazard. The Belgian's first touch is perfect, allowing him to cut inside past his man and curl a sublime strike into the top corner.
Goal! Chelsea 6-0 Maribor (Eden Hazard)
9:32: With El Clasico on the horizon, Luis Enrique has opted to take off Messi, Neymar and Iniesta. Too soon maybe? Probably not, but Ajax have given them a late scare with El Ghazi scoring from close range.
Goal! Barcelona 2-1 Ajax (El Ghazi)
9:28: Shakhtar have also finally picked up from where they left off in the first half. They lead 7-0 against BATE Borisov thanks to a fifth goal from Luiz Adriano.
9:25: Remember when I said Schalke were in control against Sporting? Wrong. The Portuguese giants have clawed their way back into this. Adrien Silva reduced the gap from the penalty spot before heading in from close range 15 minutes later.
9:22: Bayern are at it again. Ribery, who has come on for Robben, latches on to a wonderful through ball and beautifully clips the ball over the onrushing De Sanctis into the back of the net. After that goal, Guardiola opted to introduce Shaqiri from the bench and it wasn't long before he joined the party, slamming the ball into the roof of the net after Rafinha's shot was spilled.
Goal! Roma 1-7 Bayern Munich (Xherdan Shaqiri)
Goal! Roma 1-6 Bayern Munich (Franck Ribery)
9:20: Willian skips past his man with a neat step over and proceeds to crack the cross bar with a wonderful effort. So close to a fifth, but his side won't have to wait long. Marko Suler hauls down Ivanovic in the box, allowing Hazard to step up and slot the resulting penalty home.
Goal! Chelsea 5-0 Maribor (Eden Hazard)
PENALTY - Chelsea
9:17: That's the Brazilian's last action of the game as he makes way for 17-year-old Dominic Solanke, who becomes Chelsea's youngest ever player in this competition.
9:15: Oscar came close to adding a fifth a few moments ago. Shifting the ball onto his favoured foot he thumped a wonderful effort on goal that Maribor failed to close down, only to see it fly just wide of the post.
9:10: Manuel Neuer won't be pleased. Had he kept Roma out tonight that would have been his and his side's 10th consecutive clean sheet. Gervinho has spoilt that party, however, heading in at the near post to cap an eye-catching move from the home side.
Goal! Roma 1-5 Bayern Munich (Gervinho)
9:09: Ibraimi steps up after winning the penalty and hits it low and hard. Too hard, mind, as it comes back off the post.
PENALTY - MISSED! (Maribor)
9:07: Nemanja Matic, usually an elegant figure in midfield despite his size, clumsily bundles into the back of Ibraimi inside the Chelsea box and the referee points to the spot.
PENALTY - Maribor
9:05: Schalke have taken control in the other game in Chelsea's group. Huntelaar and Howedes have struck in the second half to give their side a 3-1 lead.
Nick Howson at Stamford Bridge
"Just last week Inter Milan owner Eric Thohir suggested the idea of introducing wildcards for the big teams who don't qualify automatically for the Champions League, super-sizing the competition a la the Europa League.
"On the evidence of the performances of Roma, Bate Borisov and Maribor tonight, that idea should be immediately torched.
"If anything, Uefa have diluted the quality of their premier product by expanding it across the continent and as I have previously said, the competition rarely gets going until the latter stages of the knock-out phase. "
"As you can probably tell, the lack of a genuine contest has left time for a rant."
9:02: Roma will officially not score in this match. Gervinho wins a free kick out on the left and escapes his marker on its delivery to tap in from yards out. Neuer somehow keept it out however, getting down brilliantly to claw it off the line.
8:58: Chelsea have another. Willian frees Luis down the left who skips past a challenge and rolls a ball across goal that eventually falls to Hazard. The Belgian pings it back across the way it came only for it to come off the foot of Viler.
Goal! Chelsea 4-0 Maribor (Mitja Viler OG)
8:55: Gervinho hits the post! The former Arsenal man sprints away from his former teammate Benatia and beats Neuer with a poweful effort but it cannons back off the woodwork. Bayern clear, but Roma soon have it back and Florenzi is picked out with a beautiful diagonal ball in the box. His first toucgh is immaculate, but Neuer brilliantly blocks his effort on goal.
8:51: Worth keeping in mind, the record score line in the Champions League group stage currently belongs to Liverpool who beat Besiktas 8-0 seven years ago. Bayern and Shakhtar will have that in their sights.
8:50: And we are back underway for second half action across Europe. Roma, 5-0 down, have taken off Francesco Totti with Florenzi entering the fray. Ashley Cole's torrid evening is over as he is replaced by Hobelas.
Nick Howson at Stamford Bridge
"Result beyond doubt in west London as Chelsea cruise into a three-goal lead over Slovenian champions Maribor without breaking sweat. Though Loic Remy, Didier Drogba and John Terry's goals might have Blues fans celebrating at the break, their comfortable position has come at a cost.
"Remy has joined Diego Costa on the treatment table with a thigh injury picked up early in the first half and leaves Jose Mourinho with one fully fit striker in the form of Drogba for the trip to Manchester United this Sunday. Mourinho will surely face questions at full time over the fitness of Costa and the decision to sign Remy this summer, who lets not forget has a chequered medical history.
As far as the action on the pitch is concerned, find a repeat of the Great British Bake Off to watch. It's a foregone conclusion here."
8:33: And that's half time. Chelsea are cruising at Stamford Bridge while Bayern Munich have silenced the Eternal City and are chasing records. Shakhtar have gone one better than Pep Guardiola and Bayern and lead 6-0 at half time. 19 goals have flown in the first 45 minutes across Europe. More of the same, please.
HALF TIME SCORES
Roma 0-5 Bayern Munich
Apoel 0-0 Paris Saint Germain
Chelsea 3-0 NK Maribor
Barcelona 2-0 Ajax
BATE 0-6 Shakthar Donetsk
Schalke 1-1 Sporting
Porto 1-0 Athletic Bilbao
8:30: Make that six for Shakhtar. Luiz Adriano has added another, his fourth of the evening.
8:28: Chelsea are strolling through this game. With a trip to Old Trafford waiting this Sunday, his side have secured three points in swift, incisive fashion this evening.
8:26: Shakhtar Donestk are doing their best to keep up with Bayern this evening, they too are leading 5-0 against BATE. Schalke meanwhile have wiped clear Nani's opener and have pulled it back to 1-1 against Sporting.
8:22: A poor hand ball decision gives Muller the chance to make it five from the spot. He obliges, coolly finding the bottom corner.
Goal! Roma 0-5 Bayern Munich (Thomas Muller)
PENALTY - Bayern Munich
8:18: Chelsea might be short of strikers come Sunday but John Terry is proving he'll be ready to do his bit. Eden Hazard leads a counter attack before finding Fabregas. The Spaniard looks up and finds Terry's surging run and the Blues skipper taps home.
Goal! Chelsea 3-0 Maribor (John Terry)
8:16: Roma are being utterly dismantled here. It's a masterclass from Bayern at the moment. Robben again peels off Cole and is expertly found down the inside right channel. He cuts inside and... well, you know the rest. De Sanctis could have perhaps done better but you'd fancy anything to go in for Pep Guardiola's side at the moment.
Goal! Rome 0-4 Bayern Munich (Arjen Robben)
8:13: Another flurry of goals to bring to you. Didier Drogba doubles Chelsea's second, slamming home a penalty after Willian's lifted ball struck the arm of Ales Merteli. It seemed a harsh decision, but them be the breaks.
In Rome, Bayern are at their sumptuous best and Lewandowski has notched their third inside 25 minutes, nodding in from close range after some excellent movement in the box. And finally, Messi is warming up for El Clasico, slotting home following Andres Iniesta's excellent through ball.
Goal! Barcelona 2-0 Ajax (Lionel Messi)
Goal! Roma 0-3 Bayern Munich (Robert Lewandowski)
8:11: It's a wonderful second from Bayern as Gotze drives through the middle, looks for the one two with Muller and receives it via a wonderful back heel and slots past De Sanctis.
Goal! Chelsea 2-0 Maribor (Didier Drogba)
Goal! Roma 0-2 Bayern Munich (Mario Gotze, 23)
8:09: Chelsea's rhythm doesn't look to have been disrupted by that early departure of Remy. Ivanovic does well down the right and drills a ball into Hazard at the near post but the Belgian can't direct his shot goalwards.
8:05: Elsewhere tonight Shakthar have taken the lead while Nani is on the scoresheet again for Sporting, slotting home after being cleverly found by João Mário's cut back.
BATE 0-1 Shakthar Donetsk (Alex Teixeira)
Goal! Schalke 0-1 Sporting (Nani)
8:03: That problem for Remy has se8:09:n Didifer Drogba enter the fray. Jose Mourinho on Tuesday said the big Ivorian wasn't ready for 90 minutes. He'll play 75 should no more problems occur tonight.
8:01: Maribor respond brilliantly, with Agim Ibraimi letting fly with a splendid effort from distance, forcing Cech into a good save
Nick Howson at Stamford Bridge
"Chelsea hit the front but the clouds continue to darken over their striker situation. Loic Remy brilliantly puts the hosts ahead but immediately pulls up with a thigh problem.
"With Diego Costa already out, that leaves the Blues with just one recognised striker heading into the visit to Manchester United this weekend. Jose Mourinho thought he had solved this shortage of attackers in the summer, but clearly hasn't."
8:01: John Terry briefly assumes the role of creator in chief, lifting an excellent ball over for Remy. The Frenchman may have been offside but there is no flag, allowing him to race into the box and slot home.
Goal! Chelsea 1-0 Maribor (Loic Remy)
7:58: Maribor are stroking the ball around well when they have it but Chelsea are looking threatening in these early stages. Luis feeds Oscar inside the box who goes down under pressure from his marker. He wants a penalty, but the ref isn't interested.
7:56: Barcelona have also taken an early lead through Neymar, who held his run well to pick up Messi's through ball and slot home.
7:55: Bayern have the lead! Robben, out on the right cuts inside and plays a neat one two with Lahm. Ashley Cole stands in his way but Robben skips onto his left foot and curls a beauty into the far corner. Poor defending from the former Chelsea defender.
Goal! Roma 0-1 Bayern Munich (Arjen Robben)
Goal! Barcelona 1-0 Ajax (Neymar)
7:51: As you'd expect, Chelsea have dominated possession the early stages of the match. Fabregas came close to threading a ball through to Remy a few moments ago but the Frenchman was hustled off the ball. Zouma and Terry had the chance to get forward for a corner but it's wasted by Oscar.
7:49: Bayern Munich's Benatia being greeted to a chorus of boos every time he touches the ball this evening. Roma stick to their story of the player forcing the move to Germany in the summer, Benatia meanwhile insists the Italian club were more than willing to bite Bayern's hand off when they offered £25m. Someone is fibbing.
7:46: And we are off and underway across Europe for the first half.
7:43: Petr Cech starts, Kurt Zouma comes in replacing Gary Cahill with Filipe Luis coming in at left back. Further up the pitch, Mourinho has selected his strongest possible side with Loic Remy keeping his place with Diego Costa injured.
Chelsea: Cech, Ivanovic, Zouma, Terry, Luis, Willian, Fabregas, Matic, Hazard, Oscar, Remy. Subs: Courtois, Ake, Drogba, Salah, Cahill, Azpilicueta, Solanke.
Maribor: Handanovic, Stojanovic, Rajcevic, Suler, Viler, Mejac, Mertelj, Filipovic, Bohar, Ibraimi, Tavares. Subs: Cotman, N'Diaye, Sallalich, Zahovic, Mendy, Vrsic, Arghus.
Nick Howson at Stamford Bridge
"Chelsea need only look at the dilemma facing Manchester City to realise how big tonight's game is in the context of their season. With City facing an uphill struggle to qualify for the knock-out stage, and therefore devoting significant resources towards attempting to reach the last 16 during a busy period of the campaign, the Blues can make the festive period a comfortable one should they wish.
"Victory tonight will leave Chelsea at worst four points adrift of the team in third place in the group with three matches remaining. Top spot might be the aim, but another three points would be a huge step towards the knock-out phase, allowing Mourinho to focus on domestic demands, a luxury opposite number Manuel Pellegrini will be unable to benefit from."
LINE UPS
Barcelona v Ajax
Barca XI: Ter Stegen; Alves, Piqué, Bartra, Alba; Mascherano, Iniesta, Rakitic; Pedro, Messi, Neymar
Ajax XI: Cillessen; Van Rhijn, Veltman, Moisander, Viergever; Klaassen, Zimling, Andersen; Schöne, Sigthórsson, Kishna
Roma v Bayern Munich
Roma XI: De Sanctis; Torosidis, Manolas, Mapou, Cole; Pjanic, De Rossi, Nainggolan; Iturbe, Totti, Gervinho
Bayern XI: Neuer, Boateng, Benatia, Alaba - Robben, Lahm, Alonso, Bernat - Muller, Gotze - Lewandowski
7:32: We have seven other fixtures taking place this evening. They are:
Roma v Bayern Munich
Apoel v Paris Saint Germain
Chelsea v NK Maribor
Barcelona v Ajax
BATE v Shakthar Donetsk
Schalke v Sporting
Porto v Athletic Bilbao
Nick Howson at Stamford Bridge
"With Maribor unbeaten in the Champions League this season Jose Mourinho has limited the changes to just three tonight, all of which come at the back. Promised opportunities this season in goal, Petr Cech plays ahead of the rested Thibaut Courtois. In the back four, Felipe Luis comes in from the start in Europe again while there is another chance to see Kurt Zouma, who replaces Gary Cahill.
"It might be mid-October but it is already hat and gloves weather in the Stamford Bridge press box. Naturally, mine are warming nicely at home so I'm embracing the conditions head on; and people say sports journalists have it all. There was only two choices for pudding for the pre-match meal too."
7:13: Chelsea had a minor stumble in their group opener against Schalke but a win in Lisbon last time out got them back on track. They welcome Slovenian champions NK Maribor to Stamford Bridge this evening where Nick Howson will be providing us with updates.
7:10: Not a bad start to the evening, that. Roma and Bayern Munich meet in Group E's other fixture in just over half an hour and a home win for Rudi Garcia's side will open up real daylight between them and City, who remain stranded in third with just two points to their name.
6:54: City have thrown it away here. Their points tally after three games is now just two, not good enough in a group that will be as fiercely contested at this. Goals from Sergio Aguero and James Milner set up what seemed to be a routine victory in the first half but Manuel Pellegrini's side have capitulated in woeful fashion in the Russian capital. An uncertain Eliaquim Mangala and an extremely wasteful Yaya Toure contributed to City's downfall, and while they will feel aggrieved after Musa's theatrical fall saw CKSA awarded a late penalty. their inability to see the game out will resonate louder. No wins from their opening three games. It is not good enough.
FULL TIME
CSKA Moscow 2-2 Manchester City
6:51: City won't believe they have thrown this away. Yaya Toure in particular have endured a woeful second half, but all credit to CSKA who seemed unable to break through the blue wall half an hour ago.
6:49: Three minuted of injury time added on.
6:47: Mangala tries to play the ball out of defence but he gets it horribly wrong and CSKA spring forward. Musa holds it up well as City get numbers back and take the sting out of the attack, but Musa keeps it alive, turning his man on the edge of the box but lacks to composure to keep his effort on target from a difficult angle.
6:45: It looked a soft decision that saw Kolarov penalised. It doesn't matter, however, we are level with three minutes remaining.
6:43: Toure again loses possession, allowing CSKA to find Shchennikov out on the left. He drills the ball into the box towards Doumbia who hits the deck under pressure from Kolarov. The referee points to the spot and Natcho slams it past Hart into the top corner!
Goal! CSKA Moscow 2-2 Manchester City (Natcho, 85)
PENALTY - CSKA Moscow
6:37: Aramenko does brilliantly down the right flank after being found in space but his drilled cross into the box evades his teammates.
6:35: Silva's evening is over, Manuel Pellegrini looks to secure this result by bringing on the formidable Fernandinho to replace the inventive Spaniard.
6:32: Kompany concedes a free kick allowing CSKA to swing a ball into the box but Hart reads it well and comes out to collect.
6:30: Toure woefully loses possession allowing Efremov to gallop forward. CSKA work the ball over to the left but the pace in the move has worn off, resulting in Doumbia cutting in onto his right foot to shoot, but Hart easily collects. Meawnhile, Jesus Navas has come on for Dzeko.
6:25: City have been handed a shock here. They immediately launch the ball forward but it results in Toure letting fly with a fairly tame shot from distance that the goalkeeper collects.
6:23: CKSA are back in this! It's a wondefully worked goal, in fairness. Musa is slid into space inside the box after some tidy build up play that drew Mangala out of position. He draws Hart out of goal but instead of shooting looks towards his strike partner Doumbia who sneaks ahead of his man to prod home.
Goal! CSKA Moscow 1-2 Manchester City (Doumbia, 64)
6:21: The ball breaks for Roman Eremenko just outside the box who hits a wonderfully innovative half volley on goal that just curls over the bar. Unlucky.
6:18: After a few minutes of treatment Doubmia remerges from tunnel and is able to continue.
6:15: Fernando chases down Doumbia and crashes through the back of the forward, winning the ball but leaving the CSKA forward in a heap. The City midfielder is shown a yellow card and a stretcher is on for Doumbia, who only came on for this second half.
6:12: CSKA have enjoyed a greater share of possession in this half but they are lacking the invention to do anything with it. City are simply waiting for each attack to break down and seem happy to repeat the process and secure three points.
6:10: CSKA switch to the right but find no luck there either. City retrieve the ball and bring it upfield with Silva who looks to side a pass in for Dzeko down the inside left channel but there's just too much on his ball.
6:06: Positive start to the half from the hosts who probe in front of the City defence, looking for an opening. Natkho draws a foul out of Fernandinho about 25 yards out from goal but but Tosic's effort is slammed into the wall.
6:02: And we are back underway for the second half. Seydou Doumbia, who scored twice at the Etihad last season, has come on, replacing Berezutski. 4-4-2 for the home side.
HALF TIME
CSKA Moscow 0-2 Manchester City
5:46: City close to a third as Kolarov plays a one two with Dzeko to spring down the left. His curled pass into Aguero has just too much on it, however.
5:44: Replays show Ignashevic clipped the heels of Dzeko as he tried to get onto the end of Kolarov's ball. The City man can count himself unlucky to not have seen a penalty awarded.
5:43: And now City hit the post! Dzeko feels he is impeded as he tries to get onto a ball played in from the left from Kolarov but Milner follows it up and smashes it off the post before the rebound pings against a stray ball boy.
5:40: City are cruising now. After patient build up, Toure raises the tempo, lifting a diagonal ball over the top for Zabaleta who has burst into the box from the right. There were suspicions of offside but there is no flag and the ball is slid back to Aguero. Off balance, he can't double his tally as he sends his effort across goal but Milner chases it down and slides it home from close range.
Goal! CSKA Moscow 0-2 Manchester City (James Milner, 37)
5:33: Noise from the crowd continues despite their side falling behind. Or is it? CSKA's vocal support are chanting outside the stadium.
5:31: City easily carve through CSKA to take the lead! It's Silva who clips a ball over the top for Dzeko who has sprung lazy attempt to catch him offside. One on one, yhe Bosnian slides the ball across goal for Aguero to tuck away his fifth in two games.
Goal! CSKA Moscow 0-1 Manchester City (Sergio Aguero, 28)
5:27: Another neat from the home side frees Georgi Milanov on the edge of the box, Tosic is in acres of space to his left inside the box but the midfielder looks to hammer one on goal that is well blocked by Mangala.
5:24: The home side are probing now, and are looking a threat. Tosic this time slips a tidy through ball to Musa inside the box but as he drags the ball onto his left foot Mangala gets back and intercepts.
5:22: Toure clips another elegant ball over the top, taking two CSKA defenders out of the game and finding Milner just inside the left of the box. He has Dzeko waiting in space towards the far post but Milner's touch lets him down and the chance goes.
5:19: There's a very familar pattern developing to this game. City hold possession, CSKA sit back until they get the ball and aim to exploit the pace of Musa on the counter. It hasn't worked yet, with Kompany stepping across to make the interception in the hosts' latest efforts to fashion something.
5:16: Zabaleta nearly opens the scoring! City brilliantly develop a patient attack before it falls to Toure on the edge of the box. He clips an iniviting ball over the top for the onrushing Zabaleta, who takes it on his chest before lashing a decent half volley just the wrong side of the post.
5:14: You can hear faint CSKA chants coming from some small corner of the stadium. Aside from media and staff, the parents of Uefa's pre-match flag bearers are in attendance tonight. It's either coming from them or being piped in through speakers.
5:13: Tosic now tries from range and his wicked effort curls just wide of Hart's far post.
5:11: CSKA are sitting deep, inviting City forward as you would expect. Taking their time, City work the ball in from the left before Kolarov drives in towads the box. He neatly backheels it into the path of Silva but his ball back across the face of goal is intercepted.
5:09: Close from Musa! CSKA lift a long ball up field that Mangala tries to head clear, but can only drop it into the path of Musa who takes a touch and fire just over Joe Hart's bar.
5:07: David SIlva finds an inch or two of space inside the CSKA box and lays off for Dzeko but his shot is intercepted.
5:04: As you can imagine, you can hear every word the Russian players as they ping the ball around. Whether you can understand it is another matter.
5:01: And we are off and running in Moscow in front of a crowd of around 650, made up of journalists, delegates, sponsors and the like.
4:55: Very odd scenes as the teams make their way out onto the pitch. It's still business as usual, however, the Champions League theme is belted out, albeit not quite as dramatically as we've become accustomed to.
4:44: Manchester City currently sit third in group E by virtue of their opponents this evening losing both their games so far. CSKA were thrashed by Roma upon their return to this competition as Gervinho helped his side secure a 5-1 win, before a 1-0 defeat to Bayern last time out.
4:36: Seydou Doumbia, the man who struck twice for CSKA at the Etihad last year settles for space on the bench with Musa leading the hosts' attack this evening. Former Manchester United winger Zoran Tosic takes up a spot on the left flank.
4:28: These two sides met at the same stage of this competition last season. On that occasion City took six points after a 2-1 win in Moscow before a 5-2 thrashing back at the Etihad. It was enough to help Pellegrini's side secure second place in the group which fed them into the path of Barcelona in the knock out stages.
TEAM NEWS: Manchester City
City XI: Hart, Kolarov, Mangala, Kompany (c), Zabaleta, Fernando, Toure, Milner, Silva, Dzeko, Aguero
Subs: Caballero, Clichy, Sagna, Demichelis, Fernandinho, Navas, Jovetic
TEAM NEWS: CSKA Moscow:
CSKA: Akinfeev, Fernandes, V. Berezutski, Ignashevich, Shchennikov, A. Berezutski, Natcho, Tosic, Eremenko, Milanov, Musa
4:12: So what effect will playing in front of a crowd consisting of delegates, journalists and photographers have on the proceedings tonight? Even with no hostile atmosphere to brace for, City midfielder Fernandinho doesn't believe the ban hands the visitors any sort of advantage. Having played previously in two games held in empty stadiums, he probably knows what he's talking about.
I don't think it will be an advantage for us.
It's always good when you play away because the home fans support their team and it gives you more motivation to play well. I don't think this [a closed stadium] is good for either team or for football.
I've experienced it twice before. The first time was in Brazil and the second time was for Shakhtar, away to Inter Milan.
4:10: After taking just a point from their opening two group games, Manchester City's hopes of staying in the race for qualification to the knock out stages of the Champions League rest on their performances against CSKA Moscow. Tonight, Manuel Pellegrini's side are in the Russian capital and must overcome an eerily silent stadium as a result of their hosts' ever-increasing list of sansctions due to the racist behaviour of their supporters.
Later this evening Chelsea welcome Slovenian champions NK Maribor at Stamford Bridge while Roma welcome Bayern Munich and their former player Mehdi Benatia to the Stadio Olimpico, a game Pellegrini will have a keen eye on.
Chelsea: Cech, Ivanovic, Zouma, Terry, Luis, Willian, Fabregas, Matic, Hazard, Oscar, Remy. Subs: Courtois, Ake, Drogba, Salah, Cahill, Azpilicueta, Solanke.
Maribor: Handanovic, Stojanovic, Rajcevic, Suler, Viler, Mejac, Mertelj, Filipovic, Bohar, Ibraimi, Tavares. Subs: Cotman, N'Diaye, Sallalich, Zahovic, Mendy, Vrsic, Arghus.