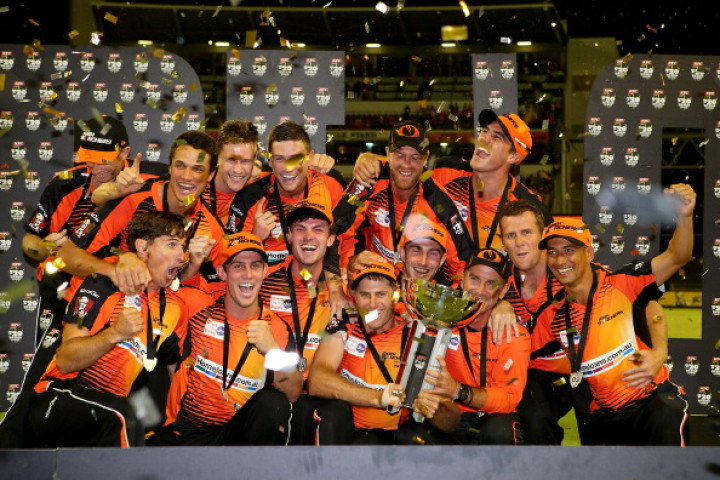 As many as 12 teams are taking part in the 2014 edition of the Champions League T20, which starts on 13 September.
The event is divided into two stages, Qualifiers and Group Stages. Four teams will play against each other and the top two teams will make it to the next round of the Champions League T20.
The 10 teams in the group stages will be divided into two groups and they will fight against the teams from the same group to make it to the semifinal. The tournament starts on 13 September and the final will be played on 4 October.
The fixtures for Champions League T20 are given below:
Qualifiers
Qualifier 1: Northern Knights v Southern Express, 11:30am BST, 13 September
Chhattisgarh International Cricket Stadium, Raipur
Qualifier 2: Mumbai Indians v Lahore Lions, 3:30pm BST, 13 September
Chhattisgarh International Cricket Stadium, Raipur
Qualifier 3: Northern Knights v Lahore Lions, 10:30am BST, 14 September
Chhattisgarh International Cricket Stadium, Raipur
Qualifier 4: Mumbai Indians v Southern Express, 3:30pm BST, 14 September
Chhattisgarh International Cricket Stadium, Raipur
Qualifier 5: Southern Express v Lahore Lions, 11:30am BST, 16 September
Chhattisgarh International Cricket Stadium, Raipur
Qualifier 6: Mumbai Indians v Northern Knights, 3:30am BST, 16 September
Chhattisgarh International Cricket Stadium, Raipur
Group Stages
Match 1: Kolkata Knight Riders v Chennai Super Kings, 3:30pm BST, 17 September
Rajiv Gandhi International Stadium, Hyderabad
Match 2: Kings XI Punjab v Hobart Hurricanes, 3:30pm BST, 18 September
Punjab Cricket Association Stadium, Mohali
Match 3: Cape Cobras v TBC, 3:30pm BST, 19 September
Chhattisgarh International Cricket Stadium, Raipur
Match 4: Dolphins v Perth Scorchers, 11:30am BST, 20 September
Punjab Cricket Association Stadium, Mohali
Match 5: Barbados Tridents v Kings XI Punjab, 3:30pm BST, 20 September
Punjab Cricket Association Stadium, Mohali
Match 6: Cape Cobras v Hobart Hurricanes, 11:30am BST, 21 September
Rajiv Gandhi International Stadium, Hyderabad
Match 7: Kolkata Knight Riders v TBC, 3:30pm BST, 21 September
Rajiv Gandhi International Stadium, Hyderabad
Match 8: Dolphins v Chennai Super Kings, 3:30pm BST, 22 September
M Chinnaswamy Stadium, Bangalore
Match 9: Hobart Hurricanes v TBC, 3:30pm BST, 23 September
Chhattisgarh International Cricket Stadium, Raipur
Match 10: Kolkata Knight Riders v Perth Scorchers, 3:30pm BST, 24 September
Rajiv Gandhi International Stadium, Hyderabad
Match 11: Chennai Super Kings v TBC, 3:30pm BST, 25 September
M Chinnaswamy Stadium, Bangalore
Match 12: Barbados Tridents v Cape Cobras, 11:30am BST, 26 September
Punjab Cricket Association Stadium, Mohali
Match 13: Kings XI Punjab v TBC, 3:30pm BST, 26 September
Punjab Cricket Association Stadium, Mohali
Match 14: Dolphins v TBC, 11:30am BST, 27 September
M Chinnaswamy Stadium, Bangalore
Match 15: Perth Scorchers v Chennai Super Kings, 3:30pm BST, 27 September
Punjab Cricket Association Stadium, Mohali
Match 16: Barbados Tridents v Hobart Hurricanes, 11:30am BST, 28 September
Punjab Cricket Association Stadium, Mohali
Match 17: Kings XI Punjab v Cape Cobras, 3:30pm BST, 28 September
Punjab Cricket Association Stadium, Mohali
Match 18: Kolkata Knight Riders v Dolphins, 3:30pm BST, 29 September
Rajiv Gandhi International Stadium, Hyderabad
Match 19: Perth Scorchers v TBC, 11:30am BST, 30 September
Punjab Cricket Association Stadium, Mohali
Match 20: Match 17: Barbados Tridents v TBC, 3:30pm BST, 30 September
Punjab Cricket Association Stadium, Mohali
Semi Final
Semi Final 1: TBC v TBC, 11:30am BST, 2 October
Rajiv Gandhi International Stadium, Hyderabad
Semi Final 2: TBC v TBC, 3:30pm BST, 2 October
Rajiv Gandhi International Stadium, Hyderabad
Final
Final: TBC v TBC, 3:30pm BST, 4 October
M Chinnaswamy Stadium, Bangalore