Charles Saatchi has said he does not know if his wife Nigella Lawson was an habitual drug user during their ten-year marriage.
The millionaire advertising guru was appearing at Isleworth Crown Court to give evidence against former employees Francesca, 35, and 41-year-old Elisabetta Grillo, who are accused of using company credit cards loaned to them, to spend more than £685,000 on personal items.
The Grillo's claim that they were permitted to make the expensive transactions by 53-year-old Lawson, in return for keeping quiet about her alleged drug use.
When questioned in court about their claims Saatchi said: "I have never, never seen any evidence of Nigella taking any drug whatsoever. I want to be helpful, but I genuinely have no real knowledge at all."
Saatchi refuted suggestions that his former wife's mind was so "addled" by drugs that she was not even aware whether or not she had permitted the sisters to make the expensive purchases.
"Are you asking me whether I think that Nigella truly was off her head?' he asked. "Not for a second. Over this whole period she was writing books very successfully and appearing on television shows very successfully."
Saatchi went on to reveal personal details of his marriage to the celebrity chef, saying that he was "broken-hearted" that their marriage was over.
"I adore Nigella now. I absolutely adore Nigella and I'm broken-hearted to have lost her," he said.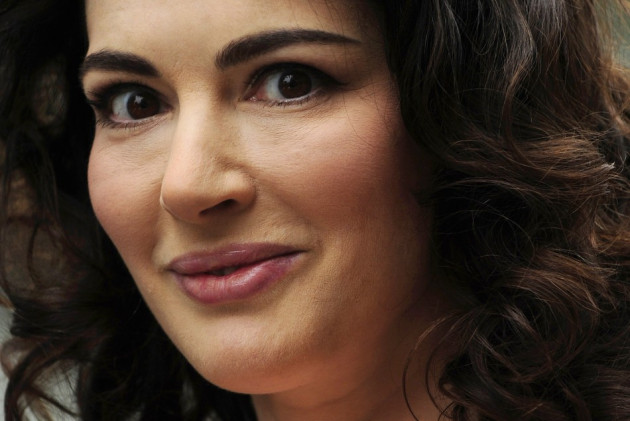 The couple divorced after the 70-year-old was photographed grabbing Lawson by the throat outside Scott's Restaurant in Mayfair, in June.
In court, Saatchi defended his behaviour, saying he was merely holding her neck "to make her focus" and not throttling her.
The contents of an email the millionaire sent to his wife on October 10 were earlier read to the court in which Saatchi appears to be hinting at drug use.
Referring to her as "Higella" he said in the email: "Of course now the Grillos will get off on the basis that you... were so off your heads on drugs that you allowed the sisters to spend whatever they liked and yes I believe every word the Grillos have said, who after all only stole money."
"But I'm sure it was all great fun and now everything is perfect - bravo, you have become a celebrity hostess on a global TV game show. And you got the Pass you desired, free to heartily enjoy all the drugs you want, forever. Classy."
Commenting in court on the contents of the email Saatchi said: "I'm utterly bereft that this private email to Nigella has come back to haunt us both. That's all I have to say.
"The stories that the Grillos were parading was that Nigella had a severe cocaine habit that stretched back a very long time for the entirety of our marriage.
"What I was speculating here was that the Grillos would use this as a defence," he added.
Saatchi concluded by saying that he was "very against drugs."
Nigella Lawson is expected to give evidence in the trial at Isleworth Crown Court next week.