Charlie Hebdo Paris shooting: The French magazine that satirised the Prophet Mohammed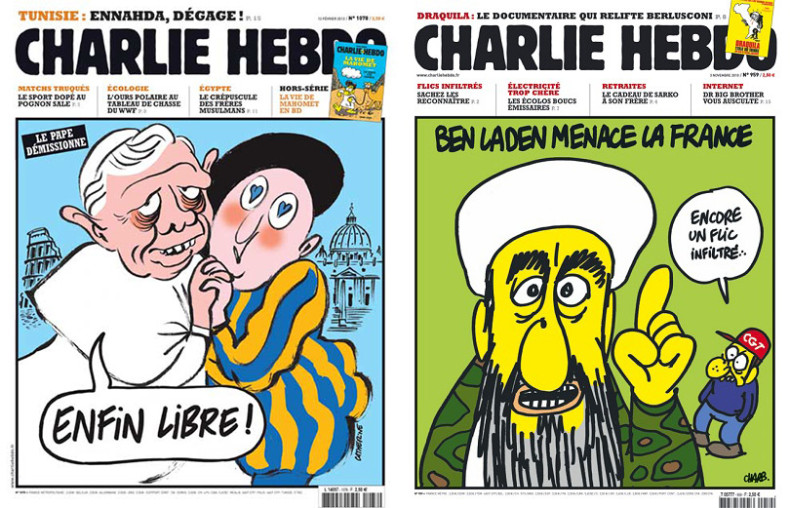 Charlie Hebdo is a national institution in France and there are few who have avoided the acerbic bite of its fearless satire. Not even the Prophet Mohammed, regarded by many in the West as untouchable because of the violent reactions such satire can trigger.
In the latest attack, terrorists armed with guns and shouting "Allahu akbar" murdered several of the publication's staff and two police officers at its Paris office. At the time of publication, the terrorists are still on the run.
The magazine's Paris offices have been attacked before by Islamists angry at its cartoons of their prophet. Many Muslims believe depictions of Mohammed to be blasphemous.
It was firebombed in 2011 after announcing that the Mohammed would be its editor-in-chief, with a frontpage cartoon depicting the 7<sup>th century founder of Islam saying "100 lashes if you don't die laughing".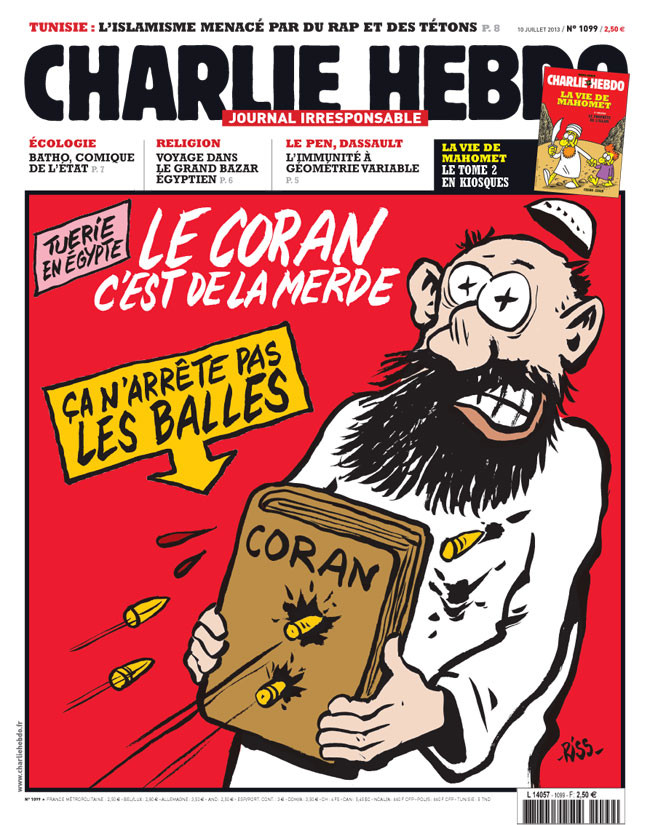 Charlie Hebdo edition of July 2013 reads: "The Koran is shit – it doesn't stop bullets".
CharlieHebdo.fr
After another cartoon showing Mohammed, its website was targeted by hackers. When it published a cartoon showing a Muslim holding up a Quran with bullets being fired through it, captioned "The Quran is shit – it doesn't stop bullets", a group of Islamists tried to sue Charlie Hebdo in the French courts under old French blasphemy laws.
This wasn't the first time it had been sued. In 2007, two French Muslim organisations, the Great Mosque of Paris and the Union of Islamic Organisations of France, took it to court for "public insults against a group of people because they belong to a religion", after the magazine reprinted cartoons of Mohammed which had originally appeared in a Danish newspaper in 2005 sparking violent protests worldwide. Their legal bid failed.
Nobody is safe from Charlie Hebdo's pen. Founded in 1969 and published weekly, it routinely caricatures and mocks people from across the political, social and religious sections of society, including the Pope.
Often criticised by its targets for going too far, it cites its fundamental right to free expression in a democratic society.
In that vein, it has never shied away, as others have, from satirising Islam, despite the violent reactions from extremists in the past, not only towards it but to others, like the author Salman Rushdie, the Danish cartoonists for Jyllands-Posten and the Dutch filmmaker Theo Van Gogh.
"If we no longer have the right to ridicule those who inflict terror on us, that's a problem," said Philippe Val, Charlie Hebdo's editorial director, in 2008.
Their brave satires of Muhammed have caused them horrific, fatal problems because of the backlash from violent Islamic fascists – but they've always reserved their right to keep on doing just that. Let's hope they never stop.