France Satirical Mag Charlie Hebdo Sued by Islamists for 'Blasphemy'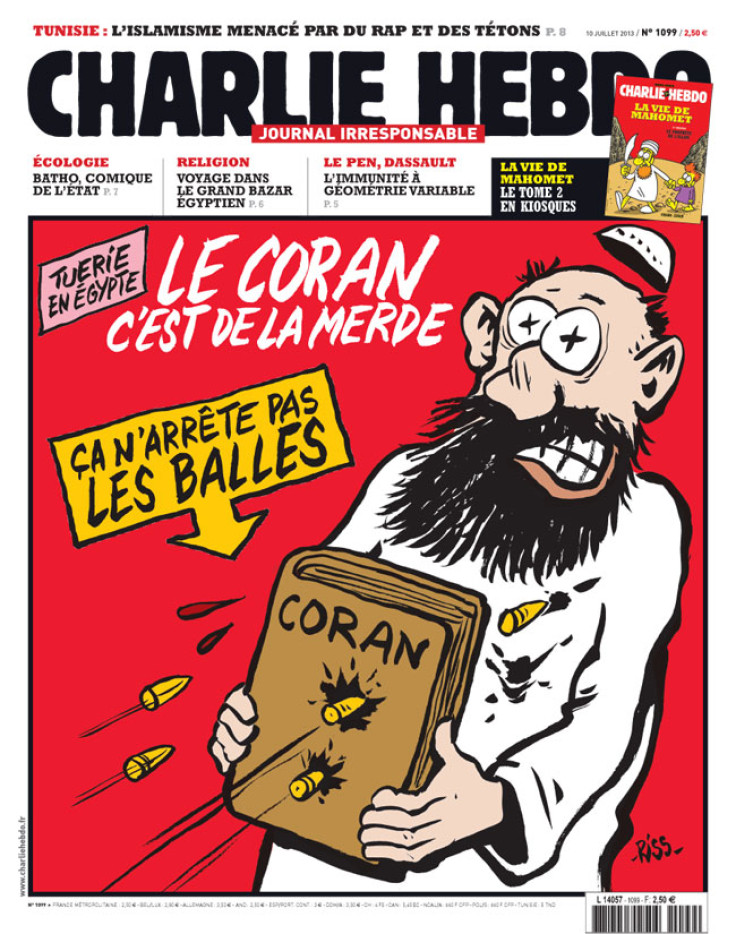 French Islamists have sued satirical magazine Charlie Hebdo for blasphemy in Strasbourg for publishing a cover page with the headline: "The Koran is shit – it doesn't stop bullets."
The League of Judicial Defence of Muslims (LDJM) led by former lawyers Karim Achoui, has brought the case before the criminal court in Alsace-Moselle's capital.
The region, which was annexed by Germany in 1871 and 1940-45, still retained part of the old German code that includes the "blasphemy" crime – which no longer exist in the rest of France.
The LDJM has also sued Charlie Hebdo in Paris for "provocation and incitement to hatred on the basis of religious affiliation and insult".
A further complication is that Alsace's blasphemy laws has no redress for Islam, covering only Catholicism, three forms of Protestants and Judaism.
According to Article 166 of the Alsace-Moselle penal code:
He who causes a scandal by publicly blaspheming against God by disparaging or publicly insulting Christian cults or a religious community established in the territory of the Confederation and recognised as a corporation, or institutions or ceremonies of these cults or which, in a church or other place devoted to religious meetings, has committed offensive and outrageous acts, shall be punished with imprisonment of three years.
Charb, director of Charlie Hebdo, said: "We know in advance that the trial will not go through because Islam is not in the code."
The last application of the blasphemy law in the region dates back to 1918.
However, Eric Sander, secretary general of the Institute of Alsace-Moselle, told Le Monde that according to by-laws "any religion, statutory or otherwise can invoke Article 166 of the local penal code which is independent of system of worship".
Crime of blasphemy was abolished after the French revolution by article 10 and 11 of the Declaration of the Rights of Man and of the Citizen in 1789. It was reinstated under the Restoration and again deleted by the law of 29 July 1881.
French courts, however, will consider cases that provoke injury, personal and direct attack against a group of people because of their religious affiliation or incitement to racial or religious hatred in cases involving defamation of individuals.
Charlie Hebdo is not new to controversy related to satirical cartoon depicting religious figures.
In November 2011, the paper's office in Paris was fire-bombed and its website hacked. The attacks were linked to its decision to rename a special edition "Charia Hebdo" (Sharia Hebdo) with the Prophet Mohammed listed as editor-in-chief.
The magazine was attacked by hackers again in September 2012, after it published cartoons caricaturing the Prophet Mohammed.
According to the Muslim tenets, it is offensive to depict Muhammad in any manner. However, Charlie Hebdo's editor Stephane Charbonnier said at the time that cartoons would "shock those who will want to be shocked," and claimed the right to freedom of expression.
© Copyright IBTimes 2023. All rights reserved.