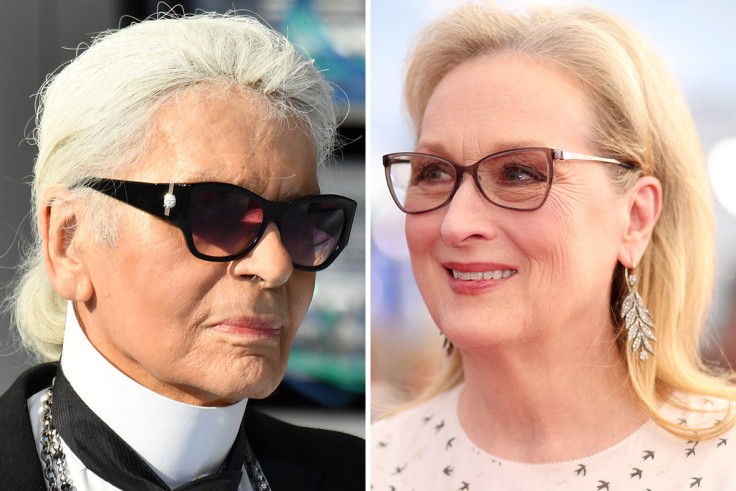 Chanel supremo Karl Lagerfeld has slammed Meryl Streep as 'cheap' after the Hollywood actress allegedly reneged on plans to wear a custom couture creation to Sunday's Academy Awards.
According to the style icon, the 67-year-old star requested an embroidered grey silk gown from his most recent couture collection to be altered to feature a higher neckline, but after the designer sent the sketches to seamstresses to work on, Streep had a change of heart.
He claims that her decision to turn down the dress was money-led because the fashion house refused to pay her to wear it.
However, Streep insists the claims are 'absolutely false'. In a statement to The Hollywood Reporter a representative said it was against her personal ethics to be paid to wear a gown on the red carpet.
"I made a sketch, and we started to make the dress," Largerfeld told WWD.
"After we gift her a dress that's 100,000 euros [$105,000], we found later we had to pay [for her to wear it]. We give them dresses, we make the dresses, but we don't pay."
"A genius actress, but cheapness also, no?"
This is the second time in recent weeks that Streep has come under fire. Back in January US President Donald Trump tweeted that Streep was "one of the most over-rated actresses in Hollywood" after she used her Golden Globe acceptance speech to criticise his campaign rhetoric and his mocking of a disabled reporter.
However, Lagerfeld, known as the Kaiser of fashion, says there are no hard feelings insisting she is still welcome to keep the one-of-kind gown. He said: "She could keep the dress because of the size. It's couture. It's perfect for her."
It remains to be seen what designer Streep will be wearing on the red carpet as she competes with the likes of Emma Stone and Natalie Portman for Best Actress.