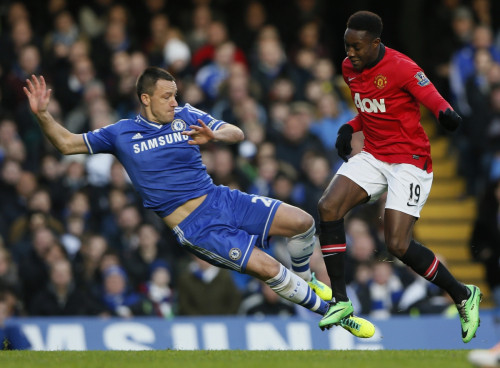 Ashley Cole's Days Are Numbered
Reports in midweek suggested that Jose Mourinho will have full control over whether experienced trio John Terry, Frank Lampard and Ashley Cole are handed new deals at the end of the season. After being left out from the start against Arsenal, Liverpool and now Manchester United, Cole must fear his days in west London are coming to an end. The greatest indicator comes as Cesar Azpilicueta, a right-back by trade, is being deployed out of position in his place.
John Terry's Performances Worthy of an England Recall
It says plenty about the options available to Roy Hodgson at centre-back for England that John Terry, who retired from international football in September 2012 under a cloud following a myriad of on and off the field scandals, is being mentioned with a return. The reality is that Terry is playing his best football since the departure of Jose Mourinho in 2007 and against United looked his dependable best against the agile Danny Welbeck. Terry's willingness for a return remains uncertain though.
Danny Welbeck Destined for Role as England Support Act
Daniel Sturridge has marked his return from injury with two goals in as many games for Liverpool to further cement his status as the ideal partner for Wayne Rooney at the World Cup. A run of six goals in nine games might have given the contest behind Welbeck and a Sturridge a move even look, but once again against Chelsea the United forward proved his killer instinct still requires some work. At 1-0 down, his chance could have changed the momentum but in the end, it opened the floodgates. England cannot afford such a luxury.
Samuel Eto'o Thrives on the Second Half of the Season
The obituaries to Samuel Eto'o football career may have already been written but they are threatening to be given a new footnote after the Cameroonian's hat-trick helped thump the champions. The reality is that Eto'o has always thrived during the second half of a campaign and could have a telling role to play this term. In the 2008/09 season, a term during which Barcelona won the treble, Eto'o scored 18 of his 34 goals of the campaign after the New Year. That included in the Champions League final against United.
The deficit of Manchester United' quality is greater than David Moyes Believes
After losing three of their opening six league games, David Moyes claimed his United squad were "five or six" world class players short of being able to win major silverware. After being swatted away by an efficient, if not thrilling Chelsea without Wayne Rooney and Robin van Persie, the reality is the club are short in almost every department. With January not expected to produce a spending spree, significant surgery is required in the summer and greater than even Moyes believes.