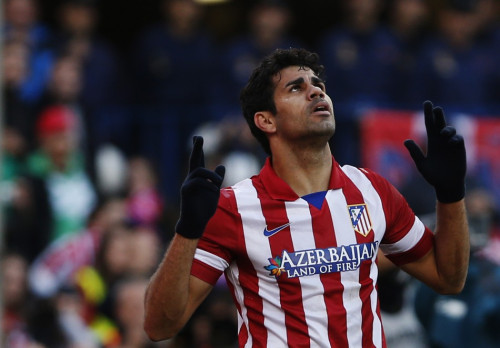 Atletico Madrid are reportedly already in talks with Chelsea representatives to sign Thibaut Courtois and Jose Mourinho will allow the goalkeeper to make a permanent move to La Liga if the Spanish side agree to include striker Diego Costa in the deal.
The 25-year-old striker excelled during the first half of the season, scoring 19 goals in 21 La Liga games and with Mourinho looking to sign a forward for next season the Brazilian-born star is reportedly the Portuguese's main target alongside Porto's Jackson Martinez.
Spanish newspaper AS report that both clubs have already started the negotiations over a swap and Mourinho has accepted to allow Courtois to leave if Costa moves in the opposite direction to play at Stamford Bridge next season.
According to the reports, Simeone may give the green light to the deal as he assumes that Costa will leave club sooner rather than later and his priority for next season is too keep Courtois in the squad.
Indeed, the Atletico boss recently admitted that Courtois is more important to his squad than Costa, suggesting the club may listen to offers this summer.
"Diego Costa? No one is indispensible. What's most important is the club.
"Atletico has always had a turnover at the striker position from Torres, Aguero... Atletico, as a club, has always survived," Simeone claimed.
However, when he was asked about Courtois he claimed the opposite.
"I would pay without a doubt €26m for Courtois. Whatever they (Atletico) pay will be a bargain. He's a young guy who has a huge future and is on track to becoming one of the best goalkeepers in the world."
The 21-year-old 'keeper is currently enjoying his third impressive successive loan season at Atletico Madrid and he has become a key player for them - helping his side win the Copa del Rey against Real Madrid last season and the Europe League the previous campaign.