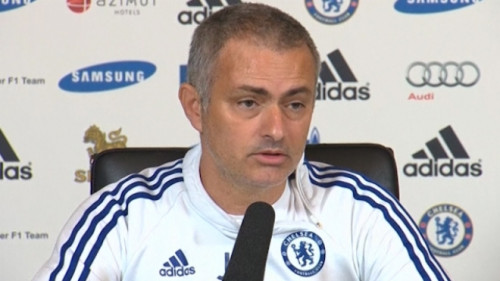 Chelsea manager Jose Mourinho believes Manchester United remain in the race for the Premier League title despite David Moyes' side having slipped 11 points behind leaders Arsenal.
With six defeats already this season, United are off the pace in pursuit of retaining their title in Moyes' first campaign at the club.
The Blues themselves are just two points adrift of Arsenal, and one behind Manchester City, but despite the significant points deficit Mourinho is not ready to write-off the champions.
"If you look at the table, Arsenal and Man City are the top teams," said Mourinho. "City has different ambition. We [Chelsea] are not far away. Liverpool have a fantastic occasion to do it because it's unique that they are not playing in Europe.
"And Man United is Man United but I believe they will push all the way. The way the league is at the moment, for these teams the first priority is to secure a top four spot."
Following a disappointing summer transfer window, Moyes has endured a difficult start to life at Old Trafford following the departure of Sir Alex Ferguson having fallen behind in the title race and been knocked out of the FA Cup, with the trip to Chelsea pivotal to their domestic fortunes.
United are also five points off a top four spot, which would ensure Champions League football for next season, but Mourinho is refusing to be compassionate towards Moyes, given his fortunate position at the Theatre of Dreams.
"I don't think there is a reason to be sympathetic," the Chelsea boss added. "He is very, very stable.
"They gave him incredible trust to be the next Man United manger. They believe in stability and believe in the power of the manager and they believe in the support of the manager.
"It is not because of the bad results or that they aren't top of the league. I don't think there is a reason for David to be in trouble. They will give him time in his contract to reach success. I don't think he is in trouble."