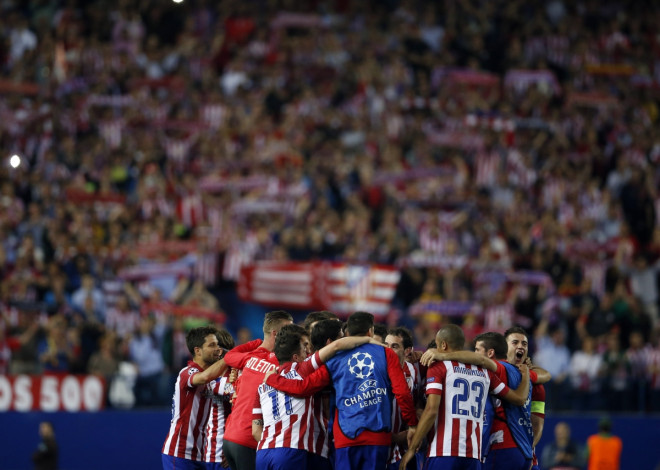 After mastering Zlatan Ibrahimovic and his PSG aristocrats, Chelsea must now cope with two players Jose Mourinho covets – and one he already owns.
If Chelsea are to progress to their first-ever European Cup final, they must deal with Diego Costa, Koke and Thibaut Courtois. This triumverate is key to Atletico's success; much of the Spanish team's creativity and invention flows from their legs and brains.
Koke, the 22-year-old midfielder established himself in the Atletico's first-team last season and has since become a sensation in La Liga, operating both as a playmaker and in a deeper role. He shone once again in the Champions League quarter-final against Barcelona, scoring the winner which put Atleti through to the semi-finals.
Koke wears the number 6 shirt just like Barcelona hero Xavi, and there are obvious parallels between the two, given their range of passing. But Atleti's new star is arguably more similar to Paul Scholes, given his ability to burst into the opposition box and willingness to tackle.
The youngster – who has managed 18 assists in all competitions – sacrifices himself for the group whenever needed. He is versatile, tactically astute and can even play as a second striker. He has even managed to make the Spanish squad, a telling testament to his quality.
Costa, meanwhile, is a player in incredible form. The Brazilian is doing unbelievable things so far this season, and has led Atletico Madrid to the top, perhaps showing why Mourinho has earmarked him as the man to lead their line next summer and is ready to pay around £40m for his signature.
The Blues are in the market for a striker and Mourinho believes that the Atletico man can lead Chelsea to title glory for years to come in the future. So far, he has scored a staggering 33 goals in all competitions and is second-highest scorer in La Liga, just three goals behind of Real Madrid superstar Cristiano Ronaldo – with 28.
Blessed with natural pace, Costa is also a natural finisher, capable of laching onto through balls and finishing with either foot. He relishes being the focal point of his team's attack, just as Fernando Torres, one of his most revered predecessors in Los Rojiblancos' forward line, did in his prime.
And we cannot forget Courtois, currently enjoying his third season at the Vicente Calderon Stadium where he has built a reputation as one of the finest shot stoppers in Europe – even though he is owned by Chelsea.
Courtois joined Atletico the summer they sold David De Gea to Manchester United, and at present there is little to choose between the two. However they are very different keepers; while De Gea relies on reflexes and agility, and has sometimes struggled with crosses, Courtois is bigger and stronger, a goalkeeper in the burly English style. Yet he can also pull off spectacular stops when the need arises.
It had been reported that, under the terms of the deal that took Courtois to Spain, Atletico would have to pay a sizeable fee for the Belgium international to play against Mourinho's side. But Uefa released a statement before Friday's draw saying Courtois would be eligible if the two clubs were paired against one another, and any attempt by a club to exert influence on who the opposition selects was forbidden.
The statement added that any private agreement between two clubs which might influence the line-up in a match would be considered null and void.
So Mourinho will face a team with one of the strongest spines in Europe. The line-up is settled and the pattern of play firmly established; Atletico are happy to play without the ball and hit on the counter, with Costa and former Spain star David Villa offering a potent figurehead.
If Chelsea are to reach Lisbon, they will have to be on top of their game. Atleti may not be as storied or wealthy as the other two clubs Chelsea could have faced in the semis, but they are every bit as dangerous.