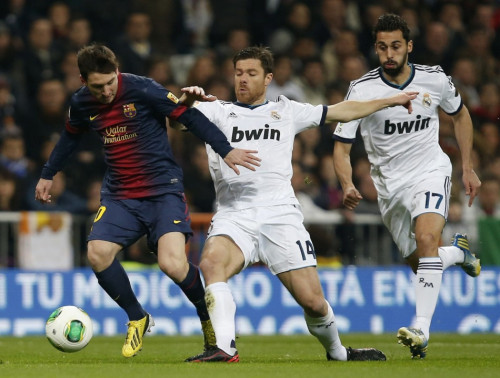 Chelsea are set to make a play for former Liverpool midfielder Xabi Alonso, according to reports, with Jose Mourinho hopeful of being reunited with the Real Madrid man this month.
Alonso has been integral to Madrid but injury issues have hampered his time at the club and as he enters the final six months of his contract Carlo Ancelotti is believed to be willing to let him go.
The Express are reporting that Chelsea have now turned their attention to the 32 year old as they look for more midfield options.
With Alonso offering both skill and experience and having enjoyed a positive relationship with Mourinho during his time at the Bernabeu, he would be an ideal addition to the Chelsea line-up. The Spain international also reportedly fancies a move back to the Premier League after leaving in 2009.
Liverpool are also believed to be interested in taking Alonso back after he enjoyed five years with the club and has arguably never been adequately replaced, and should the Reds finish in the top four this season they would certainly have a chance of competing for his signature.
Manchester City are also reportedly monitoring the situation and while Chelsea have prioritized the capture of Inter Milan star Fredy Guarin, they believe that Alonso would be a great addition to serve alongside or in place of Frank Lampard, who isn't necessarily going to be available for every match leading up to the end of the season.
While Real Madrid had hoped to keep Alonso beyond the summer, reports in Spain at the end of 2013 claimed that he had decided to leave for England if the right offer comes along.