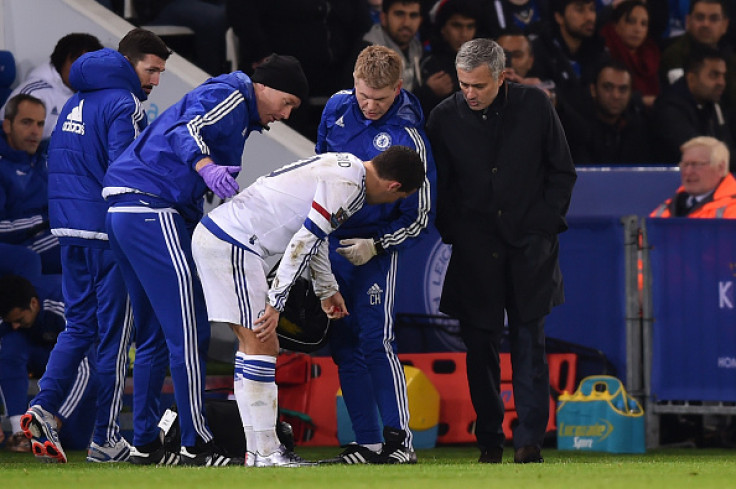 Jose Mourinho is concerned that Eden Hazard may have a serious injury following his clash with Jamie Vardy midway through Chelsea's game against Leicester City. The Belgian had to be substituted in the 30th minute, with summer signing Pedro coming in to replace Chelsea's best player from the previous season.
The 24-year-old is likely to have picked up a hip injury as he called on the bench to be substituted but thought better of it as he took another step in the direction of the field to try and run off the problem. However, the injury was too much for him to keep playing and he walked straight into the tunnel without consulting the manager. Mourinho was unperturbed by the snub, stating that he was aware of Hazard's problem, who will be assessed for any serious issues.
"He made the decision to come off. So it must be a serious injury. His first reaction was 'I can't continue', his second reaction was 'I want to try', but after his first step back on the pitch he said he couldn't. He's injured clearly," Mourinho told Sky Sports, as quoted by the Mirror.
"He had three different perspectives in a few seconds. It must be something important. He clearly couldn't do it."
It is a massive setback for Chelsea, who are already reeling after a series of bad results with their 2-1 defeat to Chelsea their ninth of the season, double their total wins, which stands at four. Vardy and Riyad Mahrez accentuated Mourinho's problems with the duo scoring either side of the break to give Leicester a two goal advantage. Loic Remy, who came on for Oscar in the 65th minute, halved Leicester's advantage but proved too little too late for the Blues to make a comeback.
Mourinho's association with Chelsea could now depend on his performance in the Champions League, with the Blues having drawn Paris Saint-Germain in the round of 16. With a top four spot looking like a distant dream, currently 14 points adrift, the Blues have to repeat their heroics from the 2011/12 season, when they beat Bayern Munich in the finals of the competition after finishing sixth in the league to qualify for Europe.