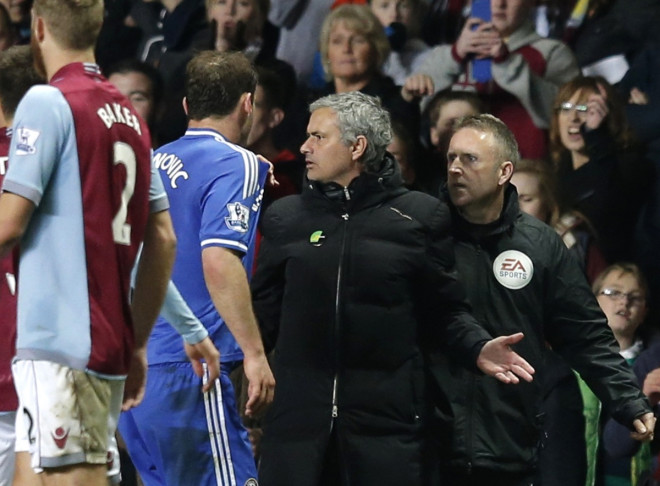 Chelsea manager Jose Mourinho has been charged with improper conduct after being sent to the stands during his side's 1-0 defeat to Aston Villa last Saturday.
The Blues boss walked onto the pitch to address referee Chris Foy after he awarded Ramires a straight red card for a rash challenge on Villa's Karim El Ahmadi, an incident that prompted an angry reaction from the home players.
"It is alleged the Chelsea manager's behaviour in re-entering the field of play in or around the 90th minute of the fixture and approaching the match referee amounted to improper conduct," a statement from the FA read.
"Mourinho will have until 18:00 GMT on Monday 24 March to respond to the charge."
Attacking midfielder Willian was also shown a red card for two bookable offences earlier in the game that saw Chelsea's lead at the top of the Premier League reduced to four points after Fabian Delph's late strike.
After the game, the Chelsea manager explained that he was trying to speak to Foy because Ramires was pushed by Villa striker Gabriel Agbonlahor, who had been substituted, following his challenge.
"I don't know why I was sent off," Mourinho told BBC Radio 5 live. "I asked, but the referee refused to speak to me."
Mourinho added he tried to speak to Foy after the game, but that the referee had refused.
Ramires' wild challenge in stoppage time that provoked the incident was widely condemned post-match with Villa manager Paul Lambert describing the challenge as a "shocker."
"I've seen it and been involved in games where I've seen people going in like that and that was a leg-breaker. If anyone tells you different, I beg to differ," Lambert said.
"The first one is debatable, it was just a little tug, and if it was against my player, I would probably be argumentative about it, but the second one is an absolute no-brainer."