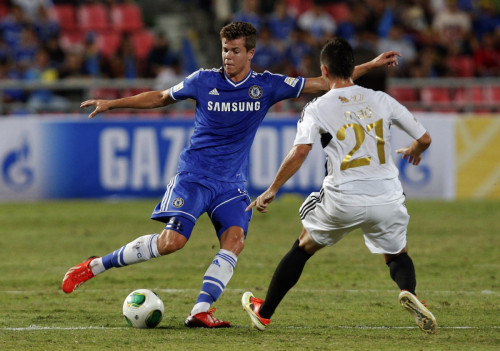 Chelsea midfielder Marco van Ginkel has handed Jose Mourinho a major boost ahead of next season after making a rapid return from injury with the hope of playing in the 2014 World Cup finals.
The 21 year old made just four appearances for the Blues before suffering a cruciate knee ligament injury in September in the League Cup win over Swindon Town.
Van Ginkel was expected to be absent for much of the campaign but the ex-Vitesse midfielder – who has won just two full caps for Netherlands – has designs on playing in the World Cup.
"He'd (the surgeon) rarely seen such a speedy recovery," the Chelsea man said. "Together with the fact that I was physically fit as a fiddle, this has ensured that I am now so well.
"I volunteer at nine o'clock at the club, get treated, warm myself up in the gym or the pool and then go to the physiotherapist on the field. Now I can already change direction, reverse, cut, turn and shoot. Actually, I can do anything.
"The World Cup would be a bonus, because I am only focused on my recovery. My main goal is to get fully match fit again. And if that works in the short term, you never know what can result."
His successful return means Chelsea will be overstocked in midfield come the new season, with Nemanja Matic having joined Ramires, John Obi Mikel and Frank Lampard while Mourinho has ambitions of promoting Nathaniel Chalobah and Lewis Baker.
The return of Van Ginkel might pave the way for Lampard, who is out of contract at the end of the season, to leave Chelsea.
"We can say they are calm, we are calm," Mourinho said last week.
"We know that they want to do well this season and we know that they want to stay in the club.
"They know the respect we have for them. They know the contribution they are giving this season which is different from last season where many doubts could be around Lampard and John because they were not playing.
"This situation is not around. No problems."