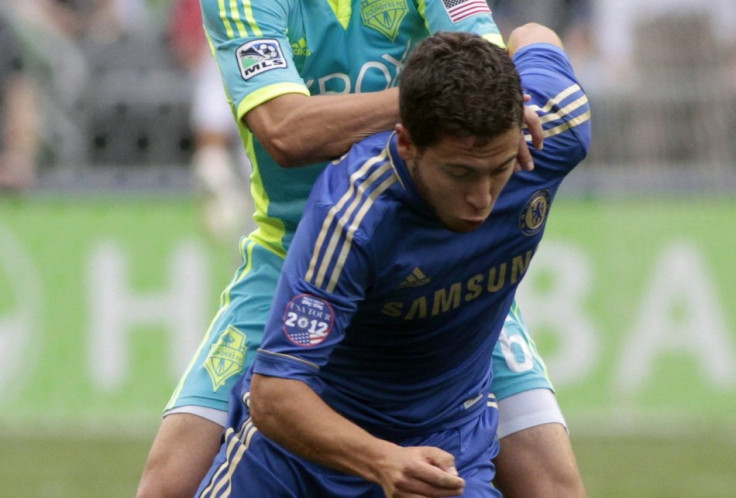 Chelsea playmaker Eden Hazard has dismissed comparisons of himself and Barcelona's Argentinean ace Lionel Messi, although he admitted he felt he could as successful with his time in England and the Premier League.
"Messi is the world's best player and it's a bit of an exaggeration to say I can be that good. Ultimately it's the coach who will decide if I play in a similar role to the one Messi plays for Barca but I am looking to succeed the Eden Hazard way," The Sun quoted the Belgian as saying. The 21 year old former Lille player added he was not in the least nervous by weight of expectations that followed his £32m transfer from the French club.
"But I am happy if people see similarities between us and being compared to Messi makes me think about what I can achieve with Chelsea rather than the obstacles I need to overcome to get there," he added.
The highly-rated forward chose to join the European champions rather than Premier League winners Manchester City and double European champions Manchester United and the decision has since been branded as financial; the Blues offered him a £150,000 per week package. However, Hazard himself has dismissed such allegations.
"Chelsea had the most convincing argument for me to join and obviously being the Champions League winners was a big factor in my choice. Chelsea is a fantastic club with fantastic players and they can give me the best possible chance to progress as a player," he explained. The forward was also targetted by European heavyweights like Inter Milan and Real Madrid.
"I have a particular affinity to the Premier League. It's the best league in the world and it's a really exciting challenge to be a part of that. The atmosphere inside the stadiums is better than anywhere else in the world and it's also a very competitive league with a lot of teams capable of winning it," he added.
Hazard has already opened his goal scoring account for the Blues, with a strike in his very first match as a Chelsea player - the 4-2 win over the Seattle Sounders in a pre-season friendly. He will now be keen on continuing and improving on that form, both through the pre-season tour and once the season proper kicks off, on 18 August.