Lionel Messi could be facing his final months as a Barcelona player and Chelsea is the main candidate to secure his services if he leaves the Camp Nou this summer, according to Spanish reports.
The Argentina international's future wtih the Spanish giants has been under scrutiny since last year even though he agreed a new contract to become the highest paid footballer in the world – ahead of Real Madrid star Cristiano Ronaldo.
Messi added fuel to the rumours earlier this season, hinting he could depart from the club.
"While I've always said I'd like to stay there forever [at Barcelona], sometimes not everything happens the way you want. In football, things change and lots of things happen. It is complicated, especially because of the Barcelona situation," he said.
And the rumours have increased in recent days following Messi's enigmatic absence from the training session on Monday 5 January.
Even though the club said the player had a stomach problem, reports in Spain claimed Messi missed the session due to a rift with manager Luis Enrique following the defeat to Real Sociedad on Sunday 4 January.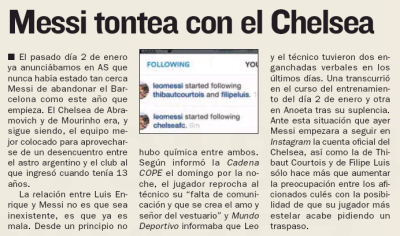 Messi, who started the game on the bench, later posted a message on his Facebook account apologising for his absence, saying: "I would have liked to have taken part in the Christmas training session. I've never missed it before but you can't control these types of setbacks. I hope every kid's wishes come true."
However, Spanish reports see Messi's latest incident at the Camp Nou as a clear sign of his unhappiness at the club.
On 2 January, even before the incident, Spanish newspaper AS already claimed Messi was closing in on an exit from Barcelona and the latest episodes appear to be vindicating that.
Manchester City have been linked with his services since last year but AS also then said that should the Barcelona legend leave the Camp Nou, Chelsea were in pole position to secure his services.
Messi fuelled speculation on 5 January by following Thibaut Courtois and Filipe Luis on his Instagram account before following Chelsea.
AS added: "Chelsea were and remain the main candidates to take advantage of the discrepancy between Messi and Barcelona to secure his services."
Meanwhile, Jordi Baste, a reliable Spanish journalist on Barcelona issues, adds Messi is looking forward to and is excited about the idea of joining Mourinho's side and reuniting with his close friend Cesc Fabregas.