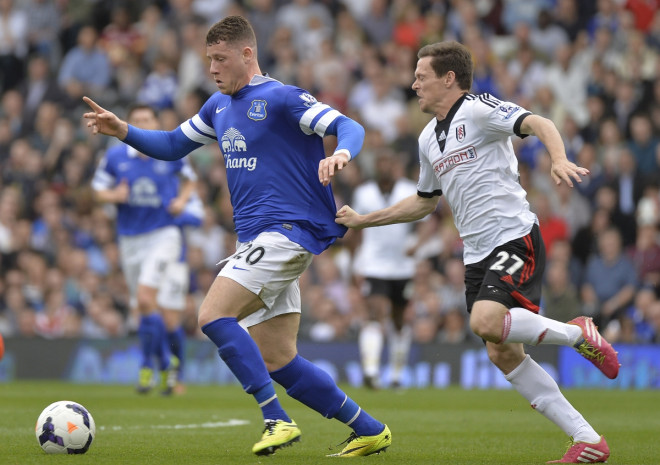 Chelsea are planning a bid for Everton midfielder Ross Barkley in the summer and are willing to send Romelu Lukaku as part of the deal to Everton, according to the Mirror.
Jose Mourinho is planning a complete clear-out in the summer and is willing to bring in a lot of new faces to build his squad for a proper title challenge next season.
Barkley has been a revelation for Everton this season and the midfielder is billed as a natural successor to Frank Lampard, who is in his final year at Stamford Bridge.
The Blues have to fend off interest from Manchester United who are also interested in the player, with former Everton manager David Moyes spearheading the bid.
Barkley is billed as the next big thing to come out of English football and has attracted the interest of a lot of clubs in the Premier League, but the influence of Mourinho and the bait of Lukaku may just put the deal in Chelsea's favour.
Everton have been greatly helped by the presence of Lukaku this season, who is currently on loan from Chelsea.
The Belgian has scored 12 goals and assisted six this season and has been behind a major part of what Everton have achieved this season.
The Toffees are currently four points behind Arsenal with a game in hand, and welcome the Gunners to the Goodison next week in what will be a thrilling encounter.
Meanwhile, Mourinho has revealed that underperformers will be shown the door in the summer as the club succumbed to an ignominious loss at the hands of Crystal Palace on Sunday.
"I don't think it's the moment to speak about next season and the market but it's clear to everybody that Chelsea next year wants to bring a striker," said Mourinho.
"What's the future for the other strikers? The ones who are staying are competing with the striker we are bringing [in]. And normally, at the end of the season, players that are not playing a lot or players who are not happy may prefer a change. That is also part of the market. We want to improve the team and the players and make some surgical movements in the transfer window," he concluded.