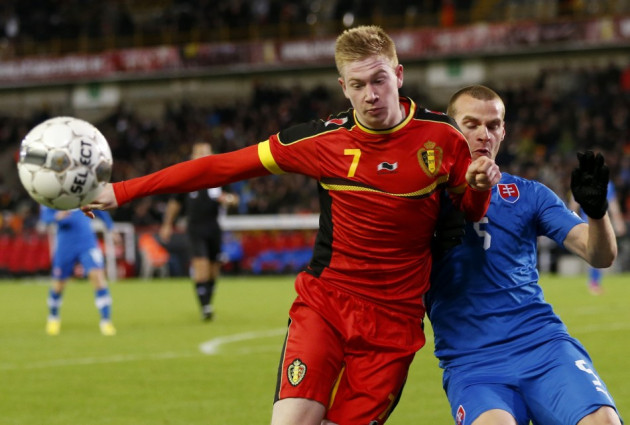 Kevin de Bruyne has admitted that he is unsure whether his future lies at Chelsea as he feels he may need to leave the club in order to gain regular first team football.
The winger spent last season on loan at Werder Bremen and became a regular in the Belgium side after a string of impressive displays in the Bundesliga. Yet there have still been question marks over whether Chelsea want to keep him at the club as he was initially mentioned as a possible makeweight in a deal for Bayer Leverkusen forward Andre Schurrle.
Borussia Dortmund and Schalke are also said to be keen in recruiting De Bruyne this summer and despite claims that a deal was already in place with Leverkusen, nothing has yet to be agreed.
De Bruyne is concerned that new manager Jose Mourinho will only want proven talent and that he may be forced to leave the club in order to fulfil his potential.
'I haven't spoken to Jose Mourinho, so I don't know what he thinks of me as a player or what his plans are for me," said De Bruyne, as quoted in the Daily Mail.
"Logically, at big teams like Chelsea, the manager tends to go for the more experienced players, and the younger ones have more chances at smaller teams.
"For me, who the coach is doesn't really matter. What counts is being at a team where I am going to play games. I want to progress and improve as a player, and I need to be playing to do that.
"Really my future is something for my agent to sort out with the clubs. All I can say is all options are open. After the Serbia game, I am off on holiday to Los Angeles for a fortnight. At the moment, I don't know if I'll be spending pre-season at Chelsea or somewhere else. We will see what happens."
The 21 year old's situation may well become much clearer in the coming days with Chelsea said to be on the verge of completing a deal for German international Schurrle.
The forward will play in Michael Ballack's testimonial tonight where Mourinho is due to meet with Leverkusen sporting director Rudi Voller to discuss a deal for Schurrle and the potential of De Bruyne joining on a season long loan.