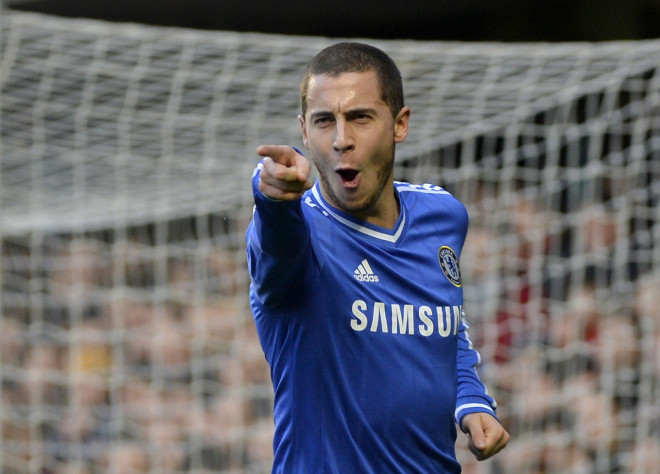 Eden Hazard has heaped praise on Jose Mourinho, claiming that he likes people like the Portuguese boss who say things to his face.
The Portuguese boss recently said the 23-year-old Belgium international is currently the best young player in Europe, after being impressed by Hazard's huge potential to lead his side despite his youth.
After being named in the PFA Team of the year last season, Hazard is enjoying a coming-of-age season this campaign, having already scored 12 goals and grabbing nine assists in 28 Premier League games.
Asked by Belgian reports about his relationship with Mourinho at Chelsea, Hazard said: "He might be called the 'Special One' but to me he is the 'Normal One.'
"I prefer it if people say things to my face. I find we have a normal relationship. If there are things to be said, he says them. If you are playing well, he says so. But if you are not, you also get to hear about it," he said as quoted by Evening Standard.
Belgium face Ivory Cost tonight in a friendly game and Mourinho recently claimed that he was hoping Hazard would not play as "he needs a rest".
However, Hazard refuted his boss's claim, claiming that he always wants to play.
"I don't need rest, as I've said before, I'm at my best if I can play a lot of matches. But I must be aware that I don't let myself burn out," Hazard added.
"I'm in a good rhythm, I'm getting a lot of game time. I did feel a little down in the first half against Fulham but it went much better in the second half."
Meanwhile, Belgium manager Marc Wilmots has ended any speculation by revealing that Hazard is not going to start the game.
"Whether Mourinho had asked or not, I wasn't planning to play Hazard for 90 minutes I was already planning to rest Hazard for a longer time. He has played so many games that he can use some rest. It is possible that he will play for 20 minutes," Wilmots said as quoted by SkySports.