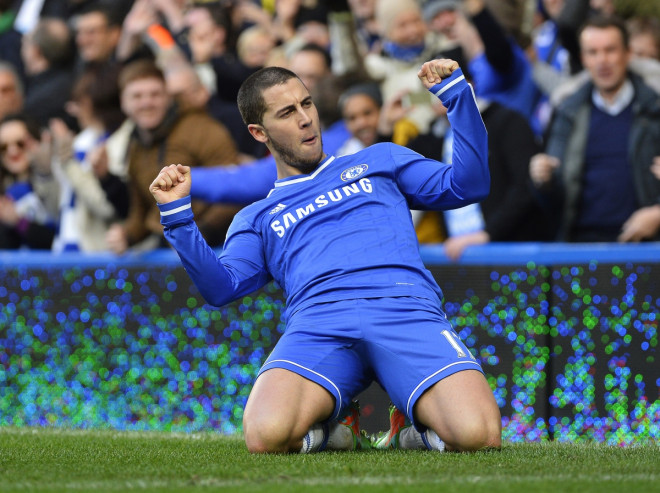 Chelsea star Eden Hazard has admitted Jose Mourinho's squad will face the crucial part of the season exhausted due to the number of games played.
Chelsea will face Aston Villa on Saturday before their Tuesday Champions League game against Galatasaray.
The Blues are leading the Premier League, with seven points ahead of Liverpool and Arsenal while Manchester City are nine points off the pace with three games in hand.
Hazard has been the pivotal player for Mourinho this season, having started 28 out of 29 Premier League games.
Asked whether players starting to be exhausted after having played 43 games this season he said: "I think the team are tired but it's normal because we have played a lot of games."
"Now we need to concentrate on training to work on our recovery and stay focused. I hope at the end we'll see that we are on top. We have a good team of physios and doctors. We don't train hard every day because it's difficult to play a game and do training. We want to stay fresh and be 100 per cent," Hazard told Evening Standard.
Mourinho recently voiced his concern about Hazard's form, claiming that he should not start in the Belgium friendly against Ivory Coast. The national team boss took Mourinho's advice and Hazard just played a cameo role in the second-half.
However, Hazard insisted he was ready to play the whole game and maintains he is totally fit for the last part of the season, with Chelsea having to play at least ten games.
"At the moment I can play every game, I'm not injured — I hope! I try to give my best because I know the team want me to score or make assists. We are in good form. It was very important to win at Manchester City and now we are at the top, we want to stay there."
Furthermore, he heaped praise on Samuel Eto'o, who was a key player in the late 4-0 victory over Tottenham, scoring the opener and winning the penalty for the second goal.
"It's a pleasure to play with him because he can do everything with his feet. He knows when I go left or right. We have an understanding and it's good for me."