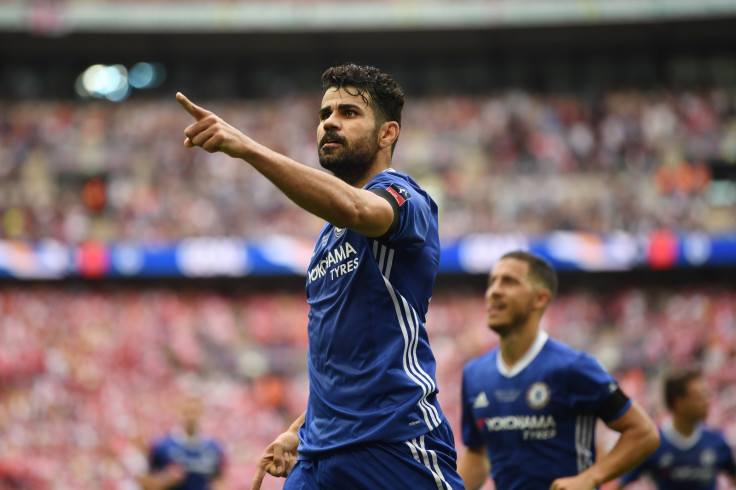 Chelsea striker Diego Costa is set to hand in a transfer request in a bid to complete his desired return to Atletico Madrid. The Spanish striker's lawyer has confirmed the news after revealing that the player feels that he has been unfairly treated by manager Antonio Conte.
The 28-year-old played a crucial role in Chelsea's successful last campaign, scoring 20 goals in 35 games to help the Blues to claim the Premier League title.
However, earlier in June Costa revealed that Conte had told him via a text message that he was no longer in his plans ahead of the coming 2017-2018 season.
Conte reiterated those plans during a recent press conference, saying that the decision to part ways with the club's top scorer was eventually made back in January when Costa was heavily linked with a big money move to the Chinese Super League.
"I don't like to talk about players who are not here. In January, the Costa situation was made very clear," Conte said in a press conference. "For the club, for him and his agent and for me the situation is closed."
Atletico Madrid are interested in taking advantage of the situation to lure Costa back to La Liga ahead of the coming season.
However, the clubs are yet to reach an agreement over his services, with the Guardian recently claiming that Chelsea are demanding around £40m to cash in on.
Costa's lawyer Ricardo Cardoso has now suggested that the player is set to hand in a transfer request in order to speed up the negotiations and complete his move to Atletico Madrid.
"We are going to activate all possible legal mechanisms to hold Chelsea responsible for their behaviour, paving the way for Diego Costa's departure," Ricardo Cardoso told Spanish newswire EFE as quoted by AS. "We will formally hand in the transfer request."
"When he was with Spanish national team, before he travelled to Brazil for his holidays, he was dismissed from Chelsea by Antonio Conte through a text message. This shows an unfair behaviour and a lack of respect for the player and it is inadmissible and inexcusable on Antonio Conte's part,"
"Not only have Chelsea not intervened to denied Conte but they have renewed his contract, demonstrating they agree with the dismissal of Diego Costa and the way in which it was processed."
Recent reports from Italy have claimed that AC Milan could also join the race but Costa's lawyer made it clear that the Spaniard's priority is to return to La Liga.
"This discriminatory behaviour makes it impossible for Diego Costa to return to Chelsea while Antonio Conte is the coach, there is no condition for him to continue playing at Chelsea. It has already been passed on to those responsible several times. At the moment, he does not want to play for a club other than Atletico Madrid."