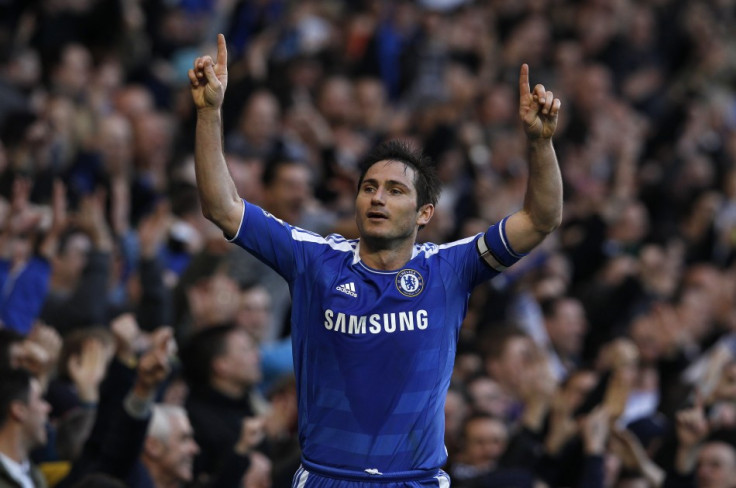 Despite talk of a possible shock move to either the US' Major League Soccer (MLS) or China (where he would re-join former club mates Nicolas Anelka and Didier Drogba), veteran Chelsea midfielder Frank Lampard has insisted will remain at Stamford Bridge.
An earlier IBTimes UK report suggested the MLS' LA Galaxy were keen on signing Lampard to a roster that already includes former Tottenham striker Robbie Keane and, most famously, former Manchester United and Real Madrid star David Beckham. In fact, it was a photograph of Lampard and Beckham, along with the former's agent, Steve Kutner, sitting in a private box during an LA Galaxy game that led to the rumours starting.
However, in a report by The Sun, the 34 year old England international has emphatically dismissed any talk of a summer transfer and explained he was vacationing in Los Angeles with his fiancée, Christine Bleakley.
"We got engaged here last year and we love it over here. Steve's over here a lot on music and football business, he organised a box, so we could go to see the Galaxy game. Becks was suspended for the match, so he came and sat with us and we had a good laugh, that's all. Now I'm really looking forward to getting back to Chelsea. I'm feeling fit and fresh and I'm raring to go. We've more to look forward to with the Super Cup and World Club Championships," the star midfielder said to The Sun.
Di Matteo Backs Torres, Again
Meanwhile, club manager Roberto di Matteo has once again thrown his support behind Spanish striker Fernando Torres. The £50mn signing from Liverpool has had an awful time of things at Stamford Bridge, culminating in a confession he may look to leave the club, in the aftermath of Chelsea's maiden Champions League crown in May. Nevertheless, di Matteo has been quoted by the club's official Web site as saying he was looking forward to working with Torres again. The Italian dismissed Torres' comments after the win against Bayern Munich.
"I did speak to Torres after the final, I had a chat with him the morning after and we have been in touch since as well. It was a feeling he had at the time. There are no concerns about Fernando at all and I am expecting him here in a good mood, buzzing and to be very good next season. I was very happy with Fernando [last season]. I said this many times and winning the Euro 2012 Golden Boot, being European champion and the trophies he won with us should give him a lot of confidence - but I was always very happy with him and I expect him next season to be a fantastic player for us," di Matteo explained.
Former Blues Forward Swaps England for France
In other Chelsea news, Ivorian forward, Salomon Kalou, whose Chelsea contract expired earlier this summer, has joined French Ligue 1 club Lille on a free transfer, a report on Goal.com confirmed. The 26 year old striker, who can also play out on the flanks, arrived at Stamford Bridge in 2006 and has scored 60 goals in 254 appearances for the Blues, has signed a four year contract with the French club.