Chelsea and Arsenal are tracking Bayern Munich midfielder Luiz Gustavo, according to the Express. The London rivals are understood to be preparing £15 million bids for the 26-year-old Brazilian international.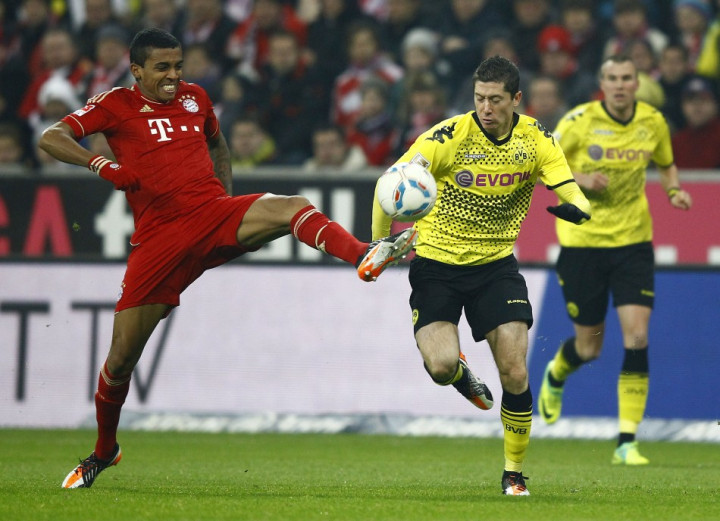 Gustavo joined the Bundesliga and European champions in January two years ago but has never managed to establish himself in the first team at the Allianz Arena. He made only 16 starts in the league last season, often being overlooked in favour of Spain international Javi Martinez and German Bastian Schweinsteiger.
And with the signing of another German in Mario Götze and, importantly, the capture of 22-year-old Spain international Thiago Alcantara from Pep Guardiola's former club Barcelona, the chances of first team football for Gustavo appear remote, at best.
However, the South American remains committed to Bayern, at least publicly, saying, "I am very happy at Bayern. I have two years left on my contract, but you don't know what will happen until 31 August."
If he does move, or decide to move, neither Chelsea nor Arsenal will have a clear path, with Bayern's local rivals Vfl Wolfsburg also interested in Gustavo.
"When the speculations about Bayern having too many midfielders came up, we said that Luiz Gustavo would be a player who'd fit us very well in terms of his quality," Wolfsburg's sporting director, Klaus Alloffs, told German newspaper SID.
Chelsea or Arsenal
Despite Jose Mourinho's claims that he is only interested in signing Manchester United striker Wayne Rooney, the possible departure of Nigerian international John Obi Mikel could force the Portuguese to dip more extensively into the summer market. The 26-year-old Obi Mikel has been linked to Turkish clubs Galatasaray and Trabzonspor, according to The Sun.
Arsenal already have Frenchman Abou Diaby as a specialist holding midfielder. However, the 27-year-old spends more time injured than he does fit and Wenger will be aware that he cannot rely on Spaniard Mikel Arteta to fill that void, particularly since the former Everton man is now 31 years old. Wenger has the budget to bring new faces to the Emirates but whether he will use the funds remains to be seen.
The Gunners may have a slight edge in any developing race, having been extensively linked to the player for most of this year.