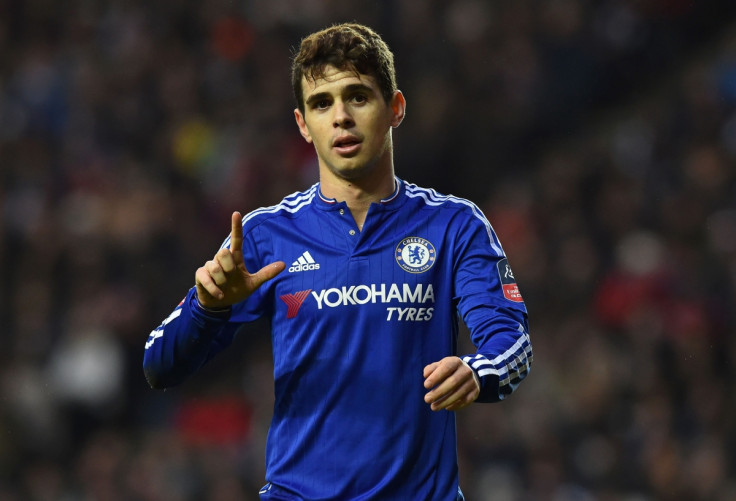 Incoming Chelsea boss Antonio Conte is reportedly willing to listen to offers for Brazilian midfielder Oscar. The 24-year-old has fallen down the pecking order at Stamford Bridge in recent months and the Italian manager is open to the idea of allowing him to leave the Premier League club.
The sale of the player could potentially fund a spending spree for the new boss, who is thought to want to rebuild the club's ageing defence, according to The Times. Chelsea are said to want somewhere in the region of £30m ($42.4m) for the talented player, with both Juventus and Paris Saint-Germain rumoured to be among the interested parties.
Conte, whose appointment was confirmed earlier this month, is reported to be keen to keep hold of the likes of Eden Hazard, Willlian and Cesc Fabregas, while he is also reported to be a fan of Chelsea's on-loan midfielder Juan Cuadrado.
Oscar's potential exit will free up funds for the club's new manager. Chelsea have been linked with a number of transfer targets in recent months, including Roma midfielder Radja Nainggolan.
The 27-year-old Belgian previously denied he had spoken to Conte about the prospect of moving to Chelsea, but refused to rule out a move altogether. "I haven't heard from anyone yet, I don't even know if it's true that they want me," he said. "I even read a story in the newspaper that I told my friends I'm going to Chelsea. It's ridiculous! The truth is I can't talk about things I don't know about yet.
"If they call me, am I not supposed to talk? At the moment I am giving everything for Roma, as I always have done. I am happy, my family is too, so even if I continued my career here, I'd be happy."