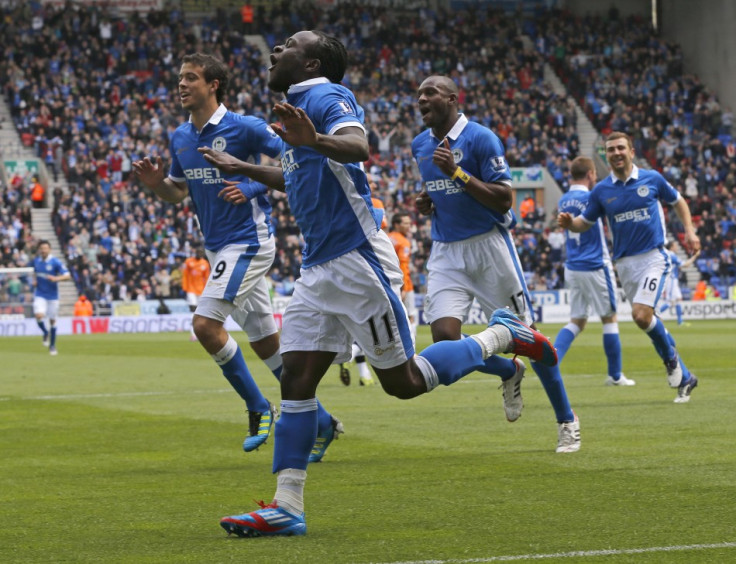 Chelsea transfer target Victor Moses is a man caught in the crossfire of words between the Stamford Bridge club and his present employers, Wigan Athletic. IBTimes UK earlier reported Wigan had rejected an unspecified bid for the 21 year old Nigerian forward, declaring it to be far below expectations.
"The offer that Chelsea have made is no good. It is way too low. It is rubbish," club chairman Dave Whelan told Goal.com, "If the price is right we would actually consider letting him go, yes, we have to do that. I have said to Chelsea 'thank you for your offer but no'. What they are offering is not enough. I have not put a price-tag on Victor but let's say that what Chelsea have offered is a lot less than £4m - that is absolutely stupid."
It was suggested, in a report by the Mirror, Chelsea would have to pay something in the region of £10mn to land one of the stars of manager Roberto Martinez' side. The player has only a year left on his contract with Wigan and has reportedly been a Blues target for some time now.
More recent news, reported by The Sun, suggests Wigan are ready to double Moses' contract terms, in order to ensure he stays with the Latics. The report states the player is on a £18,000 per week deal.
"We've made him a very good offer involving a doubling of his wages over three years. It's down to whether the lad listens to sense or his agent," Whelan said. Meanwhile, the club could be lining up Everton striker Victor Anichebe as a potential replacement.
"I've heard a lot of offers are on the table. Wigan have the final say but, for me, the highest bidder would take the day. But right now I'm a Wigan man," Moses said describing the situation.
It now appears the fight to retain Moses is taking personal proportions for Whelan. He has been quoted as saying the player owed the club "everything" for his development since he joined from Crystal Palace (for £2.5mn) in 2010.
"We took this lad as a teenager and everything he has he owes to Roberto Martinez and Wigan Athletic," Whelan said to The Sun. Meanwhile, the player's agent countered, stating the club should be grateful his client joined them in 2010, instead of Manchester City.