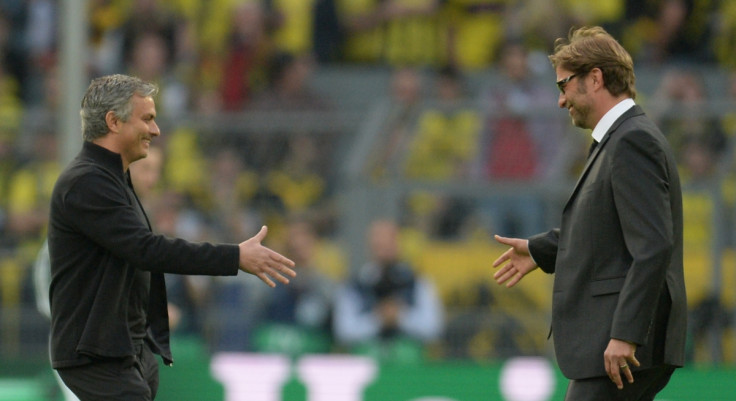 Liverpool manager Jurgen Klopp has warned Chelsea remain as dangerous as ever despite their current slump and defended manager Jose Mourinho as a "nice guy – if you aren't a referee or a journalist".
Saturday's (31 October) meeting at Stamford Bridge is the first between Klopp and the under-fire Chelsea manager in the Premier League. The Portuguese coach has seen his role at Stamford Bridge come under scrutiny during an abysmal run of form which has seen the club lose five of its opening 10 league games of the season – two of those coming at home.
Despite the often frosty relationship between the two clubs, the Liverpool boss is looking forward to his first meeting with his Chelsea counterpart since Mourinho accused him of "talking too much" when his Real Madrid side met Klopp's Borussia Dortmund in 2013. "I'm full of respect for his [Mourinho's] work. If you're not a journalist or a referee he can be a nice guy. I'm neither of those," Klopp told a press conference on 30 October.
"He's a nice guy. He is emotional. I am emotional. But we are professional enough to know after the final whistle normal life starts again. That's what we did. Everything is okay between us, no problem."
Klopp went on to dismiss suggestions Chelsea's current malaise meant they were now an easy target for his first league win. The former Dortmund manager also went on to identify Nemanja Matic, one of Chelsea players to be be singled for criticism this season, as a "great player" his side must be wary of.
"You think Tottenham was easy? Southampton was not easy. Do Chelsea players still know how to play football? Of course they do.
"Ramires and Matic are great players," the Liverpool Echo quoted Klopp. "Cahill and Terry from set plays are big guys. I am not sure it is easier now to play against Chelsea. "
Liverpool will have Christian Benteke fit for their trip to Stamford Bridge on Saturday 31 October but Klopp will still be without Daniel Sturridge, who is yet to play under the German coach since his arrival on Merseyside.