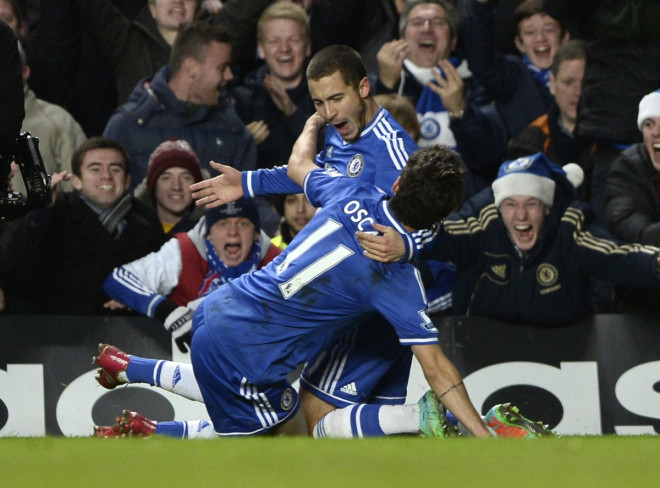 Paris Saint Germain pair Yohan Cabaye and Lucas Moura have attempted to unsettle Chelsea's Eden Hazard and Oscar ahead of their Champions League quarter-final tie and the summer transfer window by suggesting the Ligue 1 champions should sign the Stamford Bridge duo.
Hazard has enjoyed the most fruitful campaign of his career for the Blues, scoring 17 goals this season and spearheading the club's assault on the Premier League title.
Oscar meanwhile has become a staple of the Chelsea first team under Jose Mourinho and has contributed 14 goals this term in his second year in west London.
And ahead of the Champions League last eight first leg against PSG next week, two players from Laurent Blanc's side have shot alluring glances at the Chelsea pair in an attempt to unnerve two of their primary threats.
"Hazard is 'the' player for Chelsea," Cabaye told PSG's video channel. "He'll be a player to watch.
"He can make the difference at any time, be dangerous with each acceleration. But everyone knows that. He knows me, I know him. There will be a way of stopping him. We mustn't focus only on him, but we have to be careful.
"Hazard is the player I'd like to see at PSG. He would do a lot of good to Paris and the league. He's one of the best players against whom I've played."
Brazilian international Moura added: "Oscar is a very good player. A rare talent in today's football, given his qualities. I would be very happy if he came here to PSG.
"I think he would help us a lot. The more quality players there are, the better it is for the squad. Also, he's a very good friend of mine. I would be very happy if he came to PSG, the club too."
Hazard has been heavily linked with a move to PSG in the past and reports had suggested he had agreed to join the French giants at the end of this season but the Belgian has admitted he remains happy at Chelsea.