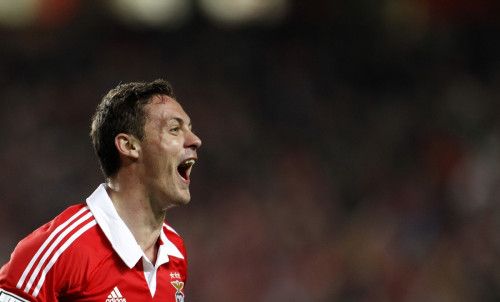 Benfica midfielder Nemanja Matic will become Chelsea's first signing of the January transfer window after the Serbian international confirmed the weekend win over FC Porto was his last game for the club.
Matic left the Blues for Benfica as part of the deal which saw David Luiz move to Stamford Bridge in January 2011 and will return to west London three years on.
The 25 year old is regarded as one of the best midfielders in Europe and is expected to cost Chelsea in the region of £22m, with Belgian Kevin de Bruyne moving to Wolfsburg.
And Matic has confirmed the move to Portuguese publication A Bola, claiming his appearance in the 2-0 win over rivals Porto will be his last.
"Yes, it was my last game," he said. "I want to thank all the people at the club and all the supporters . Benfica will be forever in my heart. I played here for two and a half years, I gave my best in every training session, every game and now is the right time to leave.
"I want to improve, I want to go to a better league and want to go to Chelsea, the club which I also like. I also want to thank the president of Benfica. I did everything I could to stay here but I have wanted to leave and insisted on leaving.
"I respect the effort made ​​to keep me in the club, he and all the people of Benfica were very good to me and made ​​me happy, but I repeat that I insisted on going out to understand that the time is right.
He added: "I wanted to go to Chelsea, even if Benfica had better options. I was very young when I was at Chelsea and I didn't show all I could. Now I want to show that I have quality to play there. It's a top club and I want to work with one of the best managers in the world.
"When I first went to Chelsea I was very young and there were great players in my position. I really had few chances to play back then. Now it's different: I'm 25, I'm not the same player who left Chelsea. I'm sure [Abramovich] knows that. Now I have the chance to go back and work with one of the best manager in the world."
Matic was part of the Chelsea team which won the FA Cup in 2010 and he has added just one major honour during three years in Portugal in the form of the Taca da Liga.
Chelsea manager Jose Mourinho had previously distanced himself from making new signings in the January window, but with De Bruyne seemingly surplus to requirements the boss has orchestrated a move for Matic.
Matic will be ineligible to play in the Champions League following Benfica's group stage exit, but will be free to take a leading role in the club's attempts to reclaim the Premier League title.