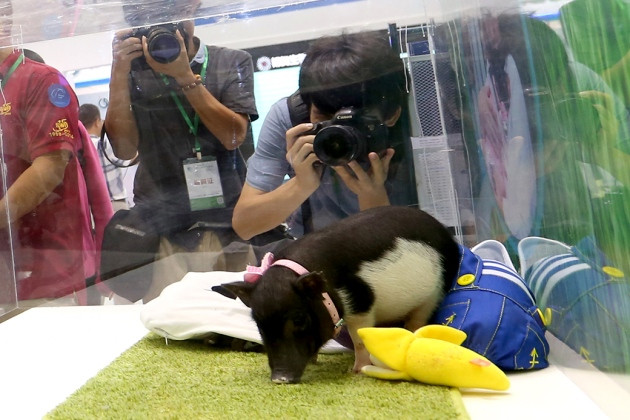 Scientists in China have developed gene-editing techniques that have allowed them to alter the genomes of micropigs. Researchers at the BGI in Shenzhen, located in the Guangdong province, originally altered Bama pigs' DNA as a basis for studying human diseases but has since decided that it will start selling the miniature pigs as pets.
At the Shenzhen International Biotech Leaders Summit on 23 September, the creators said that the editing will soon allow the BGI to offer potential buyers the choice of customised coat colours and patterns on the pigs. They have announced that they will go on sale for around 10,000 yuan (£1,035), but Yong Li, technical director of BGI's animal-science platform, is quoted by Nature as saying that this initial RRP was to "help us better evaluate the market". "We plan to take orders from customers now and see what the scale of the demand is," says Li.
Bama pigs typically weigh between 35-50kg (5st 5-7st 8), which is still relatively small compared to most farm pigs, but the new laboratory pigs will only weigh around 15kg (2st 3) when they reach their biggest. To get them smaller, the BGI took cells from a Bama foetus and made a clone from it. Prior to this, they used transcription activator-like effector nucleases (TALENs) – a group of enzymes that can be used to edit genes – to disable growth-receptor hormones.
Further micro-Bamas were then created by breeding stunted male pigs with normal females. BGI says that half the offspring were micropigs, but adds that the process is more efficient than creating clones for each one. None of the resulting offspring have had adverse health conditions.
Despite the breakthrough, other scientists have warned that regulatory guidelines need to be imposed. Daniel Voytas, a geneticist at the University of Minnesota in Saint Paul, said: "I just hope we establish a regulatory framework − guidelines for the safe and ethical use of this technology − that allows the potential to be realised. I worry that pet mini pigs distract and add confusion to efforts to achieve this goal."
Profits from the sale of the micropigs will go towards medical research, BGI stated.