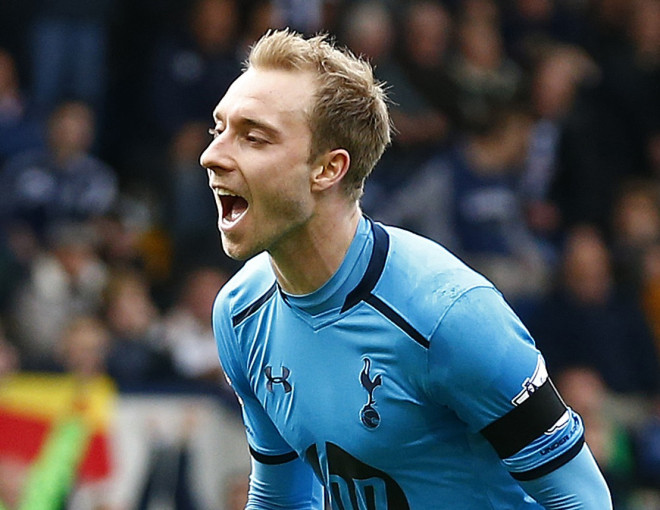 Tottenham Hotspur manager Tim Sherwood says the coolness with which Christian Eriksen netted the injury-time equaliser against West Bromwich which salvaged a 3-3 draw at The Hawthorns reminded him of former Arsenal striker Dennis Bergkamp.
Eriksen capped Spurs' comeback from 3-0 down to claim a point against Pepe Mel's relegation strugglers with a stunning goal in the fourth minute of added time to keep the club three points ahead of Manchester United in the race for the final Europa League place.
And Sherwood could only eulogise over Eriksen's finish which retains Tottenham's interest in finishing in the top four and the boss compared the effort to that of Arsenal legend Bergkamp.
"Bergkampesque," Sherwood said of the finish from Eriksen. "You want someone to rush those chances, as an opposition manager, but unfortunately when it lands to him you know he's going to be ice cold. Once he cut inside I knew the net was catching the ball."
Bergkamp is regarded as one of Arsenal's greatest ever players and was quite often the scourge of Tottenham during his time at the club.
The Dutchman's spell at Arsenal was celebrated earlier this season with the unveiling of a statue outside the Emirates Stadium.
Though many of Tottenham's summer signing have been criticised for failing to make an impact this season, Eriksen has been a rare bright spark since joining from Ajax for a reported £11.5m, in a campaign during which expectations have failed to be matched.
The Denmark international arrived at White Hart Lane as one of the best young midfielders in Europe, and amid injury troubles has scored 10 goals and made eight assists this season.
The leveller against West Brom was Eriksen's sixth in his last eight matches and the 22 year old is thrilled to have impressed this term, even if he already sees his future away from Tottenham.
"I'm incredibly happy that they [Spurs] seem happy with me," he said. "I am very glad that they like what they see.
"Of course I have a dream and a secret plan in my head. But I keep it to myself. Right now I live in the moment and enjoy the success I have."