For the second time running, Christopher Poole, aka Moot the founder of imageboard 4chan, was present at the Dublin Web Summit. IBTimes UK caught up with him.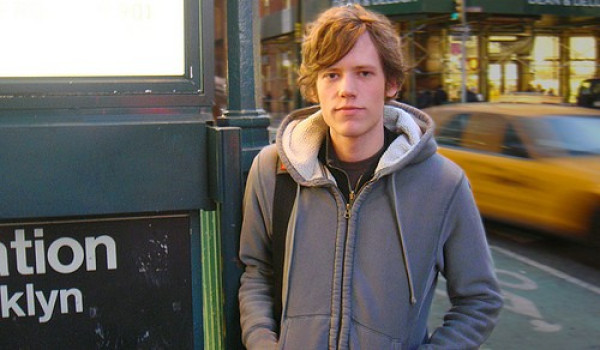 Invited to talk at the developer stage, Poole, 24, shared his experience creating and running one of the most infamous websites on the internet.
Completely bootstrapped, with absolutely no venture funding, 4chan has given Poole some valuable lessons on being resourceful at minimal cost. For example, 4chan only runs on 5 servers, does not have any archiving system, so data is erased every day, and offers the bare minimum in terms of features and design, but efficiency is key.
Not a technical person himself, Poole knew some basic code and learnt more along the way. "I want to get back into it. I'm not really a technical person." One of the most striking features of 4chan is its incredibly simple HTML design. "It may not be sexy, but it's tried and true."
In May of this year, the site was rewritten in HTML5 and CSS3. This was the first major change the site went through since its launch back in 2003. "Don't fix it if it ain't broke," remarks Poole.
And while the site is still going strong, having been visited by over 500 million people since it started, it doesn't mean there weren't some hiccups along the way.
In 2008, the 4chan servers were moved from Texas to California; the move upgraded the maximum bandwidth, making the site faster. But as it got faster, the bill also went up. In a 2009 profile, the Washington Post reported Poole was $20,000 in debt, a direct result from this increase in bandwidth.
"Thank god for 1Gbps internet, otherwise the costs would have been much worse," he tells the audience at the Summit.
For the rest, Poole managed to keep costs down. "Without eBay, 4chan never could have existed."
"I would get my mum to drive me to these dodgy malls to pick up hardware they wouldn't ship to me."
"Many companies buy their own servers and hardware. And either they need to upgrade, or they go bust. This means there is a huge aftermarket for hardware. And as long as you're smart, you can buy a lot secondhand for cheap. Start-ups don't really need to buy brand new hardware when they start off."
In September, Poole announced a new service costing $20 for a year and allowing pass holders to post without having to enter CAPTCHAs, a system Poole had to install on the site in 2010 after 4chan was hit by a heavy wave of Javascript worms and affiliate links. The programme will allow the site to be maintained.
A blank canvas
Since 2010, Poole has also been running another site, Canvas. Canvas is a media sharing and remixing site, allowing users to upload, share and, well, remix images in different threads. It launched in 2010 and closed a seed round of $625,000, going on to raise $3million in its series A round of funding.
The company, Canvas Networks, is backed by Andreessen Horowitz, a venture capitalist firm that also invested in GitHub, Pinterest, Box and Skype, as well as Joshua Schachter, an angel investor with investments in Etsy, Foursquare and Square.
Running a company with investment is a completely different experience. "Having capital doesn't resolve all issues. Actually, with funding comes a whole new set of problems," explains Poole.
"With Canvas, I have a team and I have a board of advisors. With 4chan, I have a community but no partners. It's very different. I wish I could have had a team helping me with 4chan, but unfortunately that was never possible."
"I have a team of six for Canvas, though no co-founder. Scaling is quite hard and definitely not linear. Since it's such a small team, hiring is actually a slow process. Going from two to six is a lot more crucial than going from 300 to 310."
Anonymity to a certain extent
One feature 4chan is best known for, apart from being the birthplace of a lot of internet memes, is the complete anonymity on the site between users. This has prompted over the years for a lot of NSFW (not safe for work) content to be uploaded onto the site - porn is a regular feature.
Poole describes the anonymity as not perfect, though, as while users may not be recognised on the site by other users, on the backend Poole can see everyone's IP addresses.
"Anonymity between users means a lot of the content being shared on 4chan is very raw. People can share without fear of their name being attached to what they say, there are no repercussions for posting. However, in no way should this anonymity lead to breaking the law."
Over the years, 4chan actually avoided a lot of expensive legal fees due to its lack of archiving. "If I got an email telling me to take something down, it would already be too late as the thread would have already disappeared."
Just a guy, really
Poole is currently running both 4chan and Canvas, and is on an official leave from university. While he would not reveal the name of the establishment, his major is undeclared though leaning towards anthropology; considering the nature of a site such as 4chan's, this choice does not come as a complete surprise.
When asked what it's like to be recognised, Poole, exhausted and jet-lagged having just arrived in Dublin on Thursday morning, doesn't seem too phased.
"People will come up to me, ask for a picture, maybe say something like 'you're that guy from that site' or 'I'm a fan' and then that's it. It's actually rare people have anything else to say. I wish they'd ask questions or give their opinion on the site."
Just as he finished his talk at the developer stage, Poole was stopped by a couple of people, asking to get a photograph. "I don't mind. And it really doesn't affect my day-to-day life that much."
And being "that guy from that website" does have its perks, like going to a few good conferences. "I came here last year, so when I got asked to come again, I figured why not. I also went to XOXO Conference this year. It's a lot of creative people and has a strong 'makers culture'. It was good."