Cilla Black's grieving family have slammed the behaviour of the fans who gatecrashed the TV star's private burial and posted invasive pictures and videos on social media as she was buried on Thursday, 20 August. A statement from the family read: "For someone to do this is not only disrespectful but also ghoulish."
One fan, Shane Robinson, was has been criticised after uploading photographs and filmed footage onto his public Facebook page. The images, which have since been deleted along with his account, included close-up photos of her coffin and flowers left by her loved ones, according to the Sun.
The family had given fans with cameras access to the funeral service inside St Mary's Church, but had requested privacy for her burial. They call the breach of privacy by fans "disrespectful", in a statement sourced by the Daily Mail. Other uninvited guests attended the graveside service, including a notorious celebrity stalker.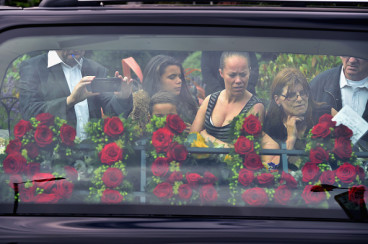 The uninvited fans were "given unprecedented public access", a spokesperson told the Mirror.
Robinson allegedly hid behind trees and gravestones at the cemetery where the Blind Date presenter was being buried next to her parents, report the Sun. He also reportedly stood next to Sir Tom Jones and Sir Cliff Richard.
Robinson told The Sun: "I'm a huge Cilla fan. I don't want to say too much, but it was a great day. We got so close. There was loads of people there — celebs and the public."
Cilla Black at Number One
Cilla Black's Very Best Of compilation, shot to the number one album, just a day after her funeral.
The album was originaly relesased in 213 as a tie-in to ITV programme hosted by O'Grady to commemmorate her 50 years in show business, and reach 37 at the time.
It re-entered the charts last September, peaking at number 26, following the broadcast of ITV's biographical drama of her life, with Sheridan Smith playing the part of Cilla.
Black's chart-topping album has knocked Dr Dre's Compton out of the number one spot, report the BBC.
This is the first time an album has shot to UK number one in the immediate aftermath of a singer's death since Amy Winehouse's Back to Black in 2011.