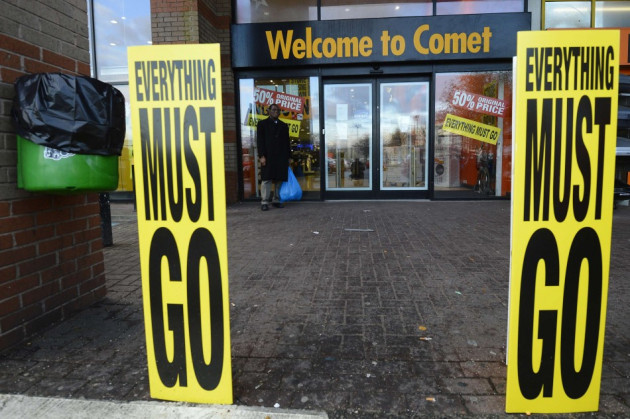 The UK taxman will lose millions of pounds from the collapse of electrical retailer Comet, which is scheduled to close all of its stores by 18 December.
Investors who backed Comet are expected to receive at least 34 percent of their investment, while unsecured creditors including HM Revenue & Customs, which is owed £26m (€32m, $42m), will get nothing, according to media reports.
As a secured creditor, Comet's parent company Hailey Acquisitions will receive payments of £49.7m, The Sunday Telegraph reported.
The retailer was bought by investors in Hailey for £2 from Kesa in November 2011 in a deal structured by private equity firm OpCapita, which is thought to be one of the investors.
Comet's administrator Deloitte is due to publish a report on 17 December, detailing the financials surrounding the administration of the 236-store chain. The report will also be the first detailed explanation of what exactly went wrong at Comet.
As per the Telegraph's understanding, Comet's trade suppliers who had goods on credit with Comet may receive payments of about £40m, while some of the firm's 6,611 staff will receive £2.1m in holiday pay and back pay. The company's eventual loss is estimated at about £200m.
On 14 December, Deloitte confirmed on the retailer's website that all remaining stores will close by 18 December, with the loss of 6,600 jobs. The administrator was trying hard to secure a rescue bid and was in talks with a number of interested parties. However, no agreement could be reached, and store sales continued to deteriorate.
The Comet brand and website are expected to be acquired by an online retailer and around 20 Comet stores could be picked up by rivals such as Dixons.
Comet went into administration in November after suppliers tightened their credit terms amid weakness in the retail sector. In a bid to save the retailer, the administrator announced store closures and job cuts, but was ultimately relying on a takeover bid.
Of the remaining shops, 15 will close on Sunday 16 December, one on Monday 17 December, and 49 on Tuesday 18 December.