US scientists are building detailed 3D models replicating comet dust that became trapped blocks of foam carried by a Nasa spaceship. The Stardust craft travelled to Comet Wild 2 12 years ago and using slabs of a substance named aerogel, it trapped samples of the dust from the comet's tail.
Although the majority of stuck material did not make it back to Earth, it did cause cavities in the aerogel, leaving behind a unique signature that scientists can now analyse. They will study tiny fragments of any material that did survive entering Earth's atmosphere using microscopes and X-rays, which they hope will provide extensive details of exactly what Comet Wild 2 carries in its tail.
"We want to tell people where the interesting grains are," Amanda White, a student working on the project at the American Museum of Natural History in New York, told the BBC. She revealed that part of the study will involve looking into the entry holes caused by comet material smashing into the aerogel and studying what sort of substances are likely to have caused their unique shape.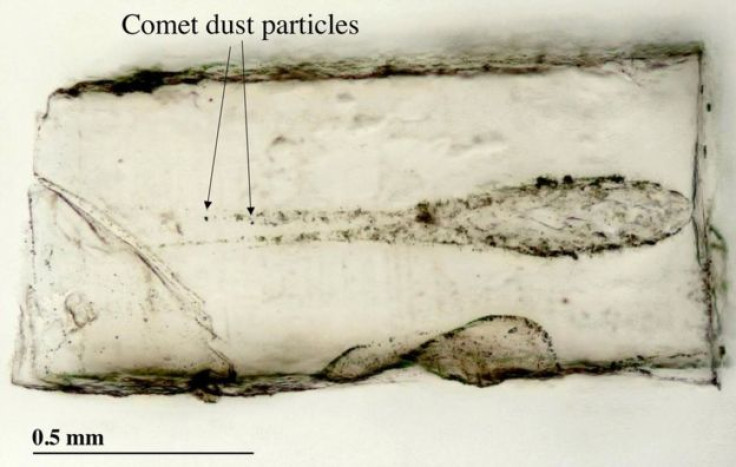 "We can estimate the size of the original particle, just by looking at the entry hole of the track. But we think we can do better than measuring the hole," White said. "We essentially want to do the same thing as what they do in a crime show, when they're doing ballistics."
Once the scientists have studied the entry holes, they will then blast fresh blocks of aerogel with similar substances in the hope one or more of them produce the same pattern of entry. "The idea is to make simulations where we can put those ices and gases back in, and then see if they make similar shapes to what we see," White said.
Wild 2 is a 4.5 billion-year-old comet that entered the inner solar system in September 1974 when it passed by Jupiter and succumbed to its strong gravitational pull. The Stardust craft was launched by Nasa on 7 February 1999, collecting dust from Wild 2 and flying past and studying Asteroid 5535 Annefrank before returning to Earth with samples on 15 January 2006.