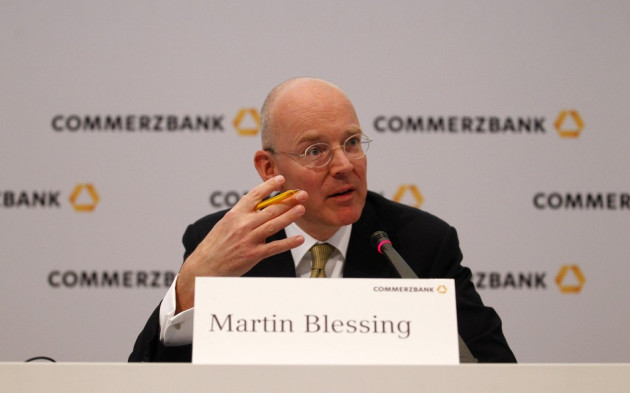 Commerzbank posted a bigger-than-expected dip in first quarter profits and warned the European debt crisis would continue to slow earnings growth at Germany's second-largest lender.
The Frankfurt-based bank posted net income of €369m, a 56 percent fall in net income for the three months ending in March compared to last year after a steep 88 percent fall in investment banking income.
"The high degree of uncertainty associated with the European sovereign debt crisis will continue to pose a challenge to the bank's revenue situation," said chief financial officer Stephan Engels in a statement released with the earnings.
The bank said it was well ahead of its capital-raising goals for the half-year, securing €5.3bn before a 30 June deadline set by the European Banking Authority.
Commerzbank, which received an €18bn bailout from the German taxpayer in the wake of the collapse of Lehman Brothers in 2008, has also trimmed its balance sheet of risky assets in an effort to reduce volatility. It said in March it would wind-down two lending units under the Eurohypo brand as part of the conditions demanded by the EU for the state-aid it received at the height of the financial crisis.
Commerzbank shares closed at €1.55 Tuesday, up 1.3 percent on the session, taking the full-year gain to 18.9 percent.