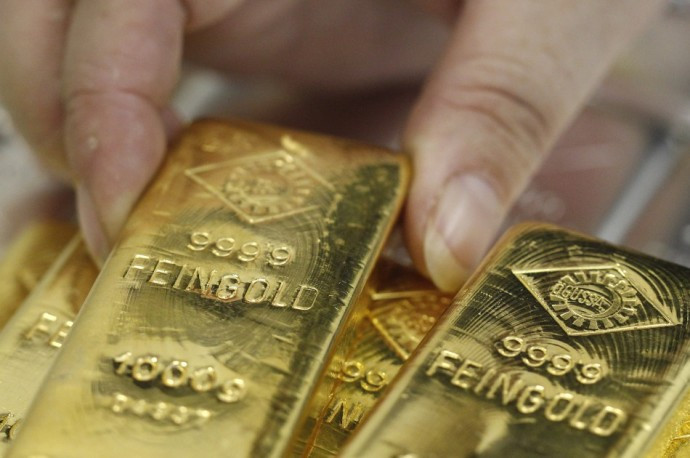 Gold futures held firm as safe-haven demand supported trading on Tuesday (19 July), but the oil price slide deepened on continuing demand concerns.
Comex gold futures were up 0.27% or $3.60 at $1,332.90 an ounce at 5.03pm BST. Overall, gold climbed 7.4% in the second quarter after rising 16% in the first, peaking at $1,359 an ounce in June; its highest level since March 2014.
Sucden Financial analysts expect gold to range between $1,210 and $1,425 an ounce in the third quarter. In a note to clients, they claimed: "The macro environment remained supportive in the second quarter as expected – elevated macro and political uncertainty boosted safe-haven demand, especially after the Brexit shock.
"Given the strong conviction in holding gold as a hedge against tail risk, it should remain supported in the third quarter, especially because a cautious Fed could prolong the decline in US real interest rates."
However, Sucden analysts warned that safe-haven demand should grow more slowly than in previous quarters and possibly reverse in the fourth quarter "once macro fears diminish and the US Federal Reserve resets market expectations about rates".
Continuing with precious metals, silver futures registered a 0.40% or 8 cent decline to $20.00 an ounce, but Sucden analysts said the precious metal would continue outperform gold in the third quarter of the year.
"Silver has been the star performer of the metals so far, enjoying a spectacular rally of 21.5% in the second quarter after a gain of 11.3% in the first, principally due to a strong rebound in speculative and investor demand.
"We expect silver's outperformance to continue in the third quarter thanks to a cautious Fed but renewed selling pressure could appear in the fourth quarter due to weaker industrial demand and a possible pick-up in speculative and investor selling. In the meantime, silver appears overbought for this quarter and a possible spike above $22 should attract hedge selling," Sucden analysts concluded.
Meanwhile, oil futures lost further ground following overnight declines as traders continue to fret over global demand. At 5.17pm BST the Brent front month futures contract was 0.38% or 18 cents lower at $46.78 per barrel, while the West Texas Intermediate fell 0.93% or 42 cents to $44.82 per barrel.
Last week, the International Energy Agency (IEA) said the market had made an "extraordinary transformation" from a huge surplus during the first quarter of 2016 to nearly achieving balance by the second quarter.
While the IEA kept its demand projections at 1.4m barrels per day, it opined that the road ahead was "far from smooth." Opec also maintained its oil demand projections at a previously stated level of 1.2m bpd. However, the rest of the market remains unimpressed.
In a note to clients, Adam Longson, commodity strategist at Morgan Stanley, said a rapid rise of non-petroleum products is boosting total product demand, but this is unhelpful for crude oil. "Based on the latest data, even our tepid 800,000 barrels per day growth estimate for global crude runs looks too high."