Apple has just unveiled iOS 6 at the Worldwide Developers Conference (WWDC) 2012 at San Francisco but can it compete with Google's latest smartphone OS, Android 4.0. We find out.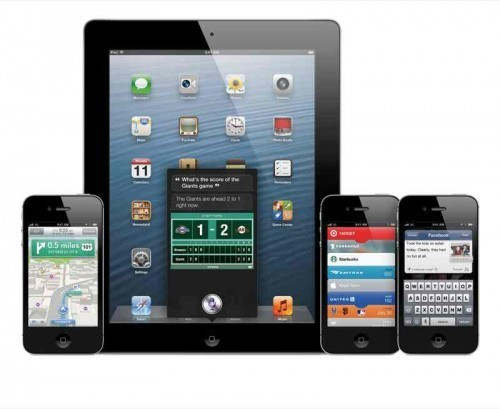 The newest iOS 6 features the all-new Maps app, new Siri features and Passbook app. "iOS 6 continues the rapid pace of innovation that is helping Apple reinvent the phone and create the iPad category, delivering the best mobile experience available on any device," said Scott Forstall, Apple's senior vice president of iOS software.
The Android 4.0 Ice Cream Sandwich (ICS) is the latest version of the Android platform which offers easy multitasking, rich notifications, customisable home screen and more.
However, both the OS appear to be powerful with their impressive features. Let's check out how both the two OSes stack up:
iOS 6 vs. Android 4.0: Maps
iOS 6 makes its debut with all-new Maps app which includes vector-based map elements offering smooth graphics and text, panning, tilting and zooming. It features new turn-by-turn navigation which allows you to reach your destination with spoken directions as well as a Flyover feature that provides 3D views.
Google Maps, on the other hand has been ruling with a turn-by-turn navigation ever since late 2009. Moreover, the Google Map offers 3D view and Street view which allows you to explore locations around the world via 360 degree street-level images.
iOS 6 vs. Android 4.0: Voice assistant
Back in October Apple introduced Siri in the iPhone 4S which has the ability to set reminders and make calls. The iOS 6 includes new Siri features including for more languages, movie listing, restaurant recommendation, and easy access to sports scores as well. Users can ask Siri to update their status on Facebook, post to Twitter and launch apps as well.
The S Voice which has been introduced in Samsung Galaxy S3 is the Korean giant's response to Siri. S Voice will respond to user's commands; it can launch the camera and capture pictures. It has the ability to make calls, play music, search the web, set alarm and organise user's schedules.
iOS 6 vs. Android 4.0: Video Calling
The iOS 6 comes with the FaceTime which is now enabled over cellular networks as well as Wi-Fi allowing users to make and receive FaceTime calls from anywhere. To make a call, users will have to use their Apple ID and phone number. A colleague can use FaceTime on his/her iPhone and call you by using your phone number and you can answer to his/her call using your Mac or iPad.
The Android 4.0 supports third-party apps.
iOS 6 vs. Android 4.0: Photo sharing
The iOS 6 comes with Shared Photo Stream functionality that allows users to share pictures with friends and family. Users will have to simply select the pictures to be shared, pick which friends to whom the album is to be shared. In addition, users can leave comments or "Like" any picture that has impressed them.
The Android 4.0 comes with editing features built-in face detection, single-panorama mode. Users can crop, rotate pictures, remove red eyes or add effects to the pictures. Users will be able to send single or multiple pictures or videos to share instantly via e-mail, text, Bluetooth or via other medium.