UFC rocked as Ronda Rousey is knocked out by Holly Holm to lose title and undefeated record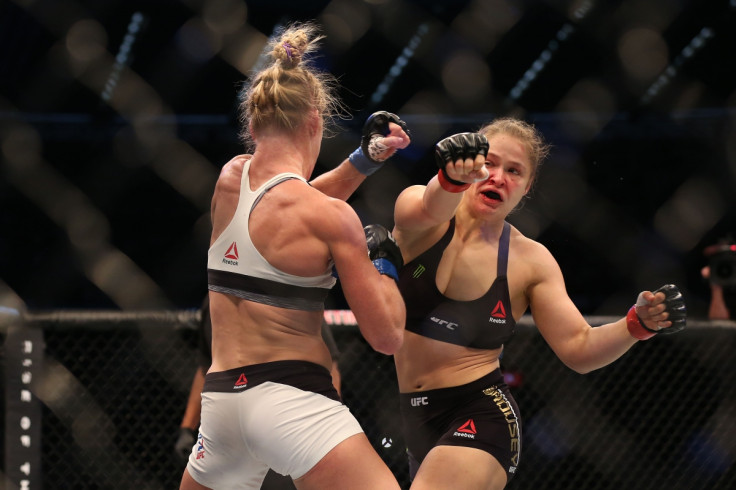 Holly Holm has stunned the mixed martial arts UFC league, with a second round knockout victory over the undefeated Ronda Rousey. The win is being described as the biggest upset in the promotion's history.
Rousey, widely regarded as the best pound-for-pound female fighter in the world of mixed martial arts, had won all 12 of her professional bouts ahead of Saturday's meeting with Holm, who boasted her own impressive record of nine wins from nine MMA fights.
Rousey, 28, told reporters on Friday her 34-year-old opponent would not be able to knock her out. But 59 seconds into the second round of UFC 193 she was floored with a brutal head kick, swiftly followed by several blows to her head, before the referee stopped the contest.
Holm left the Eithad Stadium in Melbourne, Australia as the new women's bantamweight champion, while Rousey was transported to hospital for treatment.
"I had so much love and support. I thought, 'how could I not do this?'," said Holm. "There was lots of blood, sweat and tears, but it sure was worth it. I'm trying to take this in, but this is crazy."
Talk of a rematch inevitably came up in the aftermath of Holm's victory with UFC chief Dana White admitting he would "make a lot of sense".
"Obviously we don't make fights the night of the fight, but the rematch makes a lot of sense," he said. "The rematch is what the people want to see."
White also confirmed Rousey's trip to the hospital was routine and had suffered no serious injuries. "She was transported because she was knocked out, number one, and her lip was split in half," White said. "Obviously she was completely depressed."
© Copyright IBTimes 2023. All rights reserved.