Conor McGregor responds to UFC's decision to strip him of his featherweight title
McGregor created history at UFC 205 by becoming the first fighter to hold two-weight titles simultaneously.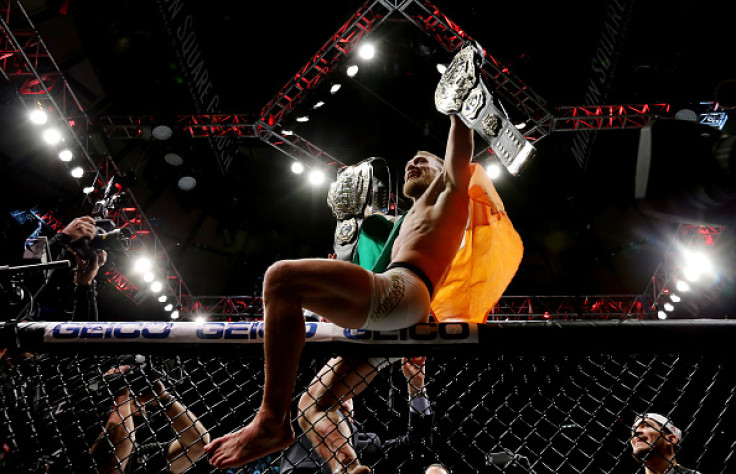 Conor McGregor believes he is still the double world champion after claiming that he is having both the belts, despite the UFC stripping him of his featherweight title.
The 28-year-old entered the UFC 205 as a featherweight champion and defeated Eddie Alvarez in the second round in New York to win the lightweight title. He created history and became the first fighter in history to hold two titles at the same time.
However, the UFC decided to strip McGregor of his featherweight belt prompting criticism by coach John Kavanagh.
UFC president Dana White admitted the promotion did not strip him of his belt, instead it was McGregor's decision to hand over his belt. However, the Dubliner has advised the "company" not to "fool" anyone and taunted them to take the belt physically from him.
"They're trying to strip me. Well, I ain't stripped. I still got that belt. That belt's sitting in my home right now. I'm still the two-weight world champion. Someone's got to come take that off me. I see articles. I see stuff online, but I don't see the belt not in my presence. The belt is right there. There's two world titles in my home," McGregor was quoted as saying by Fox Sports.
"I'll say to the UFC and I love the company — you're fooling nobody. You're fooling nobody with that. Best of luck to them. I still got them belts. Somebody's got to come take them belts from me physically. Not online. Not through a keyboard. The keyboard warriors trying to take them belts. You've got to take those belts off me physically to come get them."
McGregor's featherweight title has been handed over to Jose Aldo as the latter was knocked out by "The Notorious" in 13 seconds at UFC 194 in December 2015. The newly crowned lightweight champion has given his thoughts after the promotion handed back the belt to Aldo.
"Eddie's still unconscious, what do you mean? I only fought last week," he explained.
"Them belts are mine. Whatever they want to say — 'oh well we took the belt, the belt is this guy's belt' — you can play with those fake belts all you want. Jose (Aldo) was KO'd. Eddie was KO'd. You're looking at the two weight world champion and that's it!"
© Copyright IBTimes 2023. All rights reserved.