Mixed Martial Arts (MMA) fighter Conor McGregor has fired the first shot ahead of his clash against Nate Diaz, claiming that the American was lucky to have beaten him at Ultimate Fighting Championship (UFC) 196. McGregor, whose rematch with Diaz is slated for 20 August at UFC 202, also said that he would get his revenge this time for sure.
The Irishman who is the current UFC featherweight champion suffered the first loss of his UFC career earlier this year, losing to Diaz via submission in the second round.
In fairness, McGregor did jump two weight divisions to welterweight to fight Diaz, where he looked out of his league. However the 28-year-old feels that Diaz was lucky and such a thing won't happen again.
"I'm taking this contest very, very seriously. I've flown in specific body types to replicate Nate's skinny tall frame. The boy won the lotto the last time. He knows it, I know it. Well, 20 August I get my revenge and I am looking forward to it", McGregor said in a Television show as quoted by MMA Fighting.
That McGregor is taking this clash very seriously is seen by him overhauling the training regiment, opting for a military-style form to prepare for the rematch. In fact, the Irishman's coach John Kavanagh has confirmed the change in training, claiming that fans will see an "Olympic champion" grade fighter when McGregor enters the ring at UFC 202.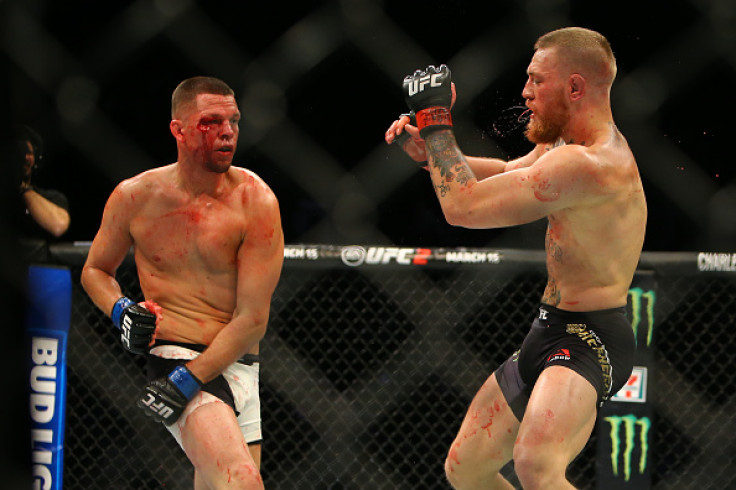 The MMA superstar also criticized Diaz's fashion sense by taking a swipe at his dressing style.
"I just hope he's not up on that stage wearing that stupid black t-shirt that he's never out of. The boy has been wearing that same damn t-shirt for the past twenty years or something."
The McGregor vs Diaz rematch is scheduled to take place at UFC 202 at the T-Mobile Arena in Las Vegas on 20 August.