UFC commentator and analyst Joe Rogan believes that while Nate Diaz is a bigger draw than Tony Ferguson, a fight between the latter and Conor McGregor will still sell well.
Ferguson won the interim lightweight title against Kevin Lee at UFC 216 on October 7 and is ideally next in line to challenge McGregor for his lightweight title in his return to the octagon.
However, there are rumours that the Irishman could instead face Diaz in a trilogy fight as it would be the most lucrative contest that the UFC could book in a year that has grossly underwhelmed.
While there is no confirmation on who McGregor will in fact face, let alone return, the 29-year-old did hint that "El Cucuy" could be next in line after a tweet that was simply captioned "Tony", leading to lots of speculation.
Rogan believes that tweet was intended for Ferguson, adding that a fight between him and McGregor would still sell because the 33-year-old is a legitimate threat.
"Conor made that post to Tony," Rogan said, as quoted on MMAFighting. "He made an Instagram post. Grand Theft Auto with him holding a gun, driving a boat."
"Conor's smart. He realizes that Tony's an unusual, eccentric character. Conor's an unusual, eccentric character, Tony's an unusual, eccentric character too and Tony has the longest win streak in the UFC's 155-pound division.
"He's the interim champion and he's the logical fight. He's a bad motherf****r, no doubt, and a legitimate champion. Conor sells like f*****g crazy and Conor versus Tony sells because Tony's a legit threat.
"Conor versus a legit threat sells. Conor fighting someone sells but Conor versus a legit threat is where it gets interesting."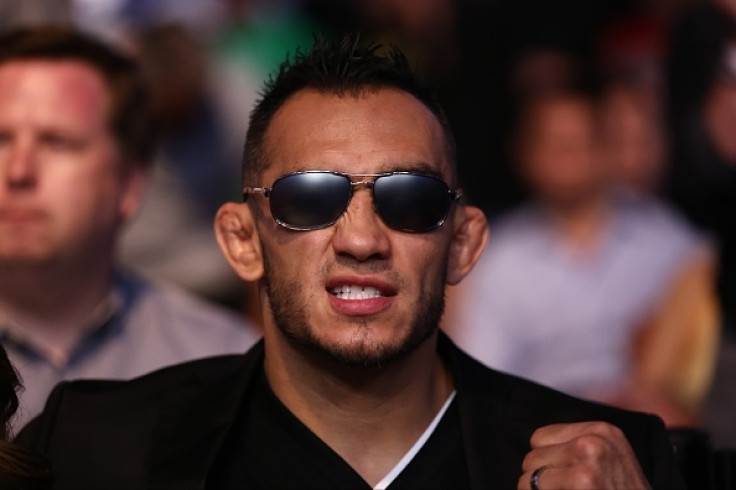 Rogan, however, cannot deny that Diaz is the bigger name and draw, adding that the intrigue in how competitive his fights with McGregor were will always result in a big money contest.
"The whole world doesn't know Tony but the MMA world knows Tony, for sure," Rogan added. "But the regular people are the people you really need to get ahold of to buy pay-per-views."
"[Nate] is the money [fight]. . . [But] Nate made four million bucks over two fights and he don't give a f**k. He's like, 'Pay Me.' He beat Conor and in the second fight he arguably had a draw with Conor.
"He lost a decision based on a couple people's opinion. Public opinion means a lot and if you went online and asked people who you think won that fight, I bet you would get very close to 50/50 Nate versus Conor.
"Those guys are rivals man and Nate choked him the f**k out in the first fight. That's always gonna be there. . . The big money would be the Nate Diaz fight even if Nate beat him in the second fight.
"You think you can go to the gas station right now and go, 'Hey man, who's Tony Ferguson?' If you go to the average person and ask them who Nate Diaz is, way more people are gonna know who he is than Tony."