Conor McGregor or Khabib Nurmagomedov will get knocked-out if they face off in the octagon, according to jiu-jitsu coach John Danaher.
A McGregor vs Nurmagomedov match-up has been a dream fight for MMA fans for a while now, with the Irishman notably claiming last year that he would love to face him in Russia.
However, McGregor's last foray in MMA was when he won the lightweight title off Eddie Alvarez back in November 2016 at UFC 205.
He was expected to return and unify the titles against current interim champion Tony Ferguson following his cross-code boxing clash with Floyd Mayweather. However, the latest news, according to UFC president Dana White, is that McGregor is only planning a September comeback.
White added that if he indeed does return later this year, he will "absolutely" strip the 29-year-old of the 155-pound strap and book a fight between Ferguson and Nurmagomedov for the undisputed title, with McGregor challenging the winner upon his eventual return.
If McGregor does end up returning to potentially face the Dagestan native, Danaher believes there are only two ways the fight will go.
"With regards to Conor McGregor and Khabib Nurmagomedov, the feeling one gets if they did fight – it would be a complete shutout in one of two directions," Danaher told Joe Rogan on the latest episode of the latter's MMA show.
"It's either like a man [Khabib] beating up a child on the ground, or it's just a flush knockout [from McGregor]. The guy unable to cover distance properly and walking into a left hand and just being catastrophically KO'd.
"There's potential for it to go on both directions, (but) that's a fight I don't think goes the distance. It's one way or the other."
The excitement behind such a match-up only increased following Nurmagomedov's dominant performance against Edson Barboza at UFC 219 on 30 December.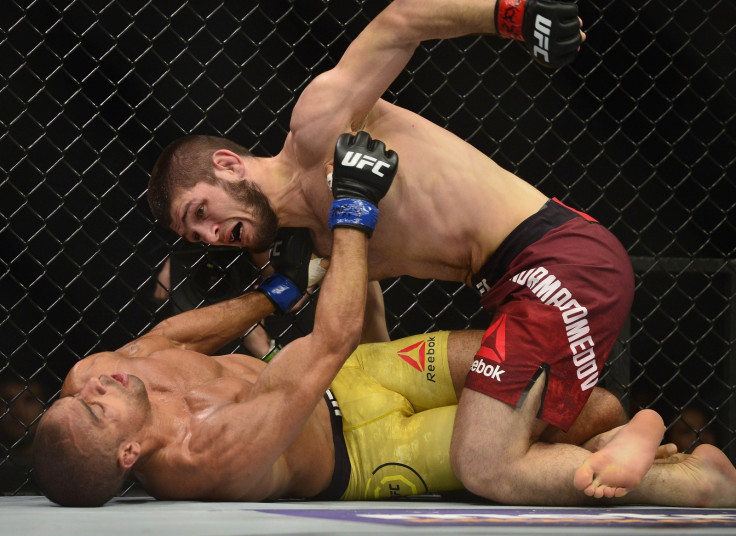 Having dominated each of his opponents and not lost a single round in the UFC, "the Eagle" is yet to be truly tested, but Danaher believes there is one weakness that McGregor can exploit.
"If there's one weakness that Khabib has, it's not being as strong dominating the setups to get to those areas where he can dominate the pace," Danaher explained. "If he's going to lose a fight, it's going to be in that area.
"And Conor, more than anything else, is a guy who dominates the setups. The kicks are probes; he's not trying to hurt you with a kick. He's probing. He hurts you with this [the left hand]."