Conor McGregor wants to fight Khabib Nurmagomedov in Russia following Floyd Mayweather fight
A potential dream fight between the two stemmed from Khabib's call out of McGregor at UFC 205.
UFC president Dana White has revealed that Conor McGregor is interested in fighting lightweight contender Khabib Nurmagomedov in Russia after his big money boxing match with Floyd Mayweather.
It was at UFC 205 in November 2016 where the seeds were sown for a potential dream fight between the duo as Nurmagomedov completely dominated Michael Johnson and went on to call out McGregor, who had taken his lightweight title shot against Eddie Alvarez.
The Irishman also went on to dominate his fight, defeating Alvarez in the second round and becoming the first simultaneous two-weight world champion in the company's history.
Later at the post-fight press conference, McGregor seemed hesitant at the idea of fighting "The Eagle", labeling him as a "pull-out merchant" due to the amount of times he has pulled out of fights.
Instead, the 28-year-old seemed more interested in a boxing match with Mayweather and spent the next seven months trying to negotiate a deal with "Money" until it was finally confirmed earlier this month.
As for Nurmagomedov, he was scheduled to fight number two contender Tony Ferguson at UFC 209 in March 2017 for the interim lightweight title, with the winner expected to face McGregor for the real belt.
However, the Dagestan native proved McGregor right as he had to pull out from the fight on the day of the weigh-ins due to "weight management medical issues."
Despite this, McGregor has told White of his intentions to not only fight Nurmagomedov but to do it in his home country of Russia.
"You know what Conor told me? He said, 'I want Khabib in Russia,'" White told MMAjunkie. "Isn't he f*****g awesome? He's like, 'I want Khabib, in Russia.'"
"He's awesome. Conor McGregor is a f*****g unicorn. There's nothing like him. He's working on boxing Floyd Mayweather and then he's talking about fighting Khabib in Russia right after."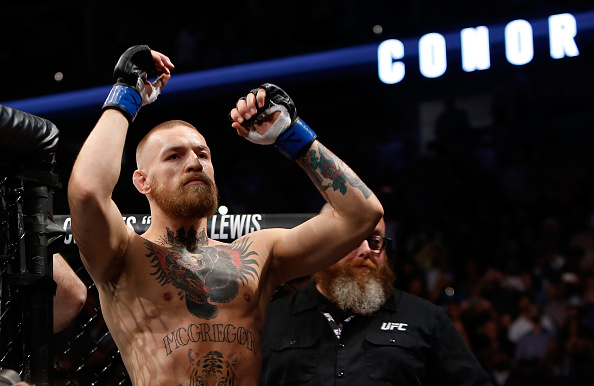 However, the initial interim title fight still has to occur with Ferguson also interested in fighting McGregor. While White has no idea as of now on when it could happen, he only knows that it must happen before the "Notorious" is to defend his lightweight title.
"Those guys (have) got to fight," White added. "It would have seemed a lot worse if those two guys fought (at UFC 209), and they were all sitting around waiting. It didn't happen. That fight still needs to happen. So this thing could time out perfectly."
McGregor received a lot of criticism and was said to be "ducking" Nurmagomedov earlier when he decided to pursue a boxing match with Mayweather and put the division on hold.
However, the Irishman had never pulled out of a fight before and has always been reliable for the company, which is why White probably felt obligated to help him get his boxing match.
"Those are the kind of things that make that kid a f*****g superstar," White explained. "I've got guys telling me, 'I don't want to fight this guy, and I don't want to do this.' (Conor says), 'I want Floyd Mayweather then I want f*****g Khabib in Russia.' How do you not love him? How do you not love Conor McGregor? Amazing."
© Copyright IBTimes 2023. All rights reserved.