Ultimate Fighting Championship (UFC) lightweight champion Conor McGregor's coach John Kavanagh has revealed the real reason why the Irishman clasped his hands at the back during his win over American Eddie Alvarez at the UFC 205 event in Madison Square Garden, New York.
Many fans and experts put down McGregor's technique as showmanship with him trying to bait Alvarez to take a swipe. However, Kavanagh has said that Notorious was actually holding his hands behind his back due to an injury.
The 28-year-old had injured his right index knuckle during his UFC 202 bout against American Nate Diaz.
"He found out if he actually held his right hand behind his back, it kind of reminded him not to throw it as much. That's why he started reaching back and actually grabbing his hand. It was almost like a mental note, take care of the right hand", said Kavanagh as quoted by MMAFighting.
The injury did not hamper McGregor's game in the end as he looked comfortable during his bout against Alvarez, registering a total knock-out victory in the second round to become the first fighter in UFC history to hold two-weight division title belts at the same time.
Kavanagh admitted that the technique served a dual purpose - helped McGregor in exploiting opponents' aggression while letting him protect his finger.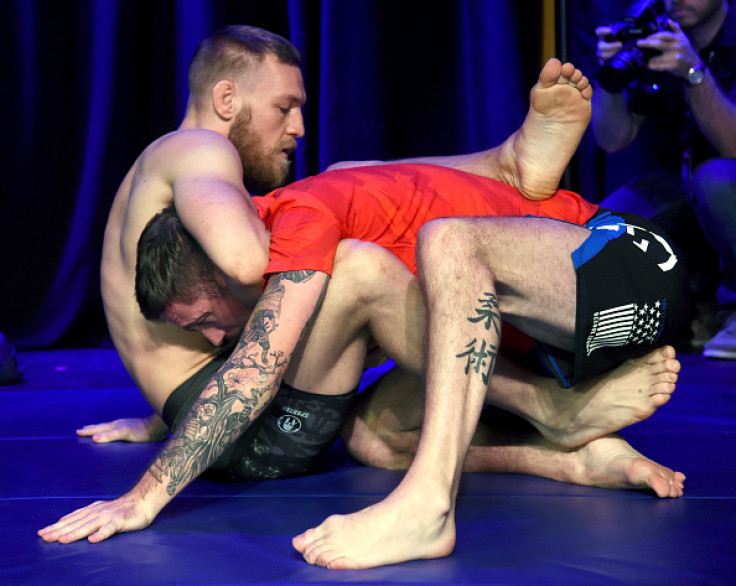 "If you put your hands down, an untrained person will try to swing at your head. It's a base instinct, I want to punch the guy in the head. If you have a very high level of striking, boxing like Conor does, you understand rules like that. And there are many of them. And I don't think others are kind of catching up to that level of skill," the coach added.