Seventy rebel Conservative MPs have signed an open letter criticising plans to reform the House of Lords in a move that shows the scale of division in the coalition government over the proposal.
The letter, sent out to MPs across the country, calls for "full and unrestricted scrutiny" of the bill, which will be debated over the next two days.
MPs including Jacob Rees-Mogg, Nicholas Soames, Nadhim Zahawi, Zac Goldsmith and Nadine Dorries have signed the public pledge to oppose the Lords Bill. There are 70 names specified in the letter, which ends: "Further names omitted."
The letter reveals the scale of the expected backbench rebellion against the Liberal Democrat-led push for reform of the house which will almost halve its membership while making 80 percent of the house elected to non-renewable 15-year terms.
The letter states: "The Lords Bill is a measure of profound constitutional significance. Over time it will fundamentally change the institutions by which we as a nation are governed. It threatens to pile a constitutional crisis on top of an economic crisis."
Setting the reform naysayers' stall out the day before the Commons vote on the bill's timetable, the MPs echo Labour calls for a delay.
It adds: "What is now proposed will undermine the primacy of the Commons, with competing chambers which will lead to legislative gridlock.
"It will create hundreds of unaccountable new elected politicians at a time when we as a party are committed to reducing the cost of politics and it will produce a chamber which is less expert, less diverse and significantly more expensive than the present one."
If the government's timetable for the bill should fall on Tuesday, if would represent a major, perhaps fatal, blow against its progress. The Lib Dems have already threatened repercussions should it fail, with the party suggesting it could make a rebellion of its own against the Conservatives' proposed boundary changes.
The full letter was published by the Guido Fawkes blog.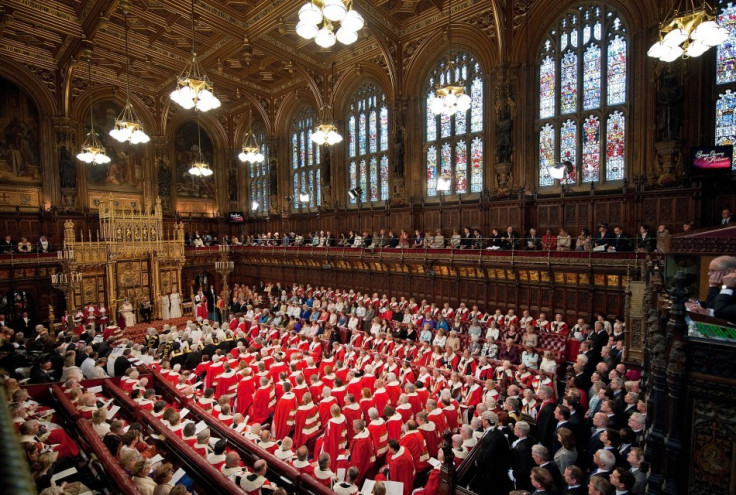 See the full list of signatories below:
Adam Afriye (Windsor)
John Baron (Basildon and Billericay)
Peter Bone (Wellingborough)
Aidan Burley (Cannock Chase)
Christopher Chope (Christchurch)
Tracey Crouch (Chatham and Aylesford)
Caroline Dinenage (Gosport)
Mike Freer (Finchley and Golders Green)
Andrew Griffiths (Burton and Uttoxeter)
Philip Hollobone (Kettering)
Eleanor Laing (Epping Forest)
Julian Lewis (New Forest East)
Anne Main (St Albans)
Jesse Norman (Hereford and South Herefordshire)
Jacob Rees-Mogg (North East Somerset)
Nicholas Soames (Mid Sussex)
Andrew Turner (Isle of Wight)
John Wittingdale ( Maldon)
David Amess (Southend West)
Guto Bebb (Aberconwy)
Andrew Bridgen (North West Leicestershire)
Dan Byles (North Warwickshire and Bedworth)
James Clappison (Hertsmere)
Philip Davies (Shipley)
Nadine Dorries (Mid Bedfordshire)
Richard Fuller (Bedford and Kempston)
Richard Harrington (Watford)
Stewart Jackson (Peterborough)
Pauline Latham (Mid Derbyshire)
Ian Liddell-Grainger (Bridgwater)
Karl McCartney (Lincoln)
Neil Parish (Tiverton and Honiton)
Malcolm Rifkind (Kensington)
Rory Stewart (Penrith and The Border)
Robin Walker (Worcester)
Nadhim Zahawi (Stratford on Avon)
James Arbuthnot (Hampshire North East)
Paul Beresford (Mole Valley)
Steve Brine (Winchester)
Alun Cairns (Vale of Glamorgan)
Geoffrey Clifton-Brown (The Cotswolds)
David Davis (Haltemprice and Howden)
Richard Drax (South Dorset)
Zac Goldsmith (Richmond Park & North Kingston)
Simon Hart (Carmarthen West and South Pembrokeshire)
Bernard Jenkin (North Essex)
Philip Lee (Bracknell)
Patrick Mercer (Newark)
Priti Patel (Witham)
Andrew Rosindell (Romford)
Bob Stewart (Beckenham)
Charles Walker (Broxbourne)
Steve Baker (Wycombe)
Bob Blackman (Harrow East)
Robert Buckland (South Swindon)
Bill Cash (Stone)
Geoffrey Cox (Torridge and West Devon)
Nick de Bois (Enfield North)
George Eustice (Camborne and Redruth)
James Gray (North Wiltshire)
Oliver Heald (Hertfordshire North East)
Chris Kelly (Dudley South)
Edward Leigh (Gainsborough)
Jonathan Lord (Woking)
Penny Mordaunt (Portsmouth North)
Chris Pincher (Tamworth)
David Ruffley (Burt St Edmunds)
Gary Streeter (Devon South West)
Craig Whittaker (Calder Valley)