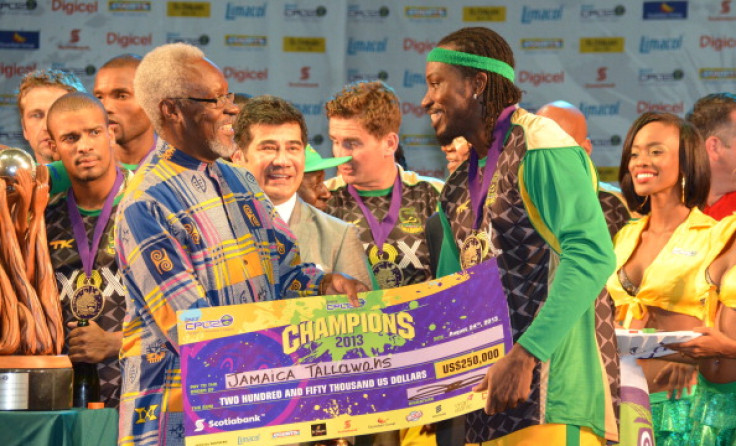 The Twenty20 carnival returns once again, this time in the form of the Caribbean Premier League. This will be the fourth edition of the tournament and will feature six teams - Barbados Tridents, Guyana Amazon Warriors, Jamaica Tallawahs, St Kitts and Nevis Patriots, St Lucia Zouks and Trinbago Knight Riders.
Each team has 15 contracted players each, including a maximum of five international players and four players under the age of 23. The team also has one local and one international franchise player. The Trinbago Knight Riders led by Dwayne Bravo are the defending champions, having won the competition last year.
Brendon McCullum, Chris Gayle, AB de Villiers, Hashim Amla, Shane Watson, Kumar Sangakkara and Martin Guptill are some of the superstars set to play in the tournament that will also feature a host of local players.
Where to watch live
Live coverage of the CPL 2016 will be on Dave TV and BT Sport in the UK. Sony Six and Sony Six HD will telecast it in India. The CPL T20 app will provide live streaming of every match, which is only available on Android phones. Click here to download the app.
Teams
Barbados Tridents
Guyana Amazon Warriors
Jamaica Tallawahs
St Kitts and Nevis Patriots
St Lucia Zouks
Trinbago Knight Riders
Fixtures
Match 1: Trinbago Knight Riders vs St Lucia Zouks
Date and Time: 29 June, Wednesday – 2am BST/6.30am IST (Thursday)
Venue: Queens Park Oval, Trinidad
Match 2: St Kitts and Nevis Patriots vs Guyana Amazon Warriors
Date and Time: 30 June, Thursday – 12am BST/4.30am IST (Friday)
Venue: Warner Park, St Kitts
Match 3: Trinbago Knight Riders vs Barbados Tridents
Date and Time: 1 July, Friday – 2am BST/6.30am IST (Saturday)
Venue: Queens Park Oval, Trinidad
Match 4: St Kitts and Nevis Patriots vs Jamaica Tallawahs
Date and Time: 2 July, Saturday – 5pm BST/9.30pm IST
Venue: Warner Park, St Kitts
Match 5: Trinbago Knight Riders vs Guyana Amazon Warriors
Date and Time: 2 July, Saturday – 2am BST/6.30am IST (Sunday)
Venue: Queens Park Oval, Trinidad
Match 6: St Kitts and Nevis Patriots vs St Lucia Zouks
Date and Time: 3 July, Sunday – 9pm BST/1.30am IST (Monday)
Venue: Warner Park, St Kitts
Match 7: Trinbago Knight Riders vs Jamaica Tallawahs
Date and Time: 4 July, Monday – 12am BST/4.30am IST (Tuesday)
Venue: Queens Park Oval, Trinidad
Match 8: St Kitts and Nevis Patriots vs Barbados Tridents
Date and Time: 5 July, Tuesday – 12am BST/4.30am IST (Wednesday)
Venue: Warner Park, St Kitts
Match 9: Guyana Amazon Warriors vs Jamaica Tallawahs
Date and Time: 7 July, Thursday – 12am BST/4.30am IST (Friday)
Venue: Providence Stadium, Guyana
Match 10: Guyana Amazon Warriors vs St Kitts and Nevis Patriots
Date and Time: 9 July, Saturday – 5pm BST/9.30am IST
Venue: Providence Stadium, Guyana
Match 11: Guyana Amazon Warriors vs Trinbago Knight Riders
Date and Time: 10 July, Sunday – 12am BST/4.30am IST (Saturday)
Venue: Providence Stadium, Guyana
Match 12: Barbados Tridents vs Jamaica Tallawahs
Date and Time: 11 July, Monday – 12am BST/4.30am IST (Tuesday)
Venue: Kensington Oval, Barbados
Match 13: Guyana Amazon Warriors vs St Lucia Zouks
Date and Time: 12 July, Tuesday – 12am BST/4.30am IST (Wednesday)
Venue: Providence Stadium, Guyana
Match 14: Barbados Tridents vs St Kitts and Nevis Patriots
Date and Time: 13 July, Wednesday – 12am BST/4.30am IST (Thursday)
Venue: Kensington Oval, Barbados
Match 15: Jamaica Tallawahs vs Guyana Amazon Warriors
Date and Time: 15 July, Friday – 2am BST/6.30am IST (Saturday)
Venue: Sabina Park, Jamaica
Match 16: Barbados Tridents vs Trinbago Knight Riders
Date and Time: 16 July, Saturday – 5pm BST/9.30pm IST
Venue: Kensington Oval, Barbados
Match 17: Jamaica Tallawahs vs St Kitts and Nevis Patriots
Date and Time: 16 July, Saturday – 12am BST/4.30am IST (Sunday)
Venue: Sabina Park, Jamaica
Match 18: Barbados Tridents vs St Lucia Zouks
Date and Time: 17 July, Sunday – 12am BST/4.30am IST (Monday)
Venue: Kensington Oval, Barbados
Match 19: Jamaica Tallawahs vs Trinbago Knight Riders
Date and Time: 18 July, Monday – 2am BST/6.30am IST (Tuesday)
Venue: Sabina Park, Jamaica
Match 20: Jamaica Tallawahs vs Barbados Tridents
Date and Time: 20 July, Wednesday – 2am BST/6.30am IST (Thursday)
Venue: Sabina Park, Jamaica
Match 21: St Lucia Zouks vs St Kitts and Nevis Patriots
Date and Time: 21 July, Thursday – 11pm BST/3.30am IST (Friday)
Venue: Darren Sammy National Cricket Stadium, Gros Islet
Match 22: St Lucia Zouks vs Barbados Tridents
Date and Time: 23 July, Saturday – 5pm BST/9.30pm IST
Venue: Darren Sammy National Cricket Stadium, Gros Islet
Match 23: St Lucia Zouks vs Guyana Amazon Warriors
Date and Time: 24 July, Sunday – 10pm BST/2.30am IST (Monday)
Venue: Darren Sammy National Cricket Stadium, Gros Islet
Match 24: St Lucia Zouks vs Trinbago Knight Riders
Date and Time: 26 July, Tuesday – 11pm BST/3.30am IST (Wednesday)
Venue: Darren Sammy National Cricket Stadium, Gros Islet
Match 25: Barbados Tridents vs Guyana Amazon Warriors
Date and Time: 28 July, Thursday – 12am BST/4.30am IST (Friday)
Venue: Central Broward Regional Park Stadium Turf Ground, Lauderhill
Match 26: St Kitts and Nevis Patriots vs Trinbago Knight Riders
Date and Time: 29 July, Friday – 12am BST/4.30am IST (Saturday)
Venue: Central Broward Regional Park Stadium Turf Ground, Lauderhill
Match 27: Jamaica Tallawahs vs St Lucia Zouks
Date and Time: 30 July, Saturday – 5pm BST/9.30pm IST
Venue: Central Broward Regional Park Stadium Turf Ground, Lauderhill
Match 28: Barbados Tridents vs Guyana Amazon Warriors
Date and Time: 30 July, Saturday – 9pm BST/1.30am IST (Sunday)
Venue: Central Broward Regional Park Stadium Turf Ground, Lauderhill
Match 29: St Kitts and Nevis Patriots vs Trinbago Knight Riders
Date and Time: 31 July, Sunday – 5pm BST/9.30pm IST
Venue: Central Broward Regional Park Stadium Turf Ground, Lauderhill
Match 30: Jamaica Tallawahs vs St Lucia Zouks
Date and Time: 31 July, Sunday – 9pm BST/1.30am IST (Monday)
Venue: Central Broward Regional Park Stadium Turf Ground, Lauderhill
Knock-out stage:
Playoff 1: TBD vs TBD (1st vs 2nd)
Date: 3 August, Wednesday
Venue: TBD
Playoff 2: TBD vs TBD (3rd vs 4th)
Date: 4 August, Thursday
Venue: TBD
Playoff 3: TBD vs TBD (Playoff 2 winner vs Playoff 1 loser)
Date: 5 August, Friday
Venue: TBD
Final: TBD vs TBD (Playoff 1 winner vs Playoff 3 winner)
Date: 7 August, Sunday
Venue: TBD