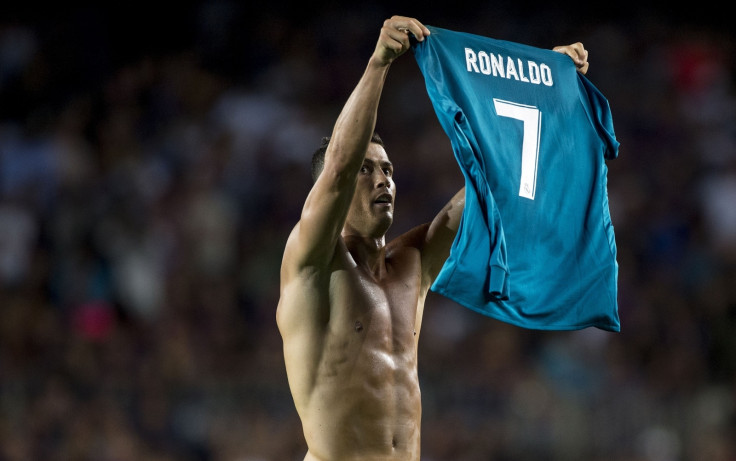 Cristiano Ronaldo is set to lead the Real Madrid line in the Champions League opener against APOEL on Wednesday night (13 September), after missing the last four games due to suspension. Raphael Varane is also back from injury, but Zinedine Zidane has suggested Marco Asensio may be a doubt due to a minor fitness problem.
Ronaldo was hit with a five-game ban for pushing the referee after being shown a second yellow card during the Spanish Super Cup first-leg victory over Barcelona on 13 August.
The reigning Ballon D'or has since missed four domestic games and will still be unavailable for the coming La Liga trip to Real Sociedad on Sunday (17 September).
However, the ban doesn't apply for European games, so Ronaldo will be available when Real Madrid start their defence of the Champions League title against APOEL.
"He is doing well, focussed. He is happy because he will soon be doing what he loves again: playing football. We are happy for him. He is doing well both physically and mentally. We are excited to get him back on the pitch because he is a real boost for the side. He will play tomorrow but will still be serving his ban on Sunday. I hope that will be the last game he misses this season," Zidane said in a press conference ahead of the game.
"I want Cristiano Ronaldo to stay with us, that's it. We must not speak about dependency. I want all of my players to play and be available to me. He doesn't just bring goals. He is a true linchpin within the team, he is a leader. He always wants to win and makes that clear to the others. We are happy when he is here with us".
The return of Ronaldo is a much-needed boost for Real Madrid, with Karim Benzema ruled out for around a month after suffering a hamstring injury during the weekend's 1-1 draw with Levante.
Zidane, meanwhile, also provided good news regarding Varane as the Frenchman could also return to the line-up alongside Sergio Ramos after being missed in the consecutive La Liga draws with Valencia and Levante.
However, Asensio's availability is uncertain as the Spaniard missed Monday's training session due to a minor fitness gripe.
"Varane is doing well, has recovered and is back with us. Marco is more or less there. He still has a little way to go," Zidane said.
One way or another the Real Madrid boss expects his available players to kick-off their Champions League campaign on the right foot, bouncing back from the two consecutive La Liga setbacks with Valencia and Levante.
"A similar thing happened last term, we drew a few games in a row, we're not concerned, quite the opposite. We cannot simply be content with those results, least of all the last one, but that is football. We are not going to change, we will continue the hard work and play better football in order to win. These things can happen over the season," Zidane said.
"We are happy to be back in this competition, we are the reigning champions. We are starting afresh and are raring to get started in this competition. We know this will be a difficult year, but we're taking it in our stride. Preparing to win is what has set us up to aim for titles. We are going to come up against some fiercely determined competition along the way,
"Here at Real Madrid there is always pressure but we are used to it. We are the favourites but there are other highly rated teams too. This is not going to change anytime soon, we know what we have to do to start this Champions league campaign off well. To win the competition we need to go out strong, starting with tomorrow's game. That's the only thing I'm interested in. They are an experienced side and if we let them play, they will really bring the game to us."